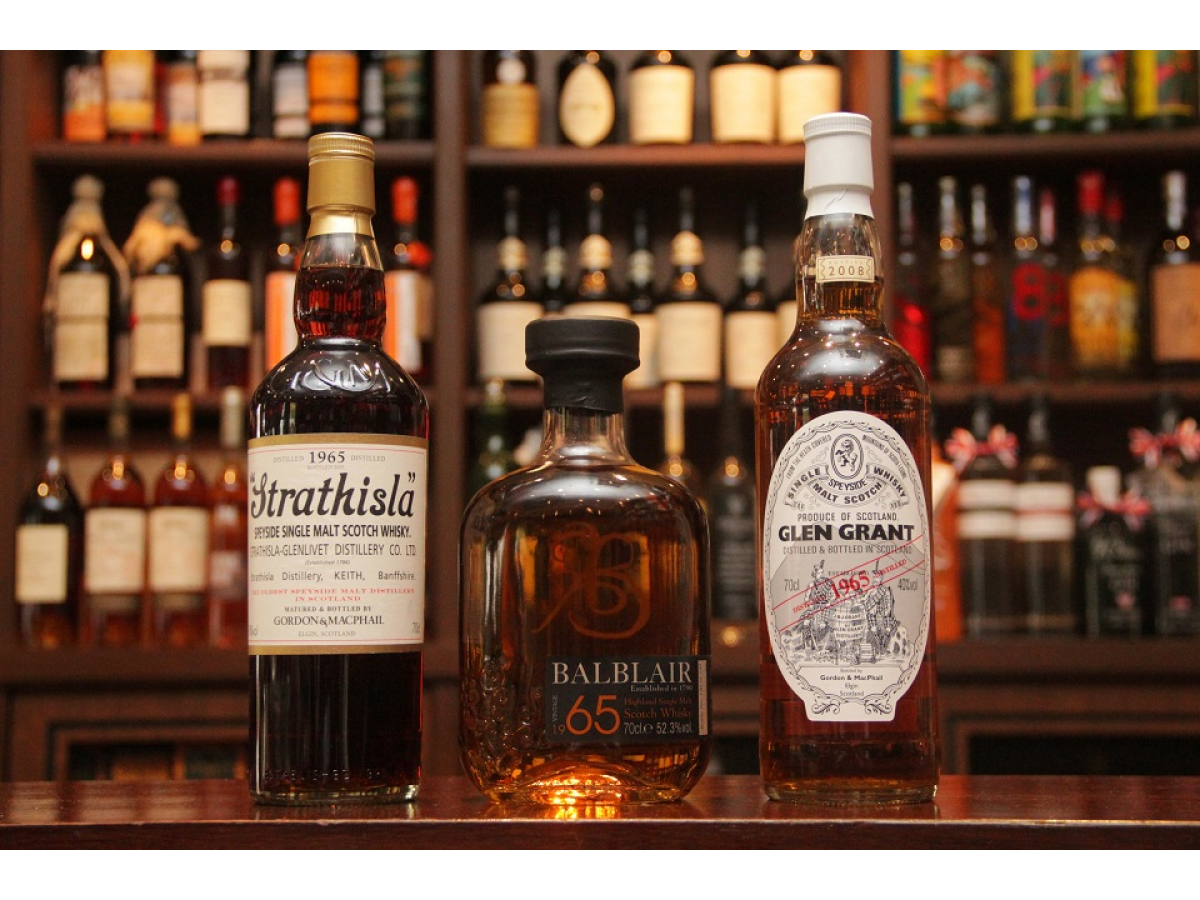 There are many ways to connect with 1965. We can look at old photos, watch archival footage of Singapore in the '60s, we can listen to the music that filled the airwaves back then and we can seek out objects that existed in that era.
But what did 1965 taste like? What did it smell like? Short of finding an old can of beans in grandma's pantry, there aren't many ways to know this for sure.
We sought help from the wonderful world of wine and whisky: we scoured the shelves of Singapore's best bars and wine suppliers to find ten drinks available here that were made in 1965. To imagine that the grapes and grain that went into them were growing as Singapore marched towards independence half a century ago is nothing short of awe-inspiring.
1965 Kopke Colheita
Port that captures the essence
Bottling the 1965 Kopke was a process that took a year. Matthieu Delaunay, owner of port wine specialists Colheitas, spent many months in 2014 tasting ports from 1965 to find one that was interesting enough to represent Singapore's golden jubilee. When he found this one, he knew it was a keeper and purchased the whole barrel. While 1965 may have been a bad vintage for wine in general, here, Delaunay has found a well-balanced port with a beautiful aromatic profile and well-integrated flavours. Thick and sweet with lively acidity that makes the hairs on the back of your neck stand at attention, it captures the essence of our island in many ways from its nostalgia-inducing dried fruit flavours to its surprising youthfulness. In addition to buying direct from Colheitas ($590 per bottle), you can also purchase the wine by the glass at selected venues including the Raffles Hotel, JAAN, CUT and Les Amis.
1965 Balblair
Whisky timed to 1965 perfection
The Highland distillery only releases "vintages timed to perfection", whiskies bottled at their optimum level of maturation making Balblair whiskies unique. The oldest vintage they've released so far is a 1965 distilled on 23 March 1965 and left to mature in an American oak sherry cask until 2008. The 1965 Balblair received a score of 96.5/100 points from whisky guru Jim Murray while also claiming the title of Single Malt of the Year (Single Cask) in 2013. According to Murray, "it is almost too beautiful for words". At $3,000 a bottle from Fine Spirits by La Maison du Whisky, we're almost speechless too. 

1965 Strathisla (Gordon & MacPhail)
Whisky with a strong following
Famed for being a key component in Chivas Regal blends, Strathisla single malt whiskies also have a strong following of their own. This 1965 from the Speyside distillery was released by Gordon & MacPhail, independent bottlers who are more than familiar with ancient whiskies. Their most famous release is the Mortlach 70 Year Old, currently the oldest existing whisky. According to the folk at Master of Malt, the 1965 Strathisla delivers a nose of toffee, vanilla and dried fruits with a fruity palate rich in sherry notes. And that would be $1,290 a bottle from Fine Spirits by La Maison du Whisky, thank you.
1965 Glen Grant (Gordon & MacPhail)
Lavish, spicy whisky 
Like Strathisla, Glen Grant also hails from Speyside and contributes to the blends of Chivas Regal. On its own, it's the fifth best-selling single malt in the world. While Glen Grant whiskies are generally known for their pale colour and pure flavours, the 1965 offers a rather different flavour experience thanks to the 48 years it spent in first fill sherry casks – it's lavish, spicy and perfect with a good cigar. It is spriced at $1,120 a bottle from Fine Spirits by La Maison du Whisky.
1965 Samaroli Coilltean Blend
Bold scotch whisky 
Founded in 1968, Italy-based Samaroli is one of the biggest names when it comes to independent bottlers. They've gained a cult following for the unique casks of whisky and rum that they've managed to unearth and the 1965 Samaroli Coilltean Blend ($988 a bottle from The Italian Wine Club) is a perfect example of this. This isn't a safe, dull blend meant to satisfy the masses, it's produced using 19th century techniques and promises an eclectic mix of flavours from custard, oats and wild herbs to leather, liquorice and "cosmetics".
1965 Bowmore (Soffiantino)
Old-style whisky
When one discusses the golden eras of whisky, the 1960s are always part of the conversation. These were the last years before modernisation ended age-old practices that produced whisky flavour expressions distinctly different from what we know today. The Auld Alliance has collected many of these bottlings from reputable distilleries, giving you a rare opportunity to experience whiskies that simply can't be recreated. The 1965 Bowmore, bottled in the 1980s for Italian importers Soffiantino, is just one of these old-style whiskies in their library. It will cost you $300 a glass or $5,900 a bottle at The Auld Alliance.
1965 The Macallan Special Selection
From Macallan's sherry cask days
This whisky comes from a time when The Macallan only aged its single malts in sherry casks. Times have changed, but this intriguing 17 Year Old (it was bottled in 1983) is just the kind of creamy and elegant dram that brought The Macallan the iconic status that it enjoys today. Priced at $3,690 a bottle at The Auld Alliance.
1965 Bunnahabhain (The Whisky Agency)
Relatively affordable 1965 whisky
Given the age and scarcity of 1965 bottlings, the high price tags will definitely keep most of them out of the hands of the everyday connoisseurs. That isn't the case for this 1965 Bunnahabhain, however. Priced at a comparatively affordable $64 a glass, this light and fruity "Private Stock", bottled at 45 years of age, will give you plenty of bang for your buck. If you want it as a bottle, it's $1,090 at The Auld Alliance.
1965 Clynelish (Corti Brothers)
The rise and fall of Scotch whisky
When you have 50 years of history contained in a bottle, you can expect that bottle to tell a tale or two. What you get with the 1965 Clynelish, bottled for Sacramento supermarket Corti Brothers, is a story of the rise and fall (and rise again) of Scotch whisky. Clynelish still exists as a distillery today, owned by Diageo, but that distillery only opened in 1967. The Clynelish in this bottle comes from an older distillery which dates back to 1819. Closed in 1969, the original Clynelish re-opened under the name Brora in the early 1970s. As the demand for Scotch whisky plummeted, the distillery met its final end in 1983. Today, with the demand for old and rare whiskies stronger than ever, these Brora/Clynelish bottlings have become some of the most sought after in the world. There are only a handful of Corti Brothers bottles left and The Auld Alliance's director Emmanuel Dron will only sell this one to someone who truly understands its story. The price is also another story: you'd have to ask The Auld Alliance.
1965 Château de Flarambel Armagnac
A creamy, sweet trio
Specially bottled by The Auld Alliance to mark Singapore's 50 years of independence, this Armagnac hails from a tiny producer in the Armagnac-Ténarèze AOC. An invitingly sweet and creamy spirit, its classic brandy characteristics are beautifully enveloped by oak. This stunning drop goes for $80 by the glass at the bar while a set of three exclusive magnum bottles with hand-painted labels depicting Singaporean icons is available for $15,000.
---
This archived article appeared in an earlier version of HungryGoWhere and may not be up-to-date. To alert us to outdated information, please contact us here.