[CLOSED] In The Kitchen: Pollen's Chef Steve Allen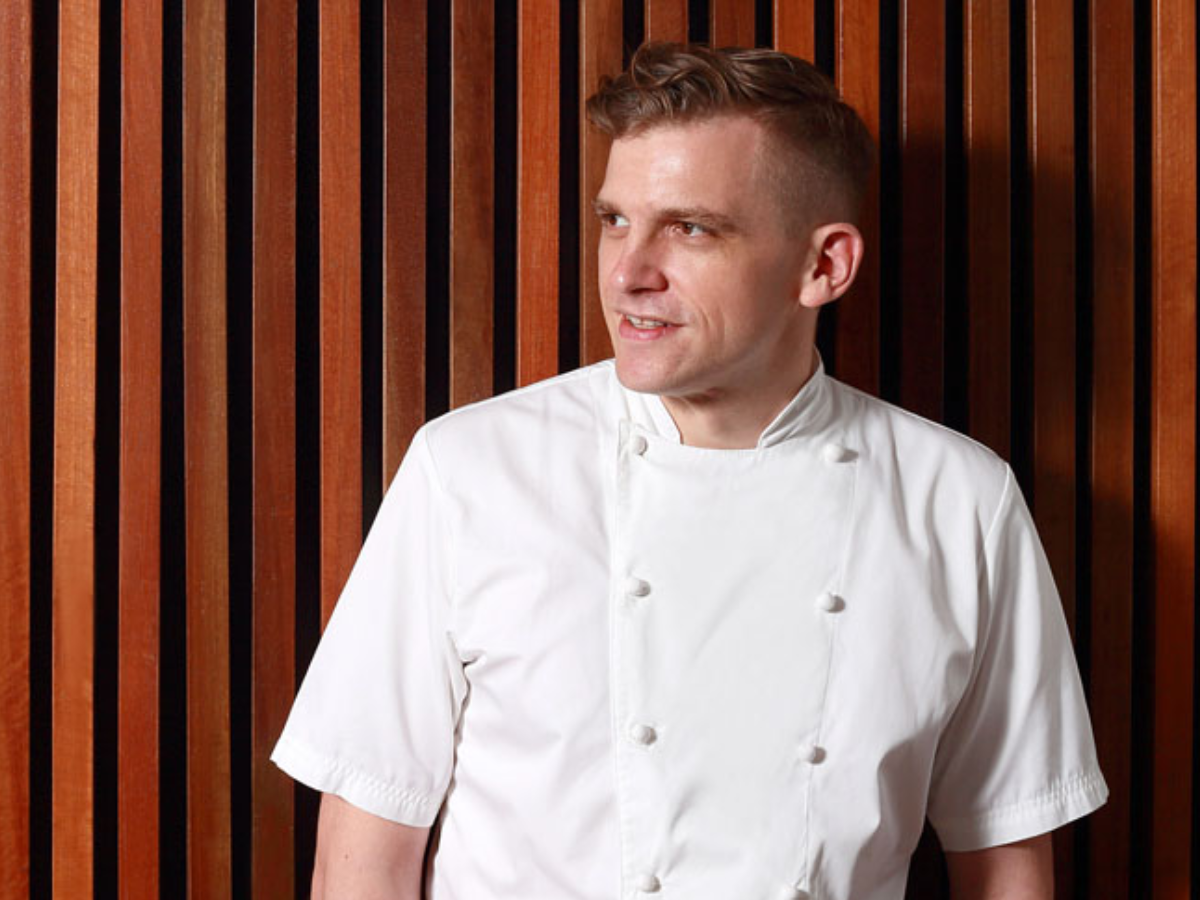 He may be English and cooks atas food, but Pollen's newest Head Chef Steve Allen also loves his local food, especially bak kut teh.
Chef Steve comes to the Flower Dome by way of KL's The Delicious Group (where he was CEO) and Gordon Ramsay's Claridge's in London prior to that.
Inspired by the restaurant's Mediterranean garden setting in the Flower Dome, the new menu by the East Sussex native features modern French cuisine with hints of the Mediterranean and Southeast Asia.
We shoot the breeze with the chef as he professes his love for bak kut teh and garlic, how he's impressed with the local foodie culture, his culinary philosophy, and what foodies can expect at the restaurant.
I'm from a very small town in Sussex.
My mum used to have a hair salon at the back of the house. It was in the middle of the country, and a lot of old ladies would come in to do their hair. My grandma used to make this lemon drizzle cake for them, and I learnt how to make it. That is the first thing I remember making — trying to perfect it and make it better.
The first dish I learnt to cook is spaghetti bolognese.
I used to experiment with it and added things like vanilla. Although it tasted awful, it was my first taste at cookery.
I'm not here to wow people with things that you cannot get anywhere else.
The idea is to do good food and treat each ingredient like how it should taste — to cook duck and make it really taste like duck, to do crab and make it taste like good crab.
I'm going to wow diners here by going back to the basics.
Rather than getting a plate that you don't understand what's going on, I want you to get food that you understand the ingredients, and it tastes better than you'd imagine. If I cook a duck, I wanted it to taste like the best duck you had.
What's fun about food is how…
You can be inspired by your past — your childhood, growing up, things you learned — and produce something completely different. It doesn't have to taste exactly like how you remembered it, but it can be influenced by your memory to get somewhere else.
There are only two chefs that influenced me a lot.
One of them is Alain Ducasse. Every time I dined at his restaurants, the experience has been amazing. It's all about simplicity and having the food tasting the best it can. But the chef that really influenced my throughout my career is Mark Sargeant. He is doing a lot of casual dining instead of the fancy and intricate style of cooking. I really love his food, and I see it a lot on Instagram. Every time I go back to England, I try to dine at one of his restaurants. Although he is not cooking much anymore, I am inspired by his tasty and simple food. It's really courageous to go from Michelin-starred restaurants to casual dining.
My one favourite dish is my mum's roast lamb…
Even though she really overcooks it, it still tastes good because it reminds me of home.
I love bak kut teh.
I just love the complex taste of it. It doesn't look complex at all but when you look at the ingredients — especially the many spices used — you'd think otherwise. I still wonder how they make something so simple taste so great. I tried to make a Western version, but I just can't hit it. But yeah, I'm in love with it.
I love garlic.
You can use it so many different forms. Some chefs might say that their favourite ingredient to use are things like foie gras or turbot, but to me, it's what that surrounds the dish that's important. I tend to use a lot of garlic in my food. I love it because there are so many different uses — you can roast, pickle or boil it.
People in Singapore and Malaysia are obsessed over food.
Especially local food, and I've become addicted to it as well. I have this insane obsession to hunt down the best food. People here really embrace the local culture, particularly the food, and that's something we don't see much in England. Singaporeans really embrace what they had from their childhood, and they still embrace it now.
Over here, sometimes food is judged whether there's a queue.
And not whether the food is good. People will travel to find the best food. I think this is an amazing culture. Sometimes in England, we'll skip dinner for alcohol, and that is quite sad.
If I'm not a chef, I'd either be a rock star or a rugby player.
Like any kid growing up, I wanted to be a rock star as I used to play the guitar a lot. I also used to play rugby at a high level back in England. I didn't get into it because it was either rugby or cooking, and I chose the latter.
---
This archived article appeared in an earlier version of HungryGoWhere and may not be up-to-date. To alert us to outdated information, please contact us here.