Meet the 3 Singaporeans competing in 'MasterChef Asia'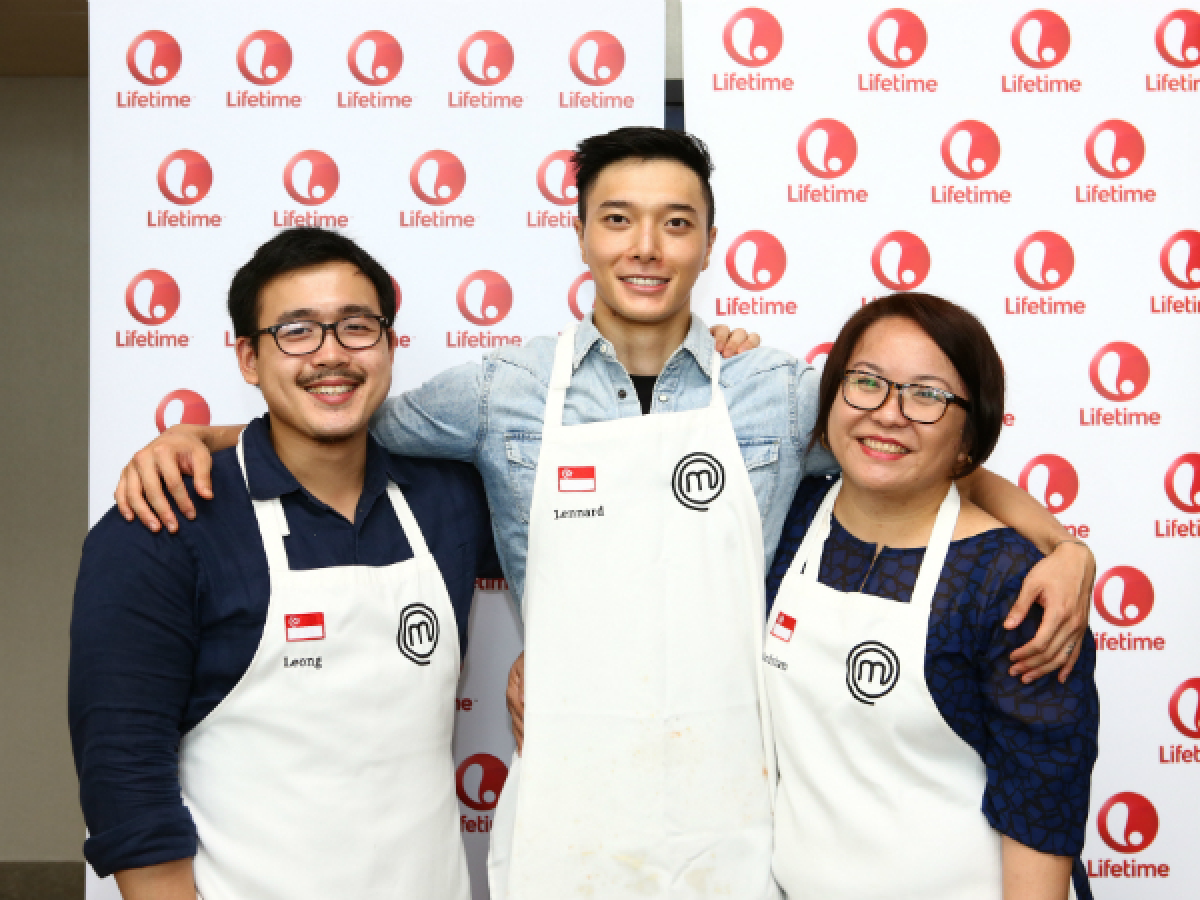 'MasterChef' has come to Asia and three Singaporeans were among the 15 Asian contestants in the very first season of 'MasterChef Asia'. Presided over by judges, Hong Kong-born celebrity chef Susur Lee, Singapore-born Audra Morrice (a 'MasterChef Australia' season 4 finalist) and three-Michelin star chef, Bruno Ménard.
We asked the Singapore contestants what it was like to compete in the very first 'Masterchef Asia'.
What are your backgrounds and how did you get involved with food?
Woo Wai Leong: I'm 27-year-old, an ex- lawyer and a bit of a food geek. I began cooking in my teens and I've participated in cooking competitions in university.
Sandrian Tan: I'm 41-years-old and I'm (currently) a homemaker. I used to work in the semiconductor industry for eight years. My cooking is a fusion of Thai and Chinese. (Tan is born to a Singaporean Chinese-Hainanese father and a Thai mother.)
Lennard Yeong: I'm also 27, an ex-engineer and I've spent the past five years creating my own unique dishes with the help of YouTube and cookbooks.
What motivated you to enter the competition?
Yeong: I've been cooking at home for about 4 to 5 years and there's only a certain level you can hit when you cook at home. Joining a competition like this would take me out of my comfort zone and give me the opportunity to grow. 'Masterchef Asia' is a once in a lifetime opportunity. If i didn't do it now, the dream might not come again.
Woo: I've always been a big fan of the show and I've always wanted to be a part of it, so I jumped when the opportunity came up.
Tan: I never thought I would have the courage to do this sort of competition, but I had a family member pass away (her mother passed away from pancreatic cancer) so I thought, life is so short, just go for it.
How did you feel when you found out you were selected to compete in 'Masterchef Asia'?
Yeong: We went through like several rounds of auditions and every round was nerve-wracking. When I got the call, it was such a rush of emotions but I knew there were a lot of things I had to settle before I joined the competition, like quitting my job. There was so much stress even before the competition so when I entered, I was already on the edge.
Woo: After each audition round, you get happier and happier but you know it could all come crashing the next round. I was at work when I got the good news. I was really happy. I left work early, went home and told my family.
Tan: I was on holiday when I got the news. I got the message on my phone and I was screaming. My husband thought I dropped something into the river!
So is it as hard as what we see on television?
All: It is harder.
Tan: What you see (on tv) is really just all fun, fun, fun.
Woo: It's a change in your workflow, a different kitchen, unfamiliar surroundings and unfamiliar equipment. It is a lot harder than it is. In between the challenge finishing and the judges tasting your food, there is actually a lot of downtime, sometimes two hours and the food is out there. Certain sauces will not survive such a long wait, so you have to recalibrate your cooking vocabulary to factor in that time.
Yeong: As a viewer, you see two days of filming condensed into an hour of television. You don't get to see stuff like the sleepless nights staying up to study. There's definitely a lot of stress going on behind the scenes.
What are your feelings about 'Masterchef' now?
Woo: You can divide my feelings on 'Masterchef' into two periods: pre-'Masterchef' and post. Before I'll be saying things like "Come on! You can do better than that," or "what a rookie mistake!" After going through the competition, you realise that when you're in the zone, under time pressure, you can make even the simplest mistakes. Now whenever I watch 'Masterchef', I'm very understanding.
How have your cooking skills improved since competing on 'Masterchef'?
Woo: I learnt a lot from the Indian contestants who taught me how to use spice… Previously I would have dismissed certain cuisines or dishes as being easy to cook, but after I left the show, I have a deeper respect for those cuisines.
Yeong: Before the competition, I was always doing more Western-style cooking at home. Asian food was my weakness. I've now developed a deeper appreciation for Asian flavours. I really love cooking Thai food nowadays.
Tan: My background is more Asian cooking so being introduced to all these ang moh (western) techniques really broadened my knowledge. It's like drawing. You've been drawing a certain style all your life and then you enter a competition like this and you realise that there are so many styles of drawing.
What was the first dish you cooked after the filming ended?
Woo: I just made a simple steak
Yeong: I cooked otak. I never learnt how to make it but I learnt the process of cooking it during the show.
Tan: Actually I didn't cook for almost two weeks, but when I did, it was just a simple homemade Chinese soup.
What are your plans, now that the competition is over?
Woo: Before the competition, I was part-timing as a bartender, so now i have now re-joined the bartending industry. I'll be taking it easy and enjoying life until all the excitement from the show dies down and then I'll look for a full-time job.
Tan: After this whole thing dies down, I'll be going back to the corporate world, but it won't be F&B related. It's alot of financial commitment to open up a restaurant or any business in Singapore.
Yeong: I'll be looking for a full-time job after the promoting, and the show is over.
Would it be food-related?
Yeong: That is still a question I'm asking myself. My mother is the breadwinner in the family and she is retiring soon, so I have to look at being financially stable enough to support myself and my parents in their retirement. It won't be F&B for now but I hope to do so in the future because it is my passion. I dont want that part of my life to go away.
Masterchef Asia premieres 3 September. For more information, visit https://msn.com/masterchefasia.
---
This archived article appeared in an earlier version of HungryGoWhere and may not be up-to-date. To alert us to outdated information, please contact us here.