Fans queue for 7 hours to get a glimpse of JJ Lin at Miracle Coffee's pop-up launch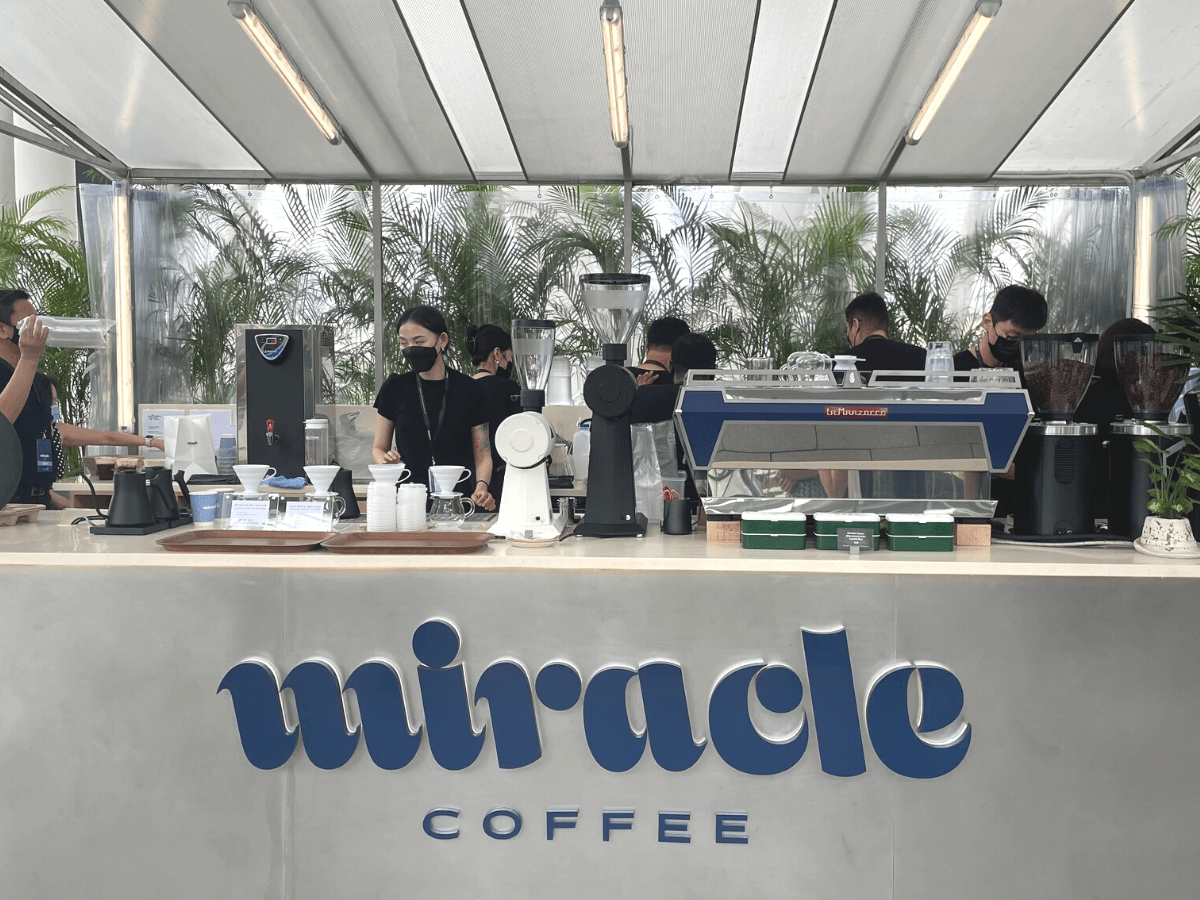 Even with the midday sun beating down, JJ Lin's loyal fans were still queuing faithfully for a chance to be one of the first to taste brews from the musician's artisanal coffee concept, Miracle Coffee. 
When HungryGoWhere arrived at the ArtScience Museum at 8am on Friday (Sept 30), there were about 20 people in line. By 10am, there were about 50. 
The pop-up will be situated at the museum's outdoor Rain Oculus until Dec 29.
Some came well-prepared with portable fans and umbrellas to provide reprieve from the heat. Thankfully, the line snaked along the lily pond, which had seats for fans to rest their feet while waiting. Only 200 people are allowed in the queue at any point in time.
We spoke to a pair of friends, Jaz, 21 and Isabel, 20, who came at 5.30am and were the first in line. "We have been wanting to try (Miracle Coffee) for very long," said Jaz, adding that she was a big fan of Lin. "We wanted to go to Taipei to try it, but Covid-19 hit and we didn't get a chance." 
Graduate student Louise Zhang, 22, woke up at 6am and travelled from her home in Boon Lay to Marina Bay Sands for the opening, in hopes that she would catch a glimpse of Lin. 
"I've been a member of his official fan club for seven years," Zhang said. "I have been to all Miracle Coffee outlets in Shanghai and Taipei."
As the outlet in her hometown, Shanghai, had recently closed, she was excited to hear that Miracle Coffee will be opening in Singapore while she completes her studies here. She also wanted to share about it on her social media pages, given that fans in China have caught wind of the opening and it was gaining buzz.
Although Lin did not expressly state whether he would be at the kiosk for the opening event in the days leading up to it, he posted an Instagram photo at about 8am on Friday showing him holding a cup of coffee, with a caption: "Good morning Singapore, coffee is served!"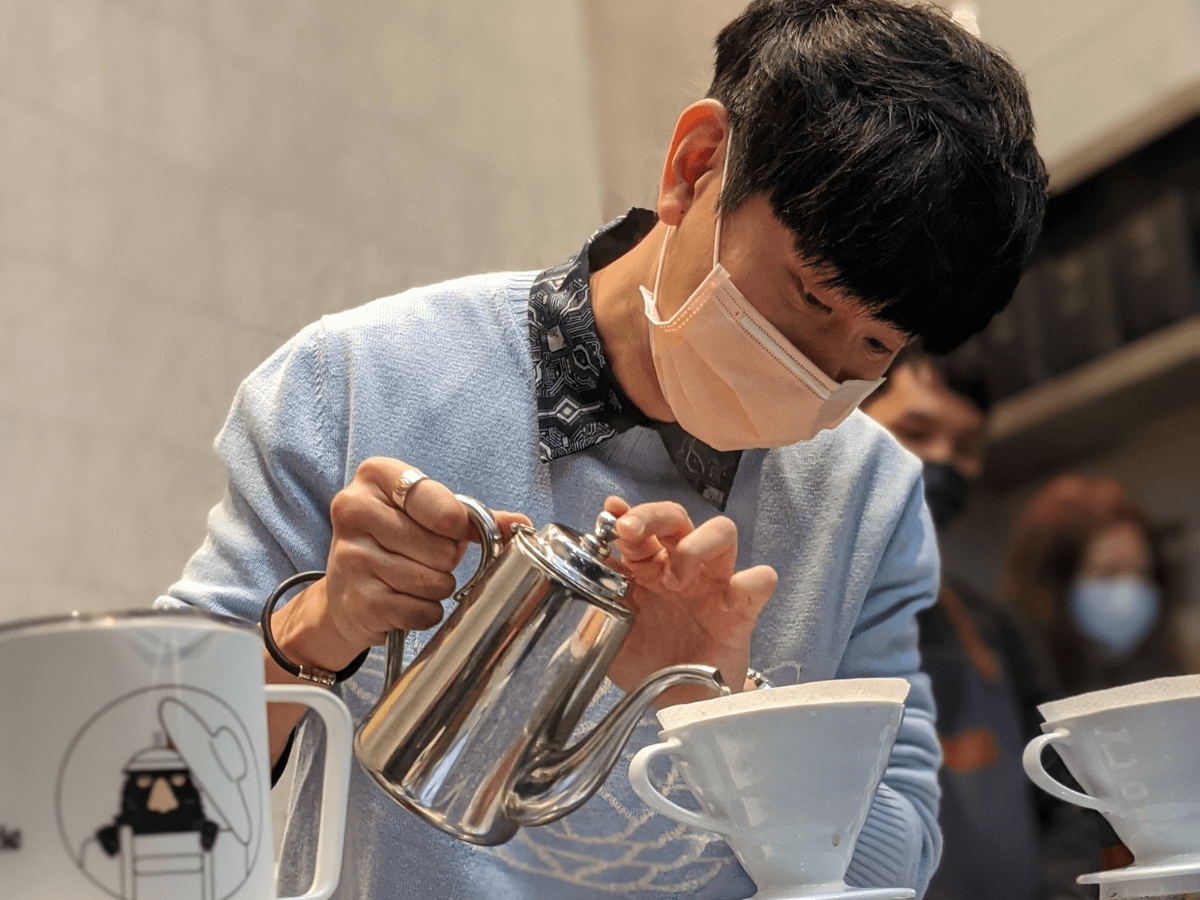 And fans were duly rewarded, as Lin later made a special appearance behind the bar, brewing a cup of hand-poured coffee and enthusiastically speaking about the process behind the brews. 
He also mentioned that you may be able to catch him at the pop-up, provided his schedule allows.
On Wednesday, organisers of the pop-up concept announced a queue-management system for crowd control. Guests will have to register for a queue slot by scanning a QR (quick response) code. This will trigger an SMS notification to either join the queue or await their turn to join the queue.
The JJ Lin Miracle Coffee pop-up kiosk officially opened at 12pm on Friday. It will run for 90 days till Dec 29.
Miracle Coffee is also collaborating with cafe SweetSpot, which is presently in the museum's lobby, to offer a limited selection of specialty concoctions. At this indoor cafe, guests can savour a sampling of Miracle Coffee's non-caffeinated favourites, such as the brown sugar hojicha latte and Wonderblend smoothie, a blend of blueberry, banana and yoghurt.
The pop-up is a prelude to the launch of its flagship store next year, at the lobby of the ArtScience Museum. The official launch date has yet to be confirmed.
EDITOR'S NOTE: This article has been updated to correct the beverage offerings available at the Miracle Coffee-SweetSpot collaboration.
Victoria Bok and Azhar Aziz contributed reporting.
Book a ride to the Miracle Coffee pop-up from Sept 30. 
ArtScience Museum, Level 1, Rain Oculus, 6 Bayfront Avenue
Nearest MRT station: Bayfront
Open: 12pm to 6.30pm (Sept 30); 10am to 6.30pm (Oct 1 to Dec 29)
ArtScience Museum, Level 1, Rain Oculus, 6 Bayfront Avenue
Nearest MRT station: Bayfront
Open: 12pm to 6.30pm (Sept 30); 10am to 6.30pm (Oct 1 to Dec 29)
---