Midas: Roti Prata with a twist at Jalan Kukoh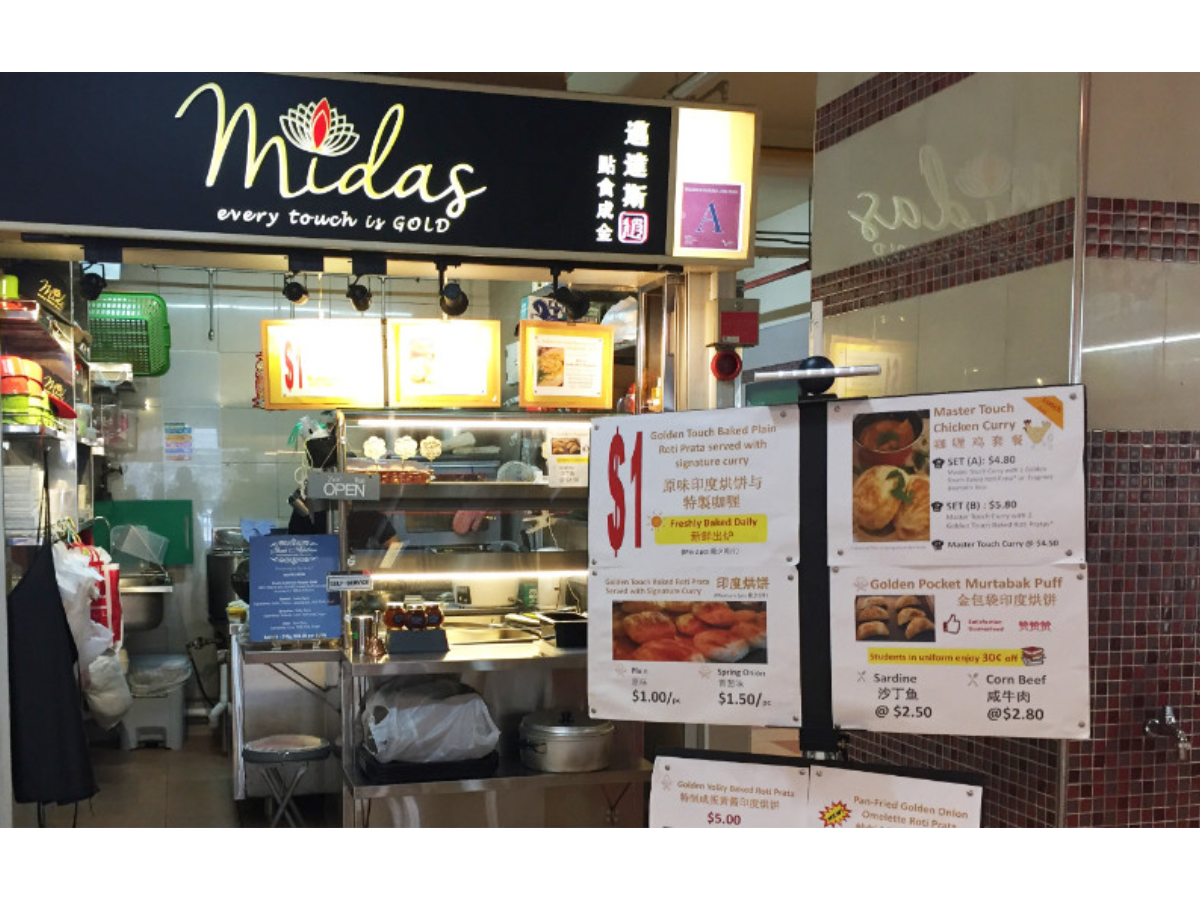 Sax, the owner of Midas located at Jalan Kukoh is a self-confessed Jack of all trades: he has spent 25 years in the F&B business doing almost every job imaginable. He has been a waiter, a captain, a manager, a director in restaurants and hotels. This is in addition to opening clubs and being a bartender as well! After thinking about starting his own food business for the longest time, he finally decided to take the plunge 9 months ago by leaving a cushy job at a brand-name hotel to open his hawker stall at Jalan Kukoh.
It is here where he reinvents the roti prata – a common staple on every Singaporeans' list of guilty pleasures. On the menu are innovative dishes such as the Golden Pocket Murtabak Puff ($2.50 – $2.80), the Master Touch Chicken Curry ($4.50 – $5.80), Golden Touch Baked Roti Prata Served With Signature Curry ($1 for plain, $1.50 for spring onion, min order of 2 pieces), and Golden Yolky Baked Roti Prata ($5). Sax, who runs a one man show, says he reaches his stall at 6am everyday to start prepping his ingredients.
Given that many of the regulars at Jalan Kukoh Food Centre are middle-aged or elderly folks, it's not easy getting them to accept his reinvented roti prata, says Sax. He shares that one factor which contributed to his decision to sell reinvented roti prata was that there was no other prata stall in the food centre when he first started – although that has now changed.
With the Golden Pocket Murtabak Puff (Sardine), Sax wanted to create a murtabak that could be eaten on the go. Other than a savoury, spicy sardine filling, this is also packed with plenty of corn and peas to make the overall taste less fishy, and give it more depth.
The Golden Touch Baked Roti Prata can be ordered ala carte, or in a set with the Master Touch Chicken Curry or Golden Yolky Baked Roti Prata. Because these pratas are baked and not fried, they're a lot less sinful and oily. Taste wise, we preferred the Spring Onion version, which is more fragrant and slightly more flaky – although both are a good base which you can use to mop up the curry or salted egg yolk.
If you have to choose between the Golden Yolky Baked Roti Prata and the Master Touch Chicken Curry, we'd say go for the latter. Although the Golden Yolky Baked Roti Prata is rich in flavour and extremely palatable, we found the masala flavour a tad subtle. All in all, it's a great dish in itself – but it's nowhere as standout as the Master Touch Chicken Curry, which we have nothing but praises for.
With the Master Touch Chicken Curry, Sax is light-handed on the coconut milk and oil, and uses mustard seeds to enhance its flavour. The result is a thick and potent curry which is non-oily, not too salty, but still extremely satisfying. We also love the slightly bitter aftertaste, which can be attributed to the mustard seeds.
The texture of the chicken is also amazingly succulent – in fact, it's one of the best we've ever had. According to Sax, many hawkers who serve curry chicken simply boil the chicken in the curry – but the trick is to blanch the chicken first, then steam it, before finally adding it into the curry. It's a more tedious process, but it makes a world of difference.
Whilst Sax readily admits that the location of his stall in Jalan Kukoh is not ideal, he says he hopes to be able to grow his business and move to a more central location in the future. If all goes well, the end goal is to open a cafe, where he can experiment with more dishes including fusion desserts. We're pretty sure that'll happen in the near future – as long as he keeps that showstopper curry chicken dish on the menu!
---
This archived article appeared in an earlier version of HungryGoWhere and may not be up-to-date. To alert us to outdated information, please contact us here.