Blu Kouzina: Greek restaurant relocates to Dempsey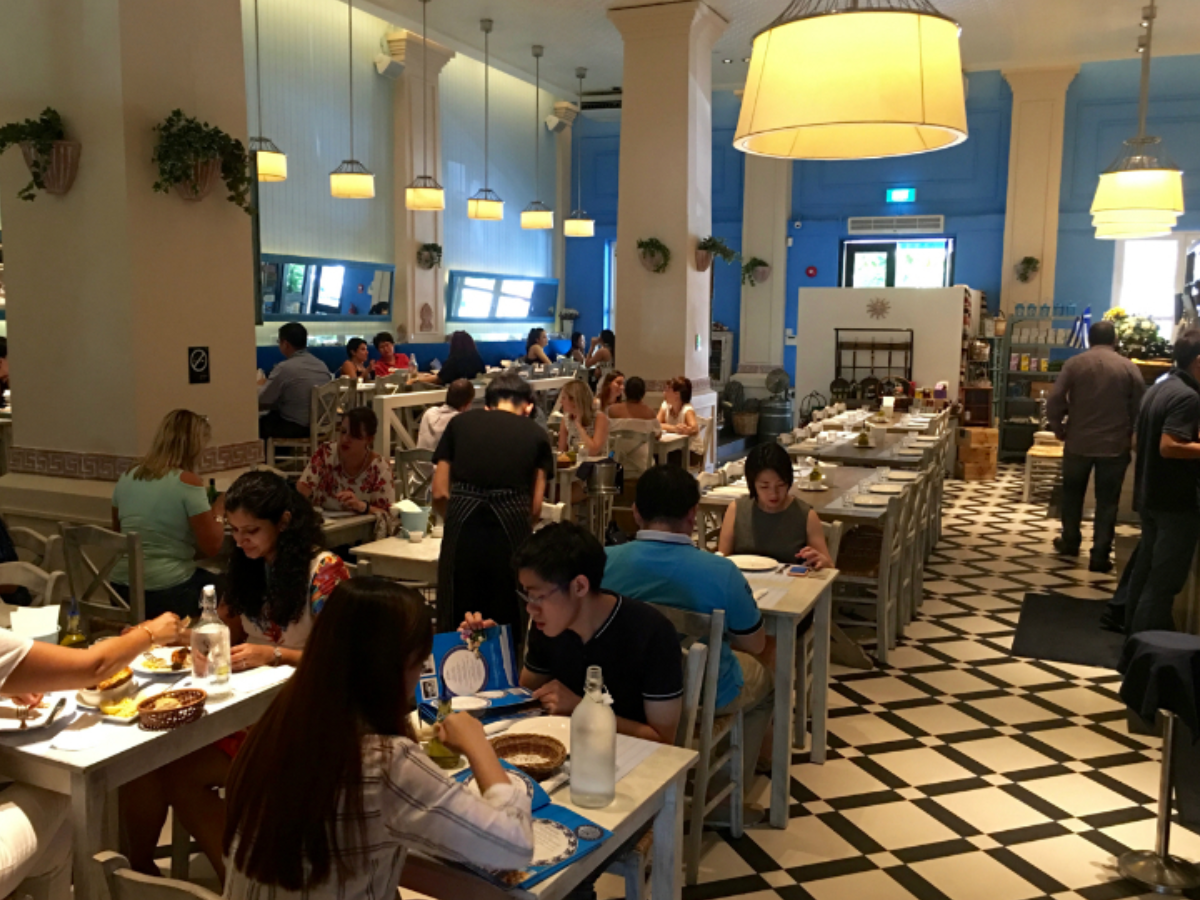 After operating out of a small shophouse along Bukit Timah Road for five years, Greek restaurant Blu Kouzina decided to move to Dempsey Road three months ago and they're now occupying a restaurant space that's five times bigger than their previous digs.
You can tell that the owners have taken great pains to make their new space as homely as possible because when you walk in, you feel like you've been instantly transported to a taverna (small restaurant) on a small Greek Island.
Look up and you might see images of the Vergina Sun (ancient Greek symbol), there are handmade urns from Crete by the tables and in the corner, old wooden cypress sticks in the corner. These are used by Greek shepherds to hit olive trees so that the olives would fall to the ground.
To reinforce the idea of home away from home, Greek owner Dennis Tsakiris has brought into the restaurant ancient artefacts from his family estate like a 300-year-old wooden trough that was used by his grandmother to knead bread. It's now a display item in front of the kitchen but is also used to hold lemons to be used for the day.
The most impressive setting of the restaurant is ironically not in the main dining room but at the al fresco dining space at the back. Overlooking a field and with rays of sunshine streaming in, it is the perfect setting for a late lunch on a lazy Sunday afternoon.
HUMMUS IS (NOT) WHERE THE HEART IS
However, if you're expecting a new, bigger and revamped menu, don't. Nothing has changed food-wise and when it comes to Blu Kouzina, and that is a very good thing.
The restaurant has been for the past few years striving to keep the food as authentically Greek as possible with no compromises and that includes turning down the many requests for hummus (mashed chickpeas, tahini, olive oil, lemon juice, garlic) from customers.
"Greeks don't have hummus. It's Middle Eastern," explained Dennis who started Blu Kouzina with his wife Effie in 2010.
NO COMPROMISE GREEK FOOD
What they do have which is somewhat similar is the Fava ($13.80), the most famous dish of the Greek Island of Santorini which mixes yellow lentil puree with chopped raw onions, oregano and extra virgin olive oil. It's a predominantly savoury taste which puts the taste of lentil beans front and centre. Enhancing the taste and texture of the beans are crisp raw onions and the incredibly good extra virgin olive oil which is the other attraction here.
The restaurant uses only 100 per cent cold-pressed extra virgin olive oil which is sourced from the Tsarkiris family's 500-year-old olive estate in Messinea, Greece. Every dish is cooked with it and when you sample some with bread, you can taste the difference as there is a distinct herby, grassy character and a peppery taste that "burns" the back of the throat — considered a good thing by many olive oil experts.
This no-compromise approach is everywhere on the menu be it the common Horiatiki ($21.80; Greek salad) which has feta cheese still soft and moist, or the Psari Stin Shara ($45.80 for sea bream; Greek grilled fish) where the fish comes plainly grilled and is incredibly fresh. Ask for a small portion of flavoured olive oil which is available on the side. Composed of extra virgin olive oil, lemon, salt and oregano, it enhances the taste of the fish beautifully.
This stringent approach is particularly evident when it comes to the mezedes (small appetisers) like the ever-famous Greek dip, taramosalata ($15.80; fish roe dip) which is made in-house with proper grade tarama (cod roe). It comes white in colour and not with a pink hue common in mass-produced taramosalata and is due to food colouring. The result is a fish roe dip that is more uniform in flavour and with none of that salty sharp flavour.
The Tzatziki ($14.80; yogurt dip) is also interesting as they use Greek yogurt which has been fermented for five years and the result is a supremely smooth creamy texture that isn't high in fat and isn't overly rich.
BEYOND THE ORDINARY
They also have some unusual Greek dishes of note like the Saganaki with Figs ($18.80) which is fried kefalotyri (hard, salty cheese made from sheep or goat's milk) dressed with a fig sauce with lots of marinated figs and fried oregano leaves. It's a sweet, rich dish that is best eaten quickly before the melted cheese cools.
The Xtapodi Shara ($29.80) — grilled octopus leg simply grilled with olive oil, lemon and herbs— is not only a rather uncommon dish, it is grilled to perfection with a light crispness and a soft texture that has to be tasted to be believed.
---
This archived article appeared in an earlier version of HungryGoWhere and may not be up-to-date. To alert us to outdated information, please contact us here.