[CLOSED] Ah Sam Cold Drink Stall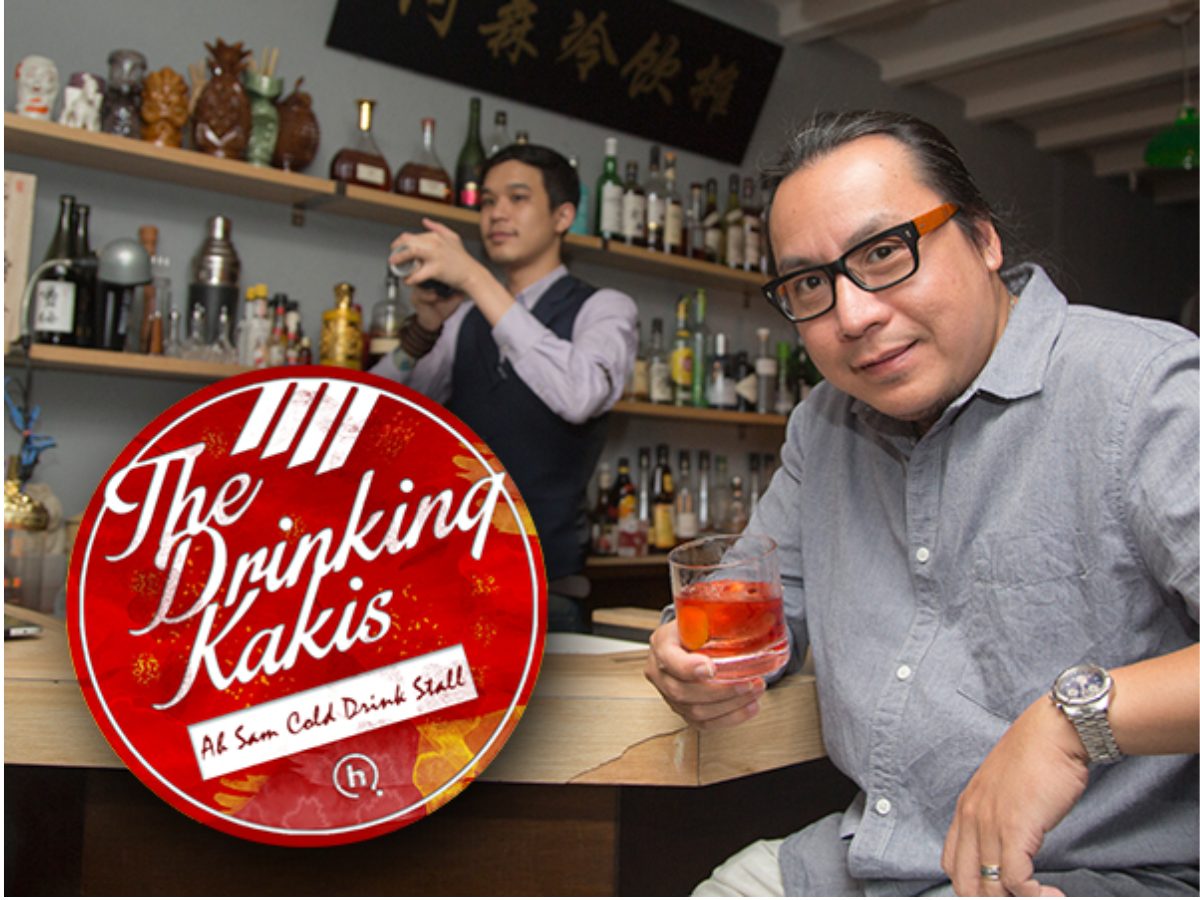 With the plethora of bars in Singapore garnering widespread media buzz, and barkeepers threading the centre of its spotlight, an integral part of their popularity remains completely hidden in the shadows – the patrons.
Entering Ah Sam Cold Drink Stall, award-winning music producer and photographer Andrew Lum decides to call out to owner and head bartender Sam Wong for his regular tipple.
Wong acknowledges and greets Lum in the manner of an old friend: with a warm welcome and below-the-belt mockery for being at the bar for the third day in a row.
With a hearty laugh, Lum takes his place at the bar. Lum's starter cocktail wasn't always a Negroni, he shares, because it tasted like cough syrup.
It is now his favourite, as is Ah Sam Cold Drink Stall. He tells us why:
"I knew Sam Wong even before he opened this bar. He and Anthony Zhong were the stars of Jigger & Pony where I used to visit. They really built that bar and opened my eyes to the world of classic cocktails. When Sam left, we kept in touch and here I am.
What do I do? I have been a music producer for over two decades now and founded New Asia records. Back in the '90s, I worked on a slew of Mandopop records and these days, my focus is mostly on Asian fusion music, incorporating traditional eastern instruments with western influences. I also picked up photography as a hobby and now turned it into a professional gig. Nothing beats working on something you love.
All this talk is making me thirsty. You know, I wasn't big on cocktails in the beginning. Don't get me wrong, I first ventured into cocktails five years ago, but I wasn't into the classics.
At that time I was amazed with the likes of (the now defunct) Klee at Portsdown Road and Bar Stories for their fancy and creative cocktails.
It's funny how I used to think a classic like Negroni and found it tasted like cough syrup. It is now the first drink on the bar top every time I come back to Ah Sam.
See, I like my drink to have good body, strength, complexity and long finishes. Yes, it takes a willingness to explore and an open mind to get into cocktails. But I think it has a lot to do with the person who makes them. The most important thing is a good bartender introducing and guiding you through it.
Sam is that bartender. Not only is he a genuine guy, his attitude, passion and generosity truly represents bartending in every sense of the word.
These are the few things that make me come back to a bar; the things that make me feel at home.
There is, of course, a market for fashionable bars, but I prefer mine to be non-commercial and unpretentious. I visit Ah Sam once to three times a week depending on how busy I am. I always start with a Negroni, stay for new experiences and, on some days, make new friends.
You know, I thought this interview was scheduled for three days ago. I came by and Sam told me that it's today. I dropped by yesterday for a drink, too.
I don't need an excuse to come here, but I'll take one if it presents itself."
Ah Sam Cold Drink Stall | Address: 60A Boat Quay | Tel: 65350838 | Opening hours: Mon-Thu 6pm-midnight, Fri-Sat 6pm-3am
---
This archived article appeared in an earlier version of HungryGoWhere and may not be up-to-date. To alert us to outdated information, please contact us here.