The Seasons: Coconut Chicken Steamboat is great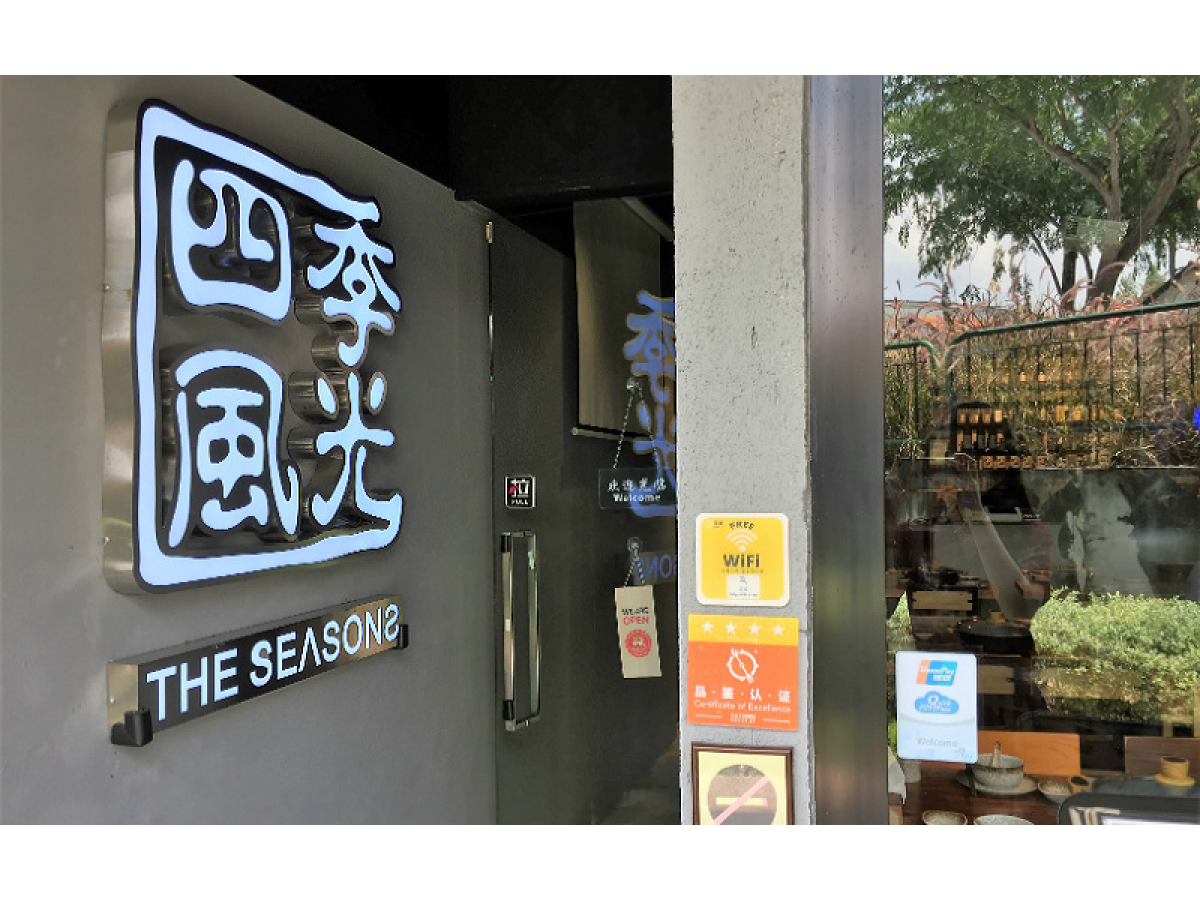 Steamboat and buffet lovers, take note. Tucked away in a quiet corner at Holland Village is The Seasons restaurant, which isn't quite your typical Chinese steamboat joint.
For one thing, they serve coconut chicken steamboat here, with the soup base comprising of kampung chicken and fresh coconut water (said to help with hydration, moisturize your skin, and even weight loss). Also, all the dishes served at The Seasons are MSG-free, so you can go ahead and indulge without getting that icky parched feeling at the end of your meal.
To start off, order the signature Nourishing Coconut Chicken Hotpot ($26.80), which comes with a light, fragrant soup base. The Seasons also serves several "premium" versions of this hotpot including the Sea Cucumber Coconut Chicken Hotpot ($36.80) and the Bamboo Fungus Coconut Chicken Hotpot ($32.80), but we'd recommend sticking with the basic version and supplementing your meal with the various meats instead.
Take your pick from the Pork Belly ($14), Pork Shoulder ($17), Australian Wagyu ($18) and the American Wagyu ($18). There are also seafood items such as the Mashed Shrimp ($18) on the menu; with its extraordinarily springy texture, it's easy to see why this is a bestseller.
For best results, be sure to use the handy hourglass provided at each table. After you've started your steamboat and loaded it up with kampung chicken, put the lid on and turn the hourglass over. Once five minutes are up, you should dig into the chicken immediately; any longer, and the meat will be overcooked.
To complement the food, sand ginger from Guangdong, China, is also provided as a condiment. This is said to aid in detoxing the body and improves both blood circulation and digestion. Taste wise, the sand ginger is mildly spicy with a slight hint of pungency; it pairs pretty nicely with the meat and gives it more depth.
Other than the raw items, there are also plenty of cooked dishes available at The Seasons. The Purple Sweet Potato Cheese Balls ($8) are extremely popular and typically sells out by around 7pm; we also like the Fried Squid ($8) which is crunchy and full of umami flavours.
To wash it all down, we suggest the Grapefruit Peach Tea ($4.50; pictured on the left), which is highly refreshing. Alternatively, go for the Salted Green Tea with Lime ($4.50; comes with a slightly salty aftertaste without being overwhelming salty.) If you're in the mood for alcohol, the restaurant also serves Watermelon Shochu ($9.80), High Ball ($15), and a range of beer, sake, dessert wine and even champagne.
If you still have space for dessert, try The Seasons' Coconut Jelly ($8), which will end your meal on a perfect (and not too sweet!) note.
All in all, The Season's signature coconut chicken hotpot is definitely much less intense (but still delicious!) compared to the spicy, oily mala hotpots which are now hugely popular in Singapore. With its healthy, non-oily steamboat options, The Seasons is ideal for diners who want to have their cake and eat it at the same time. Head down to their restaurant, located just a minute away from Holland Village MRT Station, for a hearty and satisfying meal which isn't too sinful.
This is a hearty, comforting dip. Fresh-cooked spinach is combined with cream cheese, and scented with cumin. A touch of hot chilli flakes and vinegary hot sauce add a bit of heat to balance out the richness. As a final touch, a handful of mozzarella on top bakes to gooey perfection in the oven. The filling can be cooked ahead and refrigerated, then sprinkled with cheese and baked when ready to serve.
---
This archived article appeared in an earlier version of HungryGoWhere and may not be up-to-date. To alert us to outdated information, please contact us here.