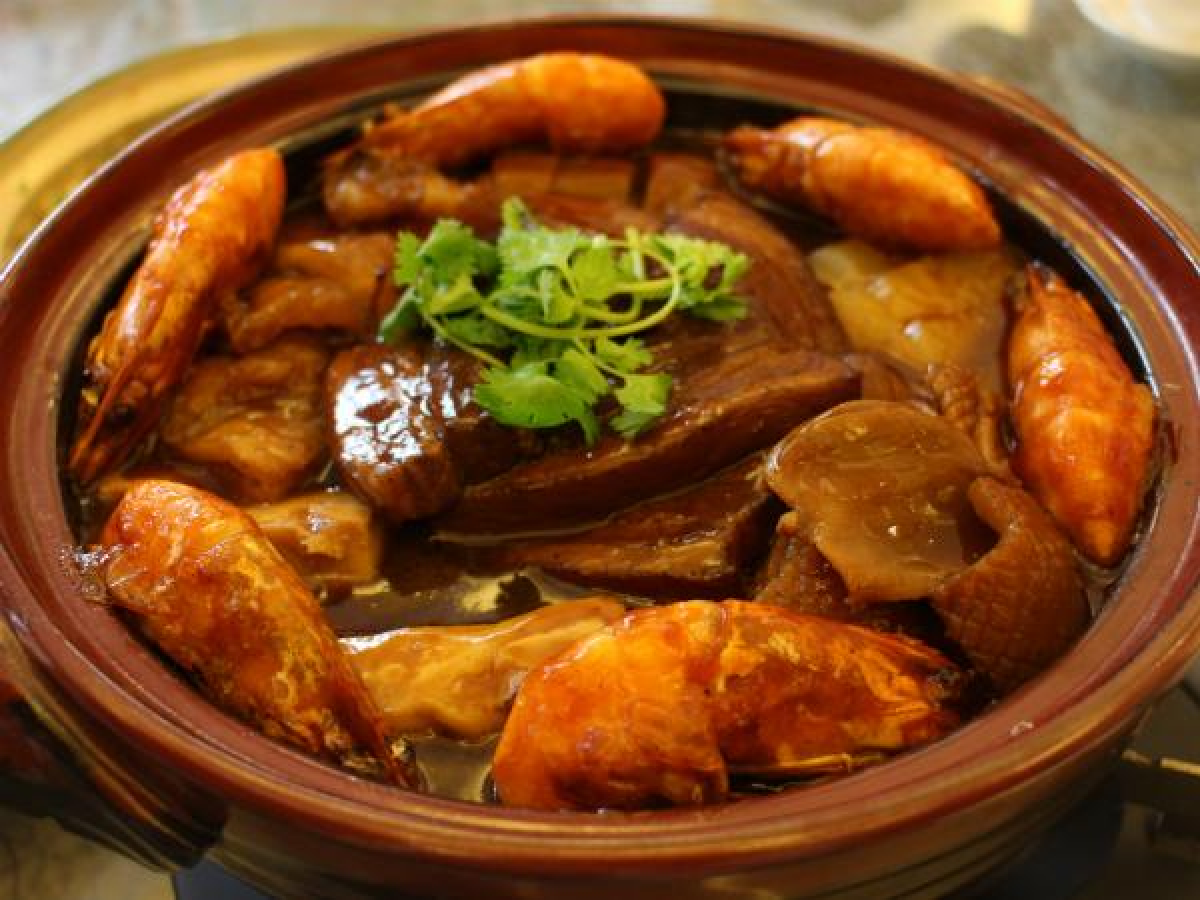 Pen cai has only recently been introduced to the Singapore Chinese New Year table, unlike many other dishes and recipes that have been handed down through generations.
The origins of pen cai (poon choi) go back to when Mongol troops invaded Song China. To feed the fleeing Emperor who escaped to Guangdong, the locals gathered the best food available and made a hearty stew. Without a container large enough to put everything in, the hosts improvised by serving the steaming hot food on large wooden wash basins, hence the name 'pen cai' (vegetables in a basin).
As for the ingredients that go into it — your imagination can dictate the items. From exotic vegetables to fresh seafood and meat, anything goes. Presentation is another matter. Skills are definitely required, as each ingredient must be layered and stacked very carefully. Poultry is usually placed on the top, implying that birds return to their nests. And just like digging for treasure, the closer to the bottom of the claypot, the more flavorsome the broth gets, as all the juices blend with each other.
Chefs love to outperform each other in the decadence of their 'pen cai' offerings and below, we have compiled a list of our favourites. It's definitely a dish that brings everyone together, so enjoy it with family and friends at home or at one these fine establishments.
Auspicious Poon Choy
Where: Checkers Deli (Hilton Singapore)
How much & availability: $288 for eight persons. Takeaway only, between 1-28 Feb
Abundance factor: A delicious balance of tradition and flavours, the pen cai at the Hilton includes premium items such as roast duck, scallops, live prawns, abalone, roast pork, shitake mushrooms, sea cucumber and fatt choy (black moss). The execution is very meticulous, as each ingredient has to be individually cooked then layered carefully in the pot and simmered for four hours.
Wow factor: The unique take on the presentation of this dish (it's served in a traditional wooden drum set) is sure to be a hit; it also makes a nice keepsake of the good times spent with friends and family.
Cherry Garden Treasure Pot
Where: Cherry Garden Restaurant (Mandarin Oriental)
How much & availability: $238 for six persons takeaway or dine in for $198 per person; set menu available from 1-28 Feb.
Abundance: Prepared in a special casserole pot full of premium ingredients such as abalone, sea cucumber, roasted meats and much more, this tantalising array of ingredients is great tasting and provides great value.
WOW factor: The Spring festival menu is crafted down to its finest detail by Cantonese cuisine expert chef Hiew, and is ideal for you to enjoy in the comforts of your home. It comes in a generous-sized casserole pot for you to keep and the carefully selected ingredients will impress upon your guests.
The Red House Treasure Pot
Where: The Red House Seafood Restaurant
Opening hours: During CNY period (13 & 15-16 Feb): 11:30am-11:30pm; closed on 14 Feb
How much & availability: $238 for 6 persons or $398 for 10 persons. Available for dine in or takeaway.
Abundance: This treasure trove is brimming with premium ingredients such as whole abalone, sea cucumber, dried oysters, live prawns, fresh scallops, roast chicken, mushrooms, cuttlefish balls, black moss, yam and Chinese cabbage. And if that's not enough, how's this for abundant: Every order comes with a complimentary salmon yu sheng and lotus rice.
WOW factor: The Red House specialty is seafood so be prepared to enjoy some of the freshest and most sumptuous sea treats on offer.
Prosperity Vegetarian Treasures in Wooden Pot
Where: Min Jiang (Goodwood Park Hotel) , Min Jiang at One-North
How much & availability: $98 for 6-8 persons. Available for dine in or takeaway until 28 Feb. Advance order of one working day is required.
Abundance: Just because this pen cai is vegetarian is no reason to think the restaurant is skimping out on flavours or ingredients. You will find a whole treasure pot in store that is stunningly prepared with gems like braised assorted mushrooms rolled with beancurd skin, lingzhi mushrooms, straw mushrooms, bean gluten, bamboo pith, 'wa wa cai' (Chinese cabbage) and lettuce.
Wow factor: Min Jiang has created a healthy alternative to the all meat dish in a traditional 'pen cai', as this version is all vegetarian. With a variety of fresh greens and traditional Chinese ingredients, it will not only bring you good luck but also keep you in tip top shape.
Prosperity Dishes – Cantonese Poon Choi
Where: Swissôtel Merchant Court
How much & availability: $168 for six persons and $288 for 10. Available for takeaway from 20 Jan-28 Feb; advanced orders essential.
Abundance: Cantonese Poon Choi (pot of luck) is a gourmet treat with delectable ingredients including: waxed duck, Chinese sausages, prawns, mushrooms and sea cucumbers, all gently simmered in Thai fragrant rice.
WOW factor: The perfect way to entertain your family and friends at home. After the experts have done all the hard work, all you need to do is serve. The Lunar New Year goodies' menu allows you to customise your selection, but we still recommend you stick with the traditional Cantonese style.
Prosperity Poon Choi at Man Fu Yuan
Where: Man Fu Yuan Chinese Restaurant (InterContinental Hotel)
How much and availability: $318 for five persons takeaway option. Or you can choose to dine in and select a six-course menu which includes pen cai at $588++ for 5 persons. Available until 28 Feb.
Abundance: Chef Kong sure knows the meaning of deluxe; his gourmet treasure pot includes dried oyster, sea moss, abalone, shark's fin, scallop, fish maw and sea cucumber and a multilayer of both fresh and premium ingredients that include goose web, roast duck, waxed pork sausages and liver sausages.
WOW factor: Served in a beautiful take-away claypot, it also comes with a small complimentary prosperity salmon yu sheng. This is a great feast of treasures just waiting to be discovered.
Abalone Fortune Pot
Where: Pine Court Chinese Restaurant (Meritus Mandarin) 
How much and availability: $398 for eight persons takeaway from the Deli on Level 1, 3-day advance order required and available from 18 Jan-13 Feb.  You may also choose to dine in at $68++ per person, available from 1-28 Feb.
Abundance: Savour the delicacies on offer such as abalone, sea cucumber, dried scallops, dried oysters, fish maw, exotic goose web, crunchy pig trotters, mushrooms and black moss all simmered in quality stock slowly reduced from the delicious ingredients.
WOW factor: What could be better than one Chef preparing your meal? How about four award-winning Chinese Chefs creating this stunning pen cai. Masterfully using the abalone richness as the centerpiece, this hot pot is well worth splurging on—at least once a year.
Braised Eight Treasure Pen Cai  
Where: Jade Restaurant, Fullerton Hotel 
How much & availability: From $68 per person, available for takeaway or dine in with several five-to-eight-course menus to choose from. Available from 13-28 Feb.
Abundance: A treasure pot filled-to-the-brim with layers of delicacies such as whole abalone, fish maw, sea cucumber, dried scallops, black moss, dried oysters, flower mushrooms, roasted duck, yam, fresh prawns, lotus roots and more.
WOW factor: Masterly prepared by chef Leong Chee Yeng and the award-winning team of Jade restaurant. Expertly prepared, every detail has been considered in this feast. Chef Leong has made sure each ingredient has been specially marinated to heighten the delicacies' flavours. His work is instantly apparent on the first bite.
---
This archived article appeared in an earlier version of HungryGoWhere and may not be up-to-date. To alert us to outdated information, please contact us here.