5 must-orders at Swatow Seafood Restaurant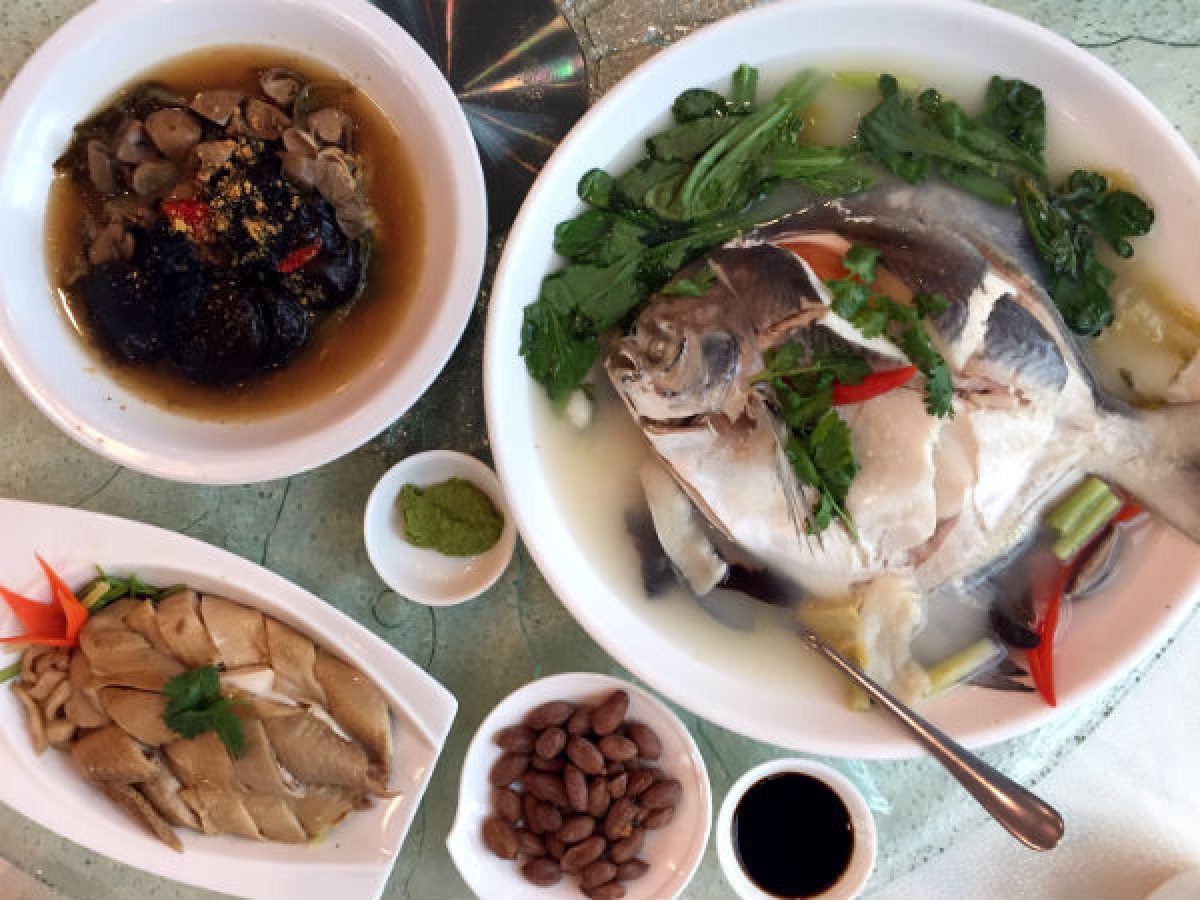 Chances are if you live in the Toa Payoh heartlands, you would have been to the original Swatow Restaurant — it's an authentic experience, usually a family affair, complete with traditional Teochew opera every Friday.
Since April 2016, Swatow has opened another outlet at Serangoon Gardens. The address is a little off the beaten track, and it occupies part of the Serangoon Gardens Country Club. With sunlight streaming in through tall windows during the afternoons, and high-ceilings giving the space an air of elegance, this would make a suitable wedding banquet venue. Foodwise, a bigger portion of the menu is devoted to seafood but the usual staples are all there. We know grandma and the rest of the clan will give their stamp of approval, still, here's what to order:
1. Dim Sum
Green siew mai, anyone? You can probably only find it at Swatow Seafood Teochew Restaurant. This Teochew style steamed dumpling, unlike its yellow-skinned Cantonese style contemporaries, consists of just minced meat (no prawn) and is served with punchy black vinegar ($4 for 2 pieces). Another Teochew specialty, the plump crystal dumplings are offered in both savoury and sweet options, $3.20 for 2 pieces. The sticky mochi-like skin goves way to the textural crunch of vegetables for the former, and soft inviting red bean paste for the latter.
2. Steamed Pomfret Fish
You cannot visit a Teochew restaurant and not order the steamed pomfret (seasonal price). If there's a hallmark of the cuisine, this is it. At Swatow, they only use meatier pomfrets that weigh at least 800g and it's served savoury broth-like sauce, preserved salted veggies, and mushrooms.
3. Imperial Fried Egg with Duck Meat ($12)
Another dish that you will only find at the Serangoon outlet. A take on the orh luak (oyster omelet), the simplicity of this humble fried egg belies the high-level skill it takes to achieve the golden brown, puffy texture and slightly crispy edges — the key is down to the high heat and a big fire when frying. With a higher egg to tapioca starch ratio, the egg is custardy inside and studded with duck meat and a verdant of scallions.
4. Swatow Signature Crayfish 
Seafood is definitely one of the main attractions at Swatow Seafood Teochew Restaurant, with a bigger part of its menu devoted to crustaceans and other swimmers, compared to its sister outlet. Besides a galore of options that include the classic Teochew Cold Crab (seasonal price), the Swatow Signature Crayfish is a must-order for its wok-hei and chye poh (preserved radish) flavour — it's kind of like local fried carrot cake meets Hong Kong fried noodles. Unhinge the succulent flesh of the crayfish from its shell, and eat it with scrambled eggs, onions, sprouts, and chye poh.
5. Sugar-coated Yam Cubes
Ahhh…. the sweet and sticky orh nee (yam paste with gingko nut), the go-to dessert at every Teochew restaurant. Instead of the quintessential pudding, why not go against the grain and have the sugar-coated yam cubes ($16)? These bite-sized, sugar-crusted fried snack cubes contain warm soft yam, the consistency of mashed sweet potatoes.
---
This archived article appeared in an earlier version of HungryGoWhere and may not be up-to-date. To alert us to outdated information, please contact us here.