10 Saltiest hawker dishes in Singapore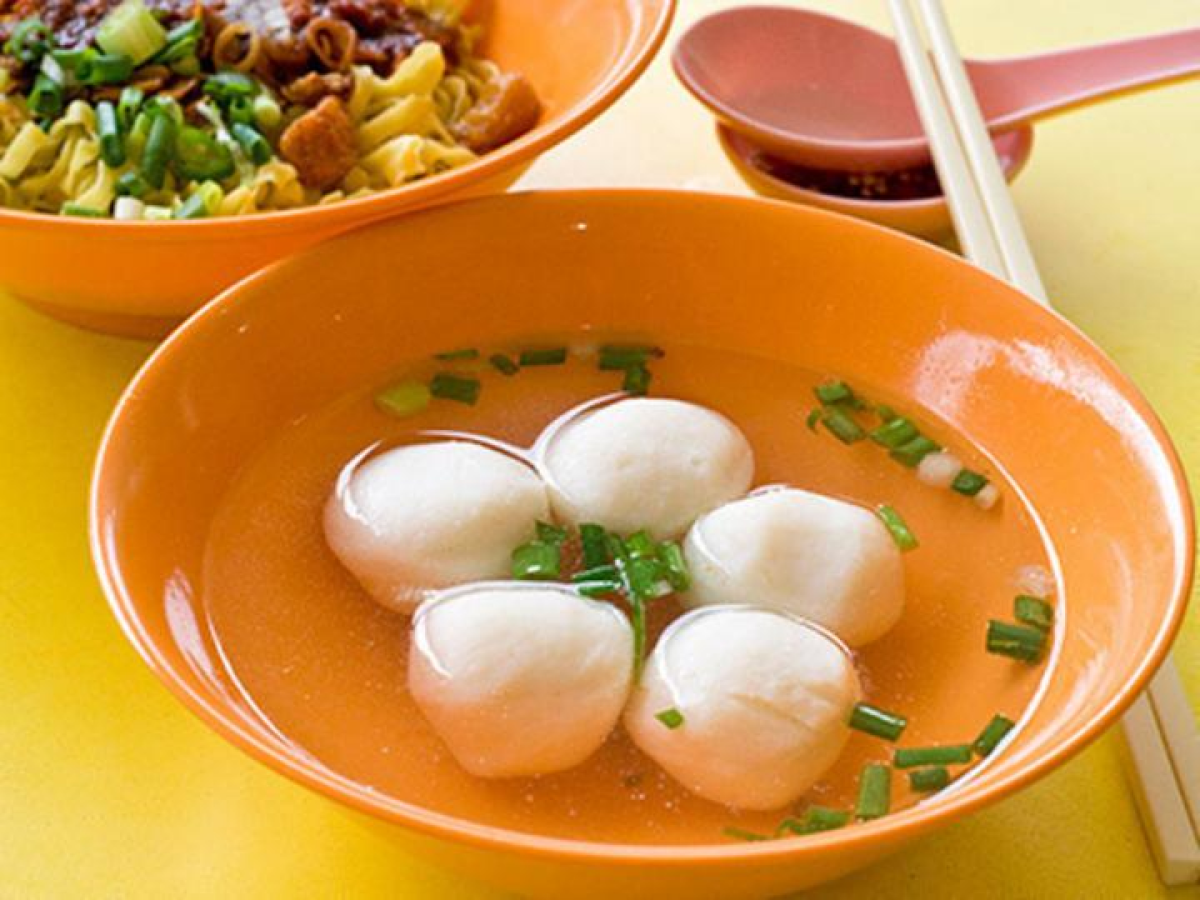 So you think you're eating relatively healthy dishes at hawker centres? Think again. We did a little snooping to find out how salty our hawker dishes are exactly, and how much we should actually be consuming. We list our findings, from the dishes containing the lowest to the highest amount of sodium per portion.
As a guideline, the average daily sodium consumption is recommended to be no more than 2,000mg of sodium per day in Singapore (it differs in other countries). According to the Singapore Heart Foundation, the average Singaporean consumes around 3,520mg of sodium per day – 76 per cent more than the recommended intake. A diet high in sodium may result in high blood pressure, stroke and kidney failure.
1. Lor mai kai
Sodium level: 599mg per portion (150g)
These babies shouldn't affect your daily sodium intake much, right? Well, this dense little bowl of glutinous rice with richly-salted chicken (with skin) makes up a little more than a quarter of your 2,000mg – a good way to start the day if you're really watching what you eat the rest of the day. Besides, you don't usually consume this on its own, do you? If you're at Tiong Bahru Pao, you've got to also have the medium-skinned char siew bao ($0.90; lor mai kai, $1.80) and the rest of the dim sum works.
Tiong Bahru Pao | Address: #02-18/19, 30 Seng Poh Rd, Tiong Bahru Market and Food Centre | Tel: 64381663 | Opening hours: Daily 7am-9pm
2. Braised duck gizzard
Sodium level: 304mg per piece (47g)
We've placed the duck gizzard second because, who really eats only one piece? If you're a lover of this deathly chewy (death to dentures, that is) bird's ventriculus, you're likely to consume the whole plate; that would set you back anywhere between 608mg and 3,648mg. If you must consume a piece of this, drop by Ah Heng Braised Duck Rice for a quintessential classic. Their basic plate of duck rice starts at only $3.50. Don't overdo it though.
Ah Heng Braise Duck Rice | Address: #02-64 Hong Lim Food Centre, 531A Upper Cross Street | Opening hours: Tues-Sun 8.30am-2.30pm, Closed on Mondays
3. Carrot cake
Sodium level: 1282mg per portion (290g)
You think this is one of the lightest dishes you can have at a hawker centre, and you might be right – the average weight of a plate of carrot cake is 290g, but that itself packs a little more than half the amount of sodium you should take in a day. Still, we can't keep ourselves away from Hai Sheng Carrot Cake's white version (the only version they sell). We recommend opting for the smallest portion ($2; $4 is the biggest) – for good things like this soft, egg-led crisp carrot cake should be savoured, slowly, in small portions, not overdone.
Hai Sheng Carrot Cake | Address: Blk 724 Ang Mo Kio Ave 6, #01-09 | Tel: 90035259 | Opening hours: Mon-Fri 7am-2.30pm, 6-8pm; Sat, Sun & public holiday 7am-8pm
4. Char kway teow
Sodium level: 1463mg per portion (385g)
No matter how glisteningly oily, nicely sweet and well-studded Outram Park Fried Kway Teow Mee's char kway teow is with plump blood cockles (fried to the right raw-meets-cooked doneness) we'll only get in line at once in a very blue moon. It's not that the lines never end – it's that we fear our bodies won't be able to take the amount of sodium (and grease) a plate ($3-$5) sticks us with. We appreciate how generous the portions are, and the hard arm muscle power you put into frying the char kway teow, Uncle Ng, we really do.
Outram Park Fried Kway Teow Mee | Address: 531A Upper Cross Street, #02-17, Hong Lim Food Centre | Opening hours: Mon-Sat 6am-4.30pm

5. Ngoh hiang
Sodium level: 1725mg per portion (355g)
It does not surprise us that this platter of sausage-like rolls (typically made with prawns, water chestnut, minced pork and five-spice – "ngoh hiang" – powder rolled and deep-fried in beancurd skin, $0.70 per roll), lup cheong (Chinese sausage, price varies), century egg ($1.20 each), deep-fried prawn fritters ($0.70 each), fishballs ($0.20 each) and cuttlefish ($2 each) is lesser in weight than an average plate of char kway teow, but higher in sodium levels. The accompanying sweet sauce (a must-have) adds to the sodium count. Lao Zhong Zhong's five-spice offerings are not for the faint-kidneyed, as a former President might attest.
Lao Zhong Zhong Five Spice Stall | Address: 29 Tai Thong Crescent, Lao Zhong Zhong Eating House | Tel: 96932103 | Opening hours: Daily 11am-11.30pm
6. Century egg porridge
Sodium level: 1915mg per portion (648g)
Ah, the go-to dish for many of us when we're sick. Flavour- (and ingredient-) laden bowls like Hong Kee Porridge's century egg porridge with meat, intestines and pig's kidney and liver ($2.50) might work for when you're so ill you're only taking one meal a day. Otherwise, we suggest kicking it down a few notches to options like the duck porridge (1269mg per 573g portion) – that might be a little more sustainable.
Hong Kee Porridge | Address: Blk 119 Commonwealth Crescent, #02-89 Commonwealth Crescent Market | Tel: 90675755 | Opening hours: Daily 7am-3pm
7. Claypot rice
Sodium level: 2178mg per portion (595g)
Share. Don't try to eat the entire claypot rice dish yourself, even though, we know, that is very possible. There is plenty of crust and sauce to go around, especially when, like at Geylang Claypot Rice, the sweet and salty dark sauce is evenly poured and you allow the rice to pop a little on the bottom before mixing the rice, chicken, pork and salted egg thoroughly yourselves. We're glad the serving bowls are small.
Geylang Claypot Rice | Address: 639 Geylang Rd | Tel: 67444574 | Opening hours: Tue-Sun 11.30am-4pm, 5pm-midnight
8. Mee soto ayam
Sodium level: 2417mg per portion (569g)
At as low as $2, the soto ayam is a bargain, and a hard one to stay away from. It clocks in at more than 20 per cent over the recommended daily intake of sodium, but Inspirasi Stall's homely bowl (mainly) sweet broth might be one to indulge in once in a while. The bowl comes complete with lontong (rice cakes), bean sprouts and shredded chicken, and as much chilli you can handle. Bring water.
Inspirasi Stall | Address: 207 New Upper Changi Road, #01-11 Bedok Interchange Food Centre | Opening hours: Mon-Wed & Fri-Sun noon-midnight
9. Mutton murtabak
Sodium level: 2653mg per portion (410g)
So it seems murtabak is the dish to order when you're just coming off a night at the dance clubs. Drunkies, at least try to remember to order Singapore Zam Zam Restaurant's chicken murtabak instead – that is what the Indian-Muslim restaurant is known for, and the chicken version packs 400mg less of sodium. Give yourself some help: you don't need your body to also be fighting your kidneys for water.
Singapore Zam Zam Restaurant | Address: 697 North Bridge Road | Tel: 62986320 | Opening hours: Daily 8am-11pm
10. Fishball soup with noodles
Sodium level: 2878mg per portion (657g)
Who would have thunk a bowl of clear broth could do so much damage? If you have decided to go this far, have Yong Kee Famous Fish Ball Noodle's handmade fish- and meatballs. But resist finishing the innocent-looking soup, even though it is made with the nutrient-rich water used in the fishball making process – that's where the sodium is concentrated.
Yong Kee Famous Fish Ball Noodle | Address: 6 Jalan Bukit Merah, #01-121 ABC Brickworks Food Centre | Tel: 62703956 | Opening hours: Daily 7am-1am

---
Former food & drink editor at Time Out Singapore magazine, Celine Asril's other previous incarnations include food blogger, cook, and food photographer's assistant. The avid WWOOFer and Twitter-jointed writer has been published on CNNGo, Forbes Travel and in Asian Gourmet and Smile magazine. She is now adding edible codes to inSing.com. Follow her work twitter feed at @HungryGoWhere.
---