All the Mexican restaurants in Singapore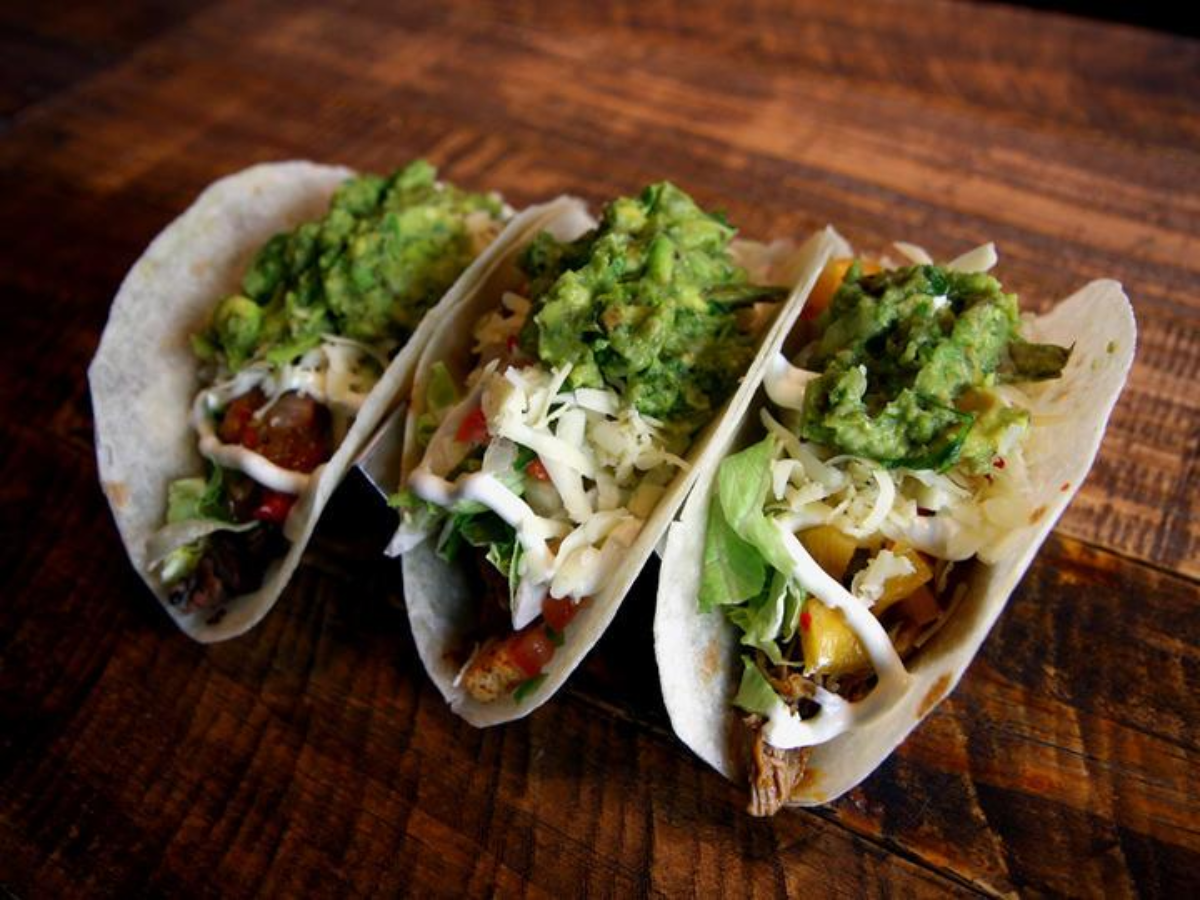 Whether you like it in a casa (Spanish for "home"), hacienda ("estate") or taqueria ("taco shop") setting; spicy, piquant or mild; Singapore has a new, and established, crop of Mexican restaurants, takeaway or grocery store to suit every budget and taste. Since featuring 15 Mexican eateries (and a delivery service) a year ago, more have opened. We've added six new joints to this list, in time for you to go Cinco de Mayo loco.
Often mistaken for Mexican Independence Day (16 September), Cinco de Mayo officially commemorates the anniversary of an early and seemingly unlikely victory by Mexican forces over invading French forces in the Battle of Puebla on 5 May 1862.
Mexican food is a riot of colours and spices, sauces and cerveza (beer), and, for us, sometimes Spanglish. When laid out, it is often red, white and green (colours of the Mexican flag) – most reflected in the tri-federation of salsa, tortillas and guacamole.
________________________________________________________________________________
MEXICAN FOODS 101:
Burrito = a tortilla with various fillings, shaped into a tightly enclosed roll
Ceviche = raw fish dish, marinated in lime or lemon juices
Chimichanga = deep-fried burrito
Cilantro = coriander or Chinese parsley
Enchilada = tortilla wraps rolled around various fillings
Fajita = any kind of grilled meat wrapped in a soft taco or tortilla
Mole = a thick, savoury sauce made from many ingredients including chillies, chocolate and herbs
Taco = tortilla folded in half to hold various fillings, and eaten by hand
Tortilla = thin Mexican flatbread made from finely ground flour or corn
___________________________________________________________________________________
"Singaporeans might be some of the best-travelled people in the world. Do they enjoy Mexican food? You bet they do!" enthuses Francisco Belmonte, who has seen the scene evolve from 2001, when he first arrived.
Belmonte's played a big hand too, setting up the first fresh tortilla facility in 2002, supplying both businesses and homes through his shop, Belmonte Latin Foods (see below). It's to his benefit, really: "In 2002, one could only dream about having a chile relleno (stuffed poblano pepper) or a nopales (cactus) salad. Now, you are spoilt for choice," grins the man who is happily married to a Singaporean who, by his admission, makes great tamales (steamed dough and meat parcels).
El Patio
For enchiladas
The former El Felipe's Cantina was set up in 1985, but morphed into El Patio in 1999, when it changed owners. Not much has been disturbed, however, from the menu to the iconic Holland Village location, although a spiffy renovation in 2010 rebranded the place with clever modern imagery (like a cactus with spikes that spell out "el patio"). We like the enchiladas, another form of taco where the tortilla wraps are rolled around various fillings (from $14) such as beef with guajillo chile adobo (vinegar, garlic and chile marinade) or mushrooms and spinach, then topped for baking with sauce, cheese, onions and cilantro (coriander). A good-sized wine cellar and a tequila list of over 20 completes this casual jaunt into Mexico.
34 Lorong Mambong | Tel: 64681520 | Opening hours: Mon 1-11pm, Tue-Fri 12noon-11pm, Sat & Sun 11am-11pm
Margarita's
For stuffed poblano chiles
Chef Andy Yap fell in love with Mexico from the very first trip, leading him to open Margarita's at Faber Drive in 1987 to satisfy his craving for authentic Mexican regional cuisine. Today, the Dempsey outlet, with its stucco walls, handmade Mexican chairs and tables and hacienda-style décor makes even the Mexican ambassador feel at home. With that seal of approval, you'd understand why we think it's almost the next best thing to being in Mexico. It helps that they serve what could truly be the smoothest margarita in Singapore. The chile en nogada ($28) is outstanding: a roasted poblano chile stuffed with veal and pork, smothered with creamy almond and walnut sauce, to which Yap adds his own twist of black beans. For dessert, leche frite ('fried milk', $12) is a painstakingly reduced milk pudding, not overly sweet, that simply glides its way down.
Address: #01-19, Block 11 Dempsey Road, and 3 other outlets | Tel: 64713228 | Opening hours: Tue-Sun 11am-3pm, 3-6pm (appetisers and desserts only), 6-10pm
Cha Cha Cha 
For king prawns stuffed with cheese, wrapped with bacon
As iconic as El Patio's is its immediate neighbour, Cha Cha Cha. Founded in 1990 by a former partner at El Felipe's Cantina, director Helen Koh pitched in for the cooking in the early days, but this feisty lady is now content to oversee front of house issues, including renovations in early 2013. The bright, clean lines keep it family-friendly, as do Tom & Jerry cartoons, which have been a signature from the first day. The very popular "culaicán" ($26) is king prawns stuffed with cheese and wrapped with bacon, served with tangy tomato-based Mexican-style rice. It's an easy introduction to Mexican cuisine for most, before you really get into the variety of tacos and burritos.
Address: 32 Lorong Mambong | Tel: 64621650 | Opening hours: Daily 11am-11pm
Café Iguana
For fajitas
Part of the Brewerkz family, Café Iguana makes the case that Tex-Mex done right is delicious – and they've been doing it right since 2000. Marketing manager Margaret Marshall reminisces that while main ingredients were readily available, niche products such as tortilla presses, chiles and quality avocadoes took more planning; Iguana even innovated with dim sum steamers for tortilla warmers in the early stages. Check in by the Singapore river for icy cold, fruity margaritas and specially brewed Iguana lager to go with sizzling fajitas (from $25), with all the works – guacamole, sour cream, pico de gallo (fresh diced tomato and onion), onions and peppers. A basket of warm nacho chips and marvellously fresh and zingy salsa (free with any drinks order) is a nice touch.
Address: 30 Merchant Road, #01-03 Riverside Point | Tel: 62361275 | Mon-Thu 4pm-1am, Fri 4pm-3am, Sat noon-3am, Sun noon-1am
Belmonte Latin Foods
For Mexican ingredients
We snuck Belmonte in, not just because they have ready-made pantry staples for delivery such as tortillas ($5.26 for 10), salsas ($4.21) and flans ($5.26), but also because Francisco Belmonte helped kickstart a tortilla revolution when he started the first facility to make fresh tortillas in 2002. This Mexican native is now the top importer of Mexican grocery shelf items and fresh produce, such as Hass avocados ($4 each) and tomatillos ($9.50, 500g). Belmonte notes that his biggest challenge is in high freight cost and erratic demand, but that Mexican foods are no longer alien to Asians.
Address: 2 outlets including #G5 Ridgewood Condo, 5 Ridgewood Close | Tel: 96529274 | Opening hours: Tue-Fri 5-8pm, Sat & Sun 11am-6pm
Hungry Chico's 
For corn chips with homemade sauces
Chef T P Huang started Hungry Chico's in 2008 after 20-something years at Chico's & Charlie's (1979-2001). This delivery and takeout outfit counts its baked fish fillet ($10) as the signature, after years of rave reviews from customers. This is also its most expensive item, with quesadillas from $6 and crispy shell tacos from $3.50. We tucked into chef's freshly-made salsa ($7.50 for 500g) and rich cheese dip ($9 for 500g), alongside Mission brand yellow corn chips ($9, 500g) – good ol' TV snacking staples that hit the spot. Stay tuned for the review of the baked fish.
Hungry Chico's | Tel: 61008226 | Email: chef@hungrychico.com
Viva Mexico
For Mexican food sampler
A two-piece band plays Mexican music, including some mariachi (on Thursdays to Saturdays), adding to the lively taberna feel at this tourist stretch at Orchard Road. Don't dismiss it as another Tex-Mex joint; Viva Mexico makes the effort to go regional with a wide range of food and tequila, since 2009. Get an introduction with the Viva Sampler ($28), a rare combination platter that gives you petite portions of tamales, adobo beef ribs, fish ceviche and crab nuggets. The tamales are wrapped in banana leaf instead of corn husks – to keep fresh better – and gives good bite; the adobo beef ribs are addictively tangy. You can't go wrong if you make this your first foray into Mexican, though the premises could do with a bit of sprucing up.
Address: 23 Cuppage Road, Cuppage Terrace | Tel: 62350440 | Opening hours: Daily noon-2.30pm, 6-11pm
CRITIC'S PICK  Señor Taco
For tacos and Mexican hanger steak
Founder Alejandro Blanco reckons it's the spicy salsas, and 15 different kinds of air-flown chiles, that has endeared Senor Taco with Singaporeans since 2009. They even produce corn and flour tortillas ($4.50 for 10) that you can order from their La Mexicana factory, made fresh everyday. With four outlets, it's a fair bet that this taqueria (taco shop) concept has evolved to full restaurant status, with an extensive sharing menu that includes the massive arrachera del patron ($44.90 for 500g). Served on a hot plate, this typically Mexican hanger steak is perfectly grilled, sliced and served with onions, baby potatoes, jalapeño and cheese quesadilla, to be eaten with warm toasty tortillas and Pacifico beer, exclusive to Señor Taco. There are five Mexicans here to welcome you warmly, including Chef Mario Galan, formerly from Casa Latina.
Address: 4 outlets including #01-18/19/20 Chijmes, 30 Victoria Street | Tel: 63371377 | Opening hours: Sun-Thu 6pm-midnight, Fri-Sat 6pm-2am
Muchos Mexican Bar & Restaurant
For burritos
The slightly grubby décor (probably the scene of many a tequila party) won't win any kudos, but think of Muchos as a casual, fun friend that you   can visit anytime for hearty, classic Mexican dishes. This Katrina Holdings (the company behind Balithai, Hutong and Bayang) mid-range outlet opened in 2010 and has two outlets: the Clarke Quay one is well received by expatriates and tourists, while the younger outlet at Plaza Singapura has more street food selections. Our hunger pang pick is the burrito, filled with a choice of hot grilled chicken ($18.90), vegetables ($16.90) or beef ($21.90), and accompanied by a delish mango-tomato salsa and chunky fresh guacamole.
Address: Block 3D River Valley Road, #01-04 Clarke Quay and 68 Orchard Road, #01-34 Plaza Singapura | Tel: 63384748 and 63386001 | Opening hours: Sun-Thu noon-midnight, Fri & Sat midnight-1am and Sun-Thu 11am-11pm, Fri & Sat 11am-1am
CRITIC'S PICK Casa Latina 
For chile-and-chocolate sauce
This Mexican restaurant was conceived almost by default, confesses Shandre Krishnan, who co-owns it with brother Bala. Exposure to Mexican restaurants in the US and Canada led them to open Casa Latina in 2010 with former chef Mario Galan at the helm, confidently introducing the taste of mole poblano (chile and chocolate sauce) and queso fresco (crumbled, light fresh cheese). Their Waterloo Street outlet is currently closed for renovations, but they have sprouted a new branch at the Albert Court Hotel. We do hope the renovated colonial bungalow on Waterloo retains the homey furnishings and paintings by the Mexican ambassador's wife. Try the pollo divorciado ('divorced chicken', $32), so-called because of its two sauces – the mole and the pipian verde (creamy tomatillo with pumpkin seed) – takes you far from the usual tourist tacos and burritos, and into the kitchen of a real abuela (grandmother).
Address: 42 Waterloo Street and 01-09 Village Hotel Albert Court, 180 Albert Street | Tel: 68846929 | Opening hours: Daily noon-3pm; 6pm-midnight
---
This archived article appeared in an earlier version of HungryGoWhere and may not be up-to-date. To alert us to outdated information, please contact us here.