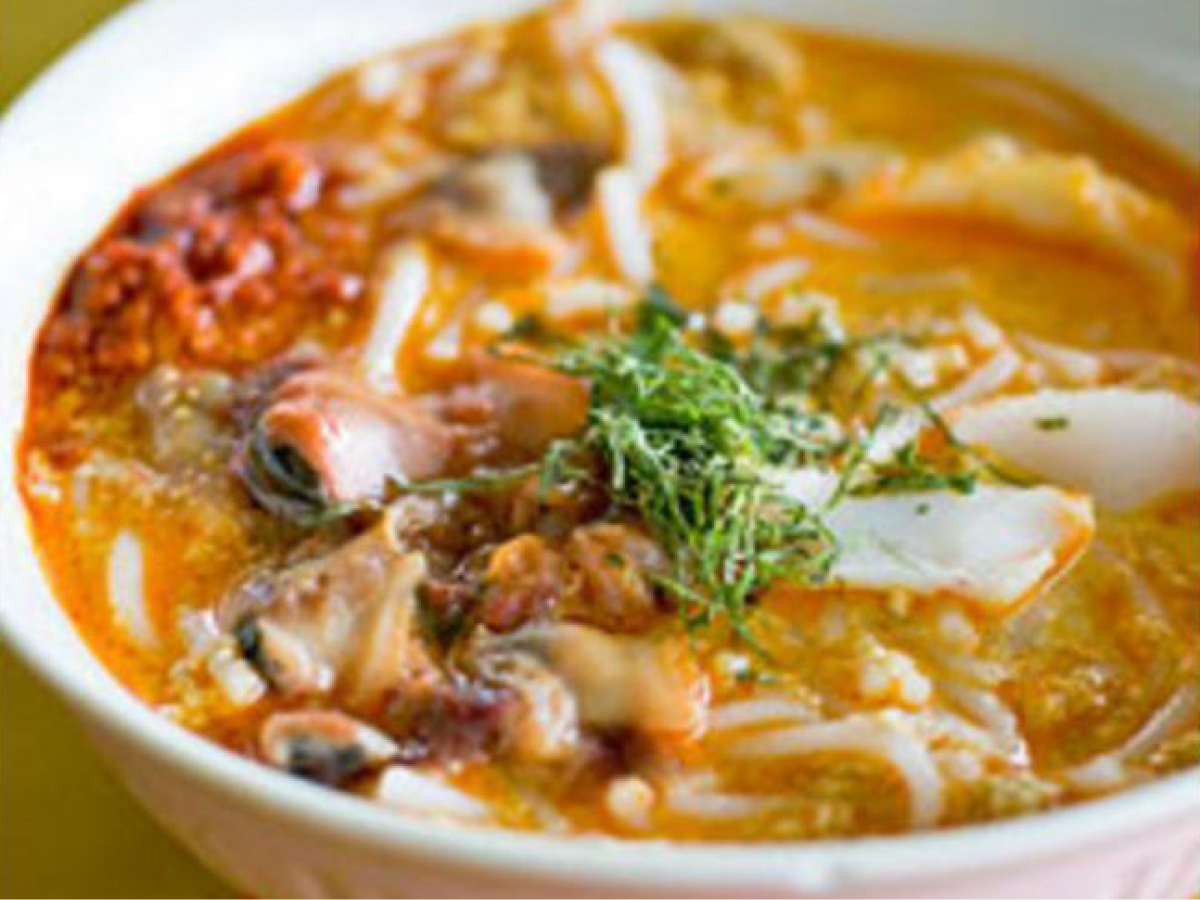 We're all familiar with Penang laksa. But what about Laksa Johor? Unlike the former, Laksa Johor uses coconut milk. As a result, it has a creamier texture and more rounded flavours. Traditional Laksa Johor is also made with spaghetti instead of the usual rice noodles.
This recipe may be more challenging for new cooks as it involves several ingredients and is more complicated to make.
Ingredients A:
125ml vegetable oil
2 litres coconut milk (santan cair)
500g fresh prawns
300g Indian mackerel (ikan kembung), boiled and flaked
1 kg wolf herring (ikan parang), grilled or boiled and flaked
100g salted fish (ikan masin)
2 small packets meat curry powder, mixed with water to form a paste
1 cup roasted, pounded desiccated coconut (kerisik)
1 cup tamarind juice (assam juice), mix tamarind pulp with hot water and strain
15 laksa leaves or Vietnamese mint (daun kesum), finely chopped
5 mint leaves (daun pudina), finely chopped
Salt and sugar to taste
Seafood stock:
Prawn heads/ fish bones (optional onion, dried shrimps, lemongrass (serai) and fresh herbs), fried till fragrant, add in water and bring to boil. Blend all ingredients well and strain.
Laksa paste:
1 ½ inch galangal, peeled
1 inch fresh ginger, peeled
8 lemongrass (serai), sliced
5 garlic cloves
½ cup dried shrimps, soaked in cold water and drained
1 ½ inch fresh turmeric (kunyit), peeled
30 dried chilies, soaked in boiling water and well drained
125ml roasted shrimp paste (belacan)
25 shallots, peeled
1 cup water
Ingredients B (optional):
2 packets spaghetti, boiled until cooked
2 cucumbers, peeled, discard seeds and slice into thin narrow strips
250g bean sprout
200g long beans or snake beans (kacang panjang), sliced thinly
15 basil leaves, finely chopped
10 calamansi lime, halved
1 tablespoon pounded chili and roasted shrimp paste
Method:
1. Heat vegetable oil in a heavy pot. Add in the laksa paste and render the paste slowly. Fry till fragrant.
2. Add in meat curry powder (mixed with water), and cook over moderate heat until fragrant and oil begins to appear on the surface.
3. Add in all the flaked fish, dried fish, prawns, coconut milk and seafood stock. Add in fresh herbs (chopped), tamarind juice and roasted, pounded   desiccated coconut. Add in salt and sugar to taste.
4. Simmer over low heat for 20 minutes until gravy thicken, then serve the laksa gravy together with Ingredients B.
Note: Quantities shown on Best Wan may vary slightly from those listed below.
---