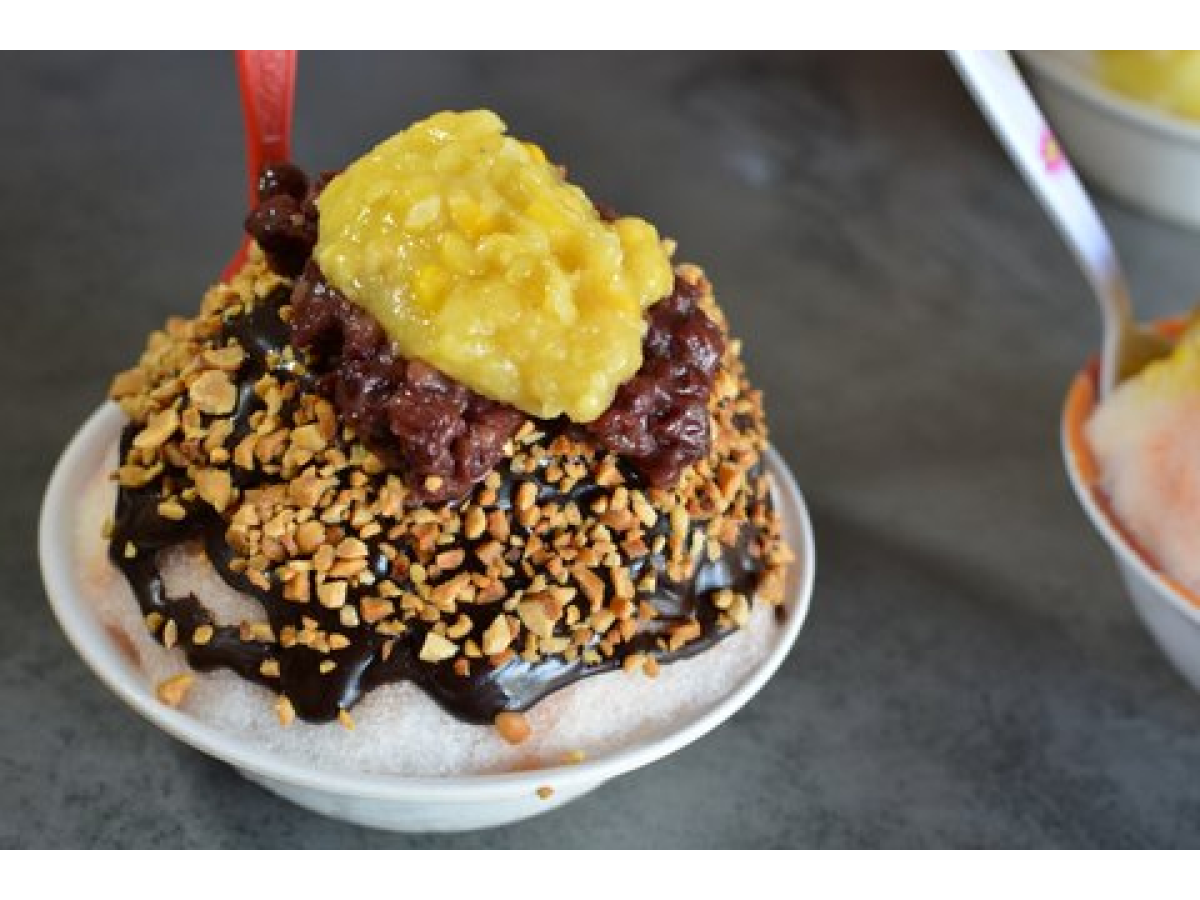 From a simple serving of sweetened red beans and shaved ice, ice kachang has undergone several makeovers to become the colorful dessert it is today. It's now the norm to find grass jelly, green chendol, multi-colored jelly cubes, creamed corn, and attap chee (palm seed) hidden within a mound of shaved ice. When we were kids, the best part of ice kachang was the thrill of digging into the ice to see how many attap chee we could find.
Purists say that the heart of ice kachang is the red beans. Indeed, it is getting increasingly harder to find ice kachang with well-cooked red beans. Other factors that go into a good ice kachang include the texture of the ice, the quality of the other ingredients, as well as the flavourings – gula melaka, evaporated milk, syrup, etc – that go into creating the overall taste of this refreshing dessert.
Finding the perfect ice kachang proved to be as daunting as searching for that elusive attap chee under a mountain of ice. But here at inSing.com, we've found a few excellent ones that ice kachang lovers should not miss!
Annie's Peanut Ice Kachang
Opening hours: Mon-Fri: 10.30am-7pm; Sat-Sun: 10.30am-5pm
Price: $1.50
Rating: 4.5/5
What makes this ice kachang so fabulous? It's the addition of peanuts that has made so many fans go nutty over this unique version! The crushed peanuts were very fragrant, light in texture, and neither too coarse nor too fine. Besides peanuts, creamed corn and cooked red beans generously adorned a tall mound of airy, finely shaved ice that melted very slowly. The red beans were a little mushy, but provided just the right contrast against the crunchy peanut. Most of the flavour came from the red beans and peanuts. The chendol strips and black jelly cubes hidden within were quite bland and didn't offer much taste except texture. Also, there was no attap chee! We thought the overall taste could be sweeter, but on the whole, this was one ice kachang we were absolutely addicted to!
Healthy Buds Desserts & Hong Kong Style Snack
335 Smith Street, #02-116, Smith Street Food Centre
Opening hours: 9.30am – 9pm daily
Price: $1.50
Rating: 4/5
Healthy doesn't mean nasty. The ice kachang here was a surprise find and a hidden gem! As the stall uses only healthy and natural ingredients, you will not find artificially coloured syrup on your ice kachang here. Only lashings of fragrant gula melaka and evaporated milk were used to flavour the shaved ice. Additional flavour came from a generous amount of creamed corn. There were also plenty of chunky grass jelly strips and palm seeds. The cooked red beans were decent too; the beans were soft but still whole. Light and refreshing, this simple but healthy rendition of ice kachang would be even better if there were more red beans and if the shaved ice was finer.
Yue Yuan Coffeeshop
302 Sims Avenue, Singapore 387516
Opening hours: 11am – 10pm daily
Price: $2.00
Rating: 3.5/5
The good folks at Yue Yuan really know how to cook a mean pot of beans. The red beans here were simply gorgeous! Big in size, the beans were cooked till tender, but still retained their shape. They weren't overly mushy, and had a lovely scent of pandan. The stall was generous with the red beans. Other ingredients included creamed corn, jelly cubes, and palm seeds. We enjoyed the robust taste of this ice kachang, but after a while, it felt a little too sweet and heavy. The ice melted very quickly too. At $2.00, it was also the priciest ice kachang in this round-up.
Dove Desserts
Opening hours: Mon-Thurs, Sat: 11am-8pm, Fri: 11am-6pm, closed on Sundays
Price: $1.00
Rating: 3/5
At $1.00, Dove Dessert's big serving of ice kachang offers value for money. Although there weren't a lot of red beans, the beans were nicely cooked, whole and tender. There were plenty of thin grass jelly strips, a few cubes of colorful jelly, one attap chee, and a small topping of creamed corn. What we didn't like was that the ice was coarse and melted too quickly. Also, there wasn't enough gula melaka and evaporated milk. Most of the flavours came from coloured syrup, which gave the ice kachang a rather artificial taste.
Ken's Delights
Opening hours: 11.30am – 10pm daily
Price: $1.00
Rating: 2/5
Ken Delight's ice kachang came in a very pretty shade of pastel pink! Its lovely hue came from rose syrup and evaporated milk. After the shaved ice has melted, it felt as though we were slurping ice cold bandung. And essentially, that's what it was. In the centre of the shaved ice hid only a wee amount of cooked red beans, thin chin chow strips, and two small palm seeds. At this cheap price, we really couldn't expect much. But we'd rather pay a little more than to spend a dollar on this ice kachang that's so skimpy on flavour and ingredients.
---