Fatty Ox Kitchen: A pretty authentic Hong Kong noodle shop!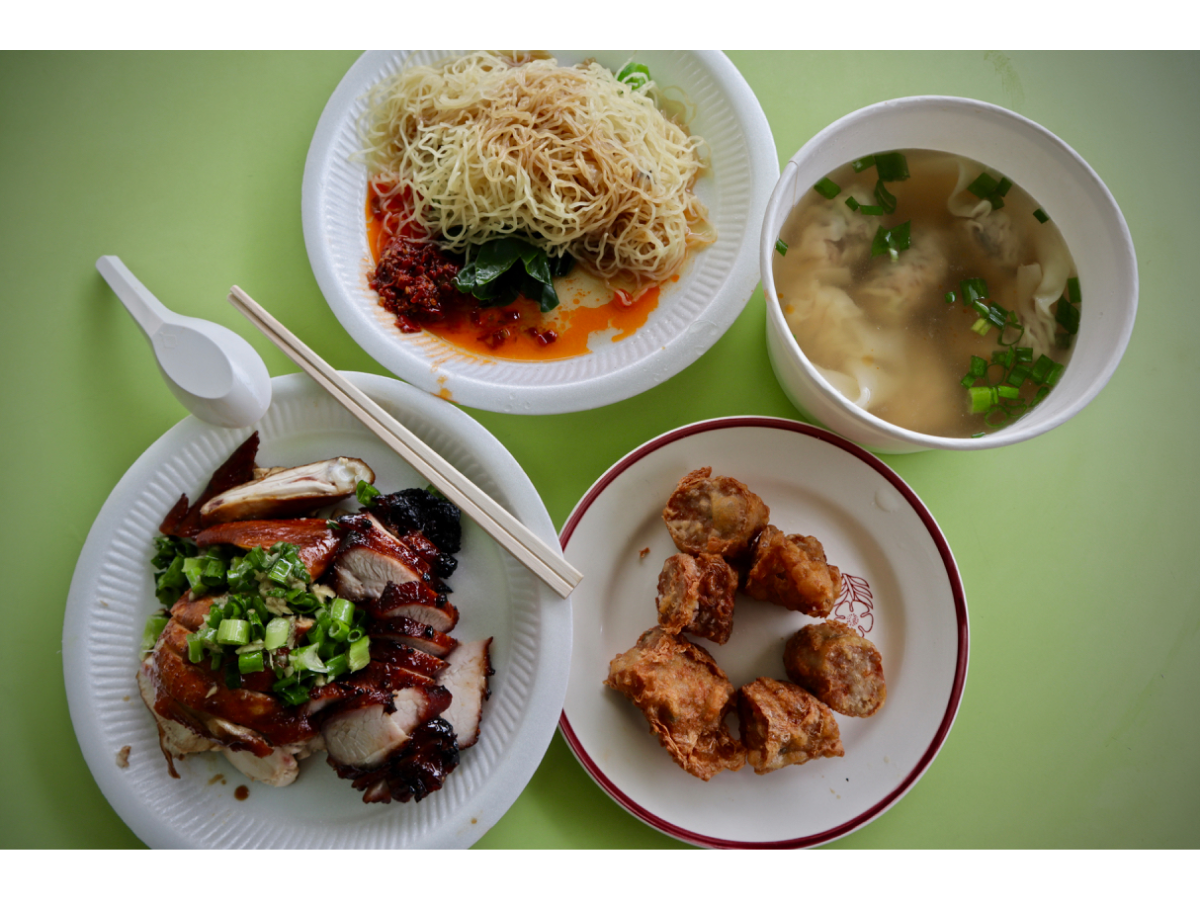 Located in a tucked away corner of Chinatown Complex is Fatty Ox Kitchen, an authentic Cantonese noodle shop which executes its dishes very authentically, thanks to it's Hong Kong-born chef Cheung Sun Kwai.
Now in his 60s, Cheung moved to Singapore in the 1980s and started selling Hong Kong roasts in a coffeeshop at Pagoda Street in 1986.
Most veteran foodies will remember his restaurant, Fatty Ox Hong Kong Roast Duck, which opened in 1991 at Murray Terrace before closing shop in 2007. After a brief stint in a North Bridge coffeeshop for a year or two, he moved to Chinatown Complex in 2011 and has been there ever since.
Unlike other roast meat stalls at the Complex, you won't see a roasting furnace here as the roasting of the meats are done at a dedicated hawker stall a few doors away.
Fatty Ox has received numerous rave reviews as many of its dish offerings are of an impressively high standard.
Especially noteworthy are the Beef Brisket noodles (ngou lam; $4), arguably one of the best you can buy in Chinatown. Meat chunks and tendons are extremely well-marinated with a deep dark soy flavour that has penetrated right through and the textures are soft and tender. This is especially true of the tendons which have a seriously good melt-in-your-mouth stickiness.
The accompanying thin egg noodles have a noticeable alkaline smell, typical of many Hong Kong noodles, but with a nice slight savoury dried scallop flavour and are nicely springy with bite.
They are dressed with the brisket braising sauce which has surprisingly balanced flavours — slight herbal notes, a present dark soy flavour and a restrained saltiness , complementing the savoury noodle flavour.
Their sui gao (dumplings) soup or in noodles ($3) are also another must order as the dumplings are big and filled to the brim with lots of juicy minced pork, chopped prawns, crunchy black fungus, water chestnuts and spring onions. They are also priced lower
On every table, you'll also see deep-fried ngoh hangs which are lightly battered and are impressively huge with lots of juicy minced pork, water chestnuts and no fillers.
Chinatown Complex is very competitive when it comes to soya sauce chicken and Fatty Ox is easily one of the top stalls to go to for the dish, but whether you'll prefer it over the other heavyweights like the Michelin-starred Liao Fan or Maria Virgin Chicken, depends on how you like your soya sauce chicken.
The texture of the chicken is decently soft but we've had it softer in other stalls.
The marinate is also rather light with a slight sweetness and a restrained saltiness. You'd expect the chicken skin to be full of flavour and soaked with the marinade but here it isn't so.
It only makes sense as it is eaten in conjunction with the ginger and scallion oil mixture which they pour on top and it provides enough savoury and oil-rich flavour in every bite.
It's a signature move for the stall and you'll see plenty of orders for it on any given day.
Other highlight are their sambal chilli sauce on the side made with large chopped dried chillies. It has an interesting slight sour savoury smoky spicy taste. The soup is also well done with no msg and a nice rounded flavour.
Unfortunately, their other dishes can be a bit of a hit and miss.
Their roast ducks used to be a big draw but they are inconsistently done. On a good day, it comes with nice crispy skin but the meat is a little too dry most of the time.
It's the same case for their char siu, which doesn't come with a lot of red colouring. On some days, we've had it nicely caramelised and impressively juicy with enough fat thrown in but on other days, too dry for our likes.
The also offer a very interesting Prosperity Basin Dish (poon choi) which can be had with whole abalone ($200) and sliced abalone ($120). It comes with a myriad of 12 ingredients that span the range from braised pork yam and roast duck to pig skin and cabbage.
---