Which chendol is worth the calories?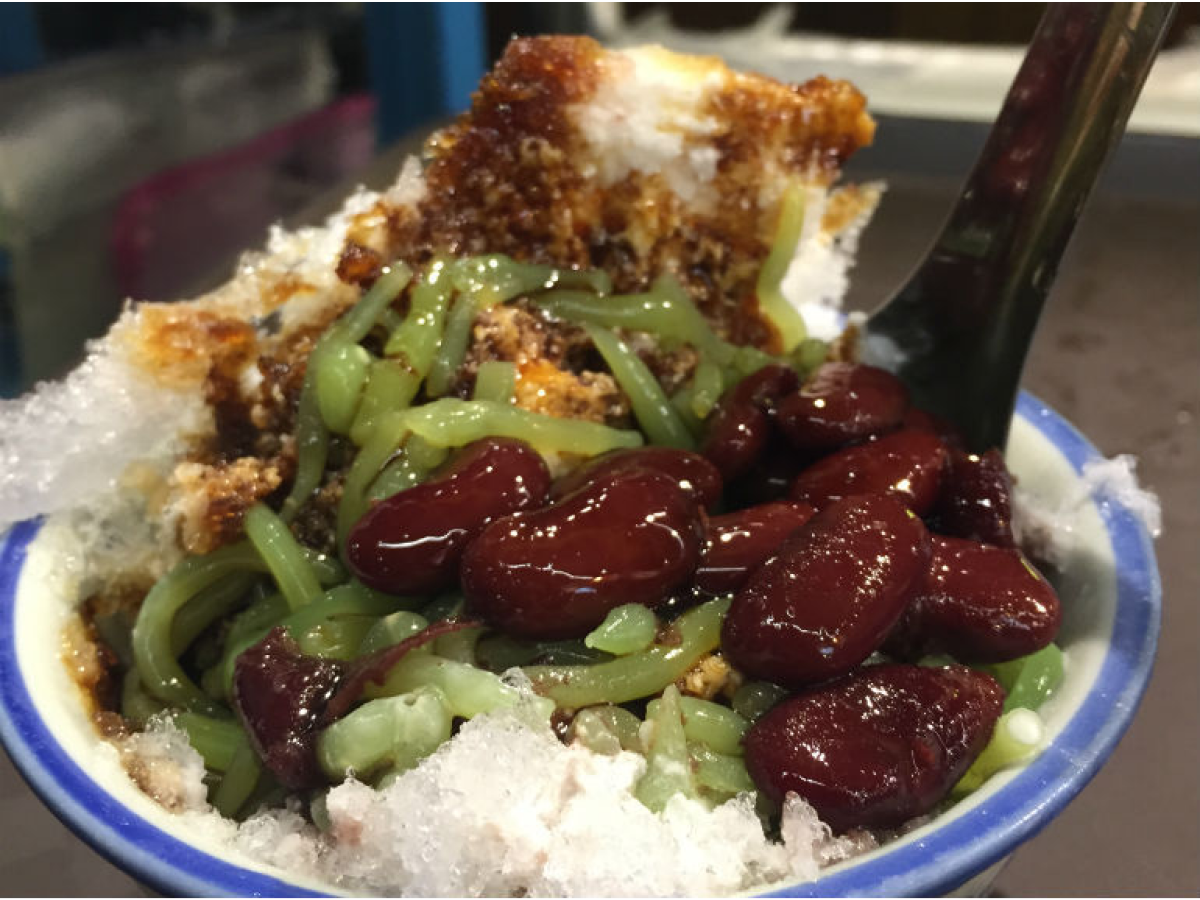 It's hard to resist the allure of chendol. Served ice-cold, chendol is a seductive concoction of creamy coconut milk, fragrant palm sugar and slippery green jelly noodles.
This popular dessert takes its name from cendol, which is the Javanese term for the green worm-like jelly. Chendol was first introduced in Singapore by Indonesians. Later, Indian Muslim hawkers started selling the dessert. The Peranakans also invented their own version, which had the addition of sweetened red bean.
The key to great chendol is top-quality ingredients. For this story, we hunted high and low for vendors who make their own cendol strips—traditionally made with mung bean flour and flavored with pandan juice. We found three such stalls, as well as another two worthy chendol recommendations.
Cendol Geylang Serai EDITOR'S PICK!
1 Geylang Serai, #02-107 Geylang Serai Food Centre
Opening hours: Daily: 8.30am-6.30pm
Price: $1.50
Rating: 4.5/5
Of all the chendol we tried, Cendol Geylang Serai's version was the most old-school. Their homemade cendol strips were a beautiful hue of pale jade-green. Fat, toothsome, and with a hint of pandan, the cendol had the best texture out of the three stalls that make their own cendol strips.
Another old-school touch is the sweet-salty coconut milk, which is the way it used to be served. For those who grew up on the sweet version, this took some getting used to. However, the sweet-salty flavours were very pleasing, and quickly grew on us.
Sweetened with good quality gula melaka, the milk had a lovely scent. The coconut milk base was smooth and not overly rich. All flavours were well-balanced, creating a most refreshing and unforgettable dessert.
Dove Desserts
22 Toa Payoh Lorong 7, #01-21 Toa Payoh Lorong 7 Food Centre
Opening hours: Mon-Thu, Sat: 11am-8pm, Fri: 11am-6pm, closed on Sun
Price: $1.50
Rating: 3.5/5
Dove Dessert's chendol is rather similar to Penang-style chendol. They also make their own cendol strips. The jelly was short and skinny, but the texture was springy and boasted a mild pandan scent.
While the coconut milk was sufficiently fresh, we wished it could have been a bit richer. The gula melaka was also rather subtle in fragrance.
On the other hand, the cooked red beans were packed with robust fragrance. They were powdery and not too sweet. Although some of the beans were broken, this didn't affect the overall dish too much.
A1 Penang Chendol
Blk 822 Tampines Street 81, #01-190
Opening hours: Mon-Fri: 11.30am-8pm, Sat/Sun/PH: 11.30am-5pm
Price: $2.50
Rating: 3.5/5
Located near Temasek Polytechnic, this unassuming little shop makes their own cendol strips. They looked like fat worms, but the texture was a tad mushy. They could have been more springy.
However, we were impressed with their use of quality ingredients, such as premium kidney beans and gula melaka. The smoky, caramel-like gula syrup was rich and complex, without being overwhelmingly sweet. The kidney beans were cooked till soft and flavorsome, but still retained their shape.
Besides the generous amount of kidney beans, they were also heavy-handed with the use of thick coconut milk. While some of us enjoyed the hearty flavours of the chendol here, others felt the richness got rather overwhelming after a while.
Mubarak Ali Kopitiam
665 Race Course Road
#01-257 Tekka Centre
Opening hours: Daily: 7am-11.30pm
Price: $1.00
Rating: 3/5
A beverage rather than dessert, Mubarak Ali's Indian-style chendol—without red bean—was refreshingly old-school.
Flavoured with gula melaka syrup and a tinge of salt, the base was a mixture of fresh dairy, evaporated, and coconut milk. Sweet and salty, this milky cocktail was a harmonious blend of rich and complex flavours.
Although they don't make their own cendol strips anymore, the cendol they use is of decent quality. It was a shade of deep jade-green. The worms were fat and silky. Though they lacked fragrance, the texture was a good balance of soft and bouncy.
Sabar Menanti
48 Kandahar Street
Opening hours: Daily: 9am-6pm
Price: $2.00
Rating: 2.5/5
Influenced by Peranakan and Malaysian variations, Indonesian-style chendol now has additions of red bean or kidney bean as well.
Sabar Menanti uses the same type of cendol strips as Mubarak Ali. It isn't homemade, but at least it's not the garish neon-green variety.
Here, the milk base was light and not too sweet. The kidney beans, which were salty instead of sweet, were an unusual touch and a nice contrast to the sweet milk base. However, some of the beans were not evenly cooked. Also, the fragrance of the gula melaka and coconut milk could be bolder.
inSing.com made anonymous visits and paid its own meals at the eateries featured here.
---