Mary Chia Wellness Kit: Working from home? This self-care package is an ideal companion.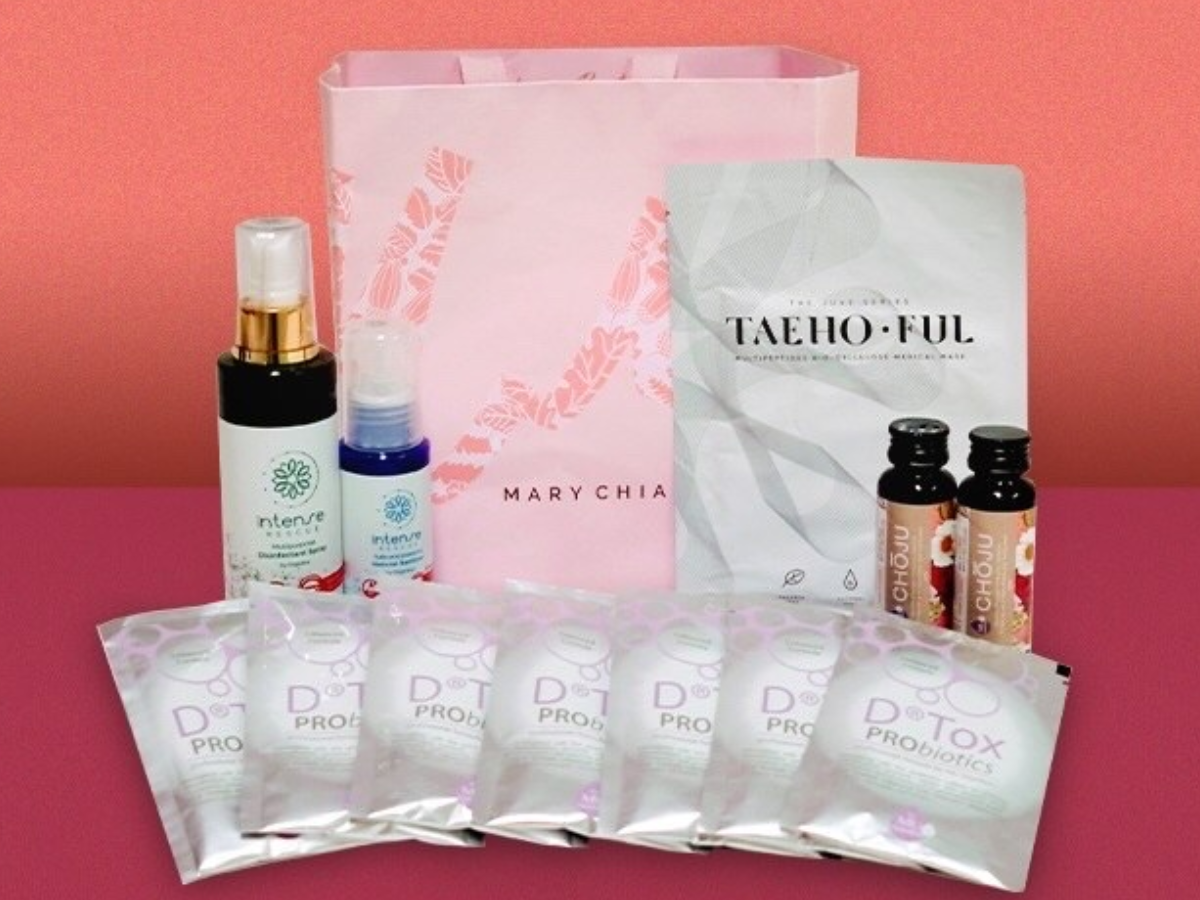 With no long commutes to the office and the option to lounge on your favourite sofa as you type out an email, working from home is a much welcome arrangement for most of us. But staying cooped up in the house for hours or even days on end can have adverse affects on one's well-being.
Now that Singapore is back to a default work-from-home arrangement, it may be a good time for all work-at-home warriors like us to recruit some reinforcements for a wellness boost, and the Mary Chia Wellness Kit is a great choice.
Comprising six useful products, the Mary Chia Wellness Kit is meant to be used over the course of a week to help boost one's immunity and overall well-being.
Here's a quick look at what's in store:
1. CHOJU – The Food of Longevity (30ml) – 2 bottles
This wellness supplement drink is a unique blend of Cordyceps and Mannetake mushrooms, as well as a mix of more than 150 fermented fruit and vegetabe enzymes. Mannetake are known as the Mushrooms of Immortality and are rich in antioxidants. Perfect for someone who needs a health boost when the going gets tough, CHOJU can help clear bodily toxin, improve liver function, and fight fatigue.
2. MU D'Tox PRObiotics (12g) – 7 sachets
A supplement that tastes just like cotton candy but without the guilt, MU D'Tox PRObiotics helps with detoxification and be used to maintain your weight as well as good gastrointestinal health. Formulated with live probiotics and enhanced with seawater magnesium, this supplement powder can be eaten straight from the sachet, or be used as a flavour booster in a glass of fruit juice and even a salad!
3. Intense Rescue Natural Sanitiser (60ml) – 1 bottle
Hygiene is a top priority in the world we live in today, but not all sanitisers are the same. Made from all-natural ingredients, the Intense Rescue Natural Sanitiser is specially formulated with active non-silver and pure peppermint essential oil, meaning it's alcohol-free and safe for babies. This sanitizer can be used on surfaces that the little ones at home are likely to come into contact with. Soothing to the skin, this sanitiser can be spritzed on any part of your body that needs some TLC, and can even be used for mouth ulcers.
4. Intense Rescue Multipurpose Disinfectant Spray (150ml) – 1 bottle
A handy disinfectant spray that boasts a neutral pH and is gentle to the skin. Made using Benzalkonium and Glutaraldehyde, this spray is listed in NEA's Interim List of Household Products Effective Against Coronavirus. Use this disinfectant to clean your home and workspace.
5. Taeho.Ful Mask (28g) – 1 sheet
Perfect as a weekend treat for your skin, this luxurious, fine-textured biocellulose mask is formulated by Korean laboratories using a unique Crystalsome technology. The mask moulds to your facial contours so that your skin can fully absorb the repairing essence, leaving it feeling supple and with anti-aging results.
6. Body Composition Assessment and Skin Analysis – 1 session
Understanding your body is the key to staying healthy and well. This session gives you a true indicator of your health from the inside out, including accurate readings of your muscle mass and body fat percentage, as well as your skin health. Use this information to tweak your lifestyle for a better, healthier version of yourself!
As an exclusive introductory offer for Singtel customers, the Mary Chia Wellness Kit is available with free delivery only $49.50 (U.P. $179.90).
---