Gong Cha launches its series of CNY treats: Drinks and Tarts!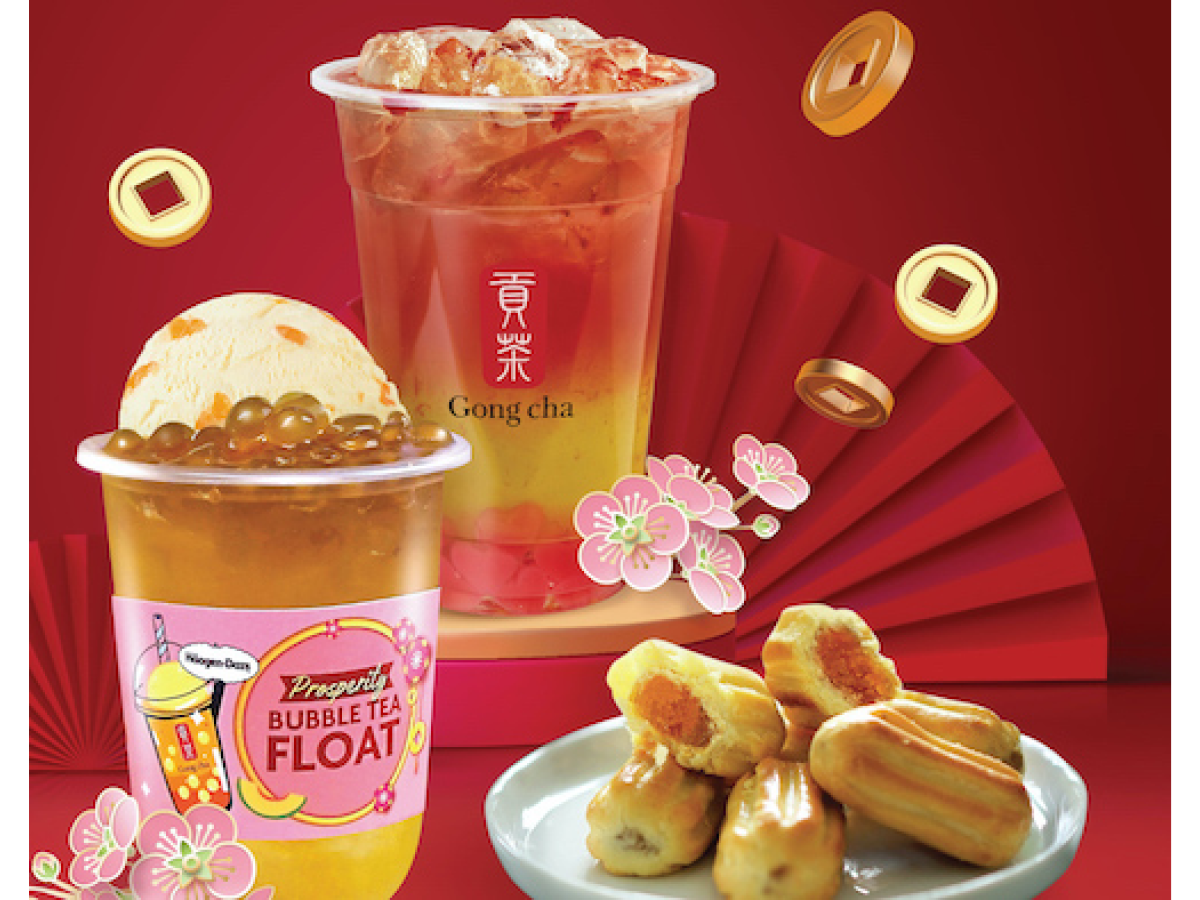 From Feb 4, Gong Cha is selling their Chinese New Year seasonal specials, the Prosperity Melon Bubble Tea Float and Berry Abundance Drink. With only 3,000 cups available for purchase across all Gong Cha outlets, you have to get your hands on this limited-edition drink!
Fans of all things melon can look forward to this fusion of Haagen Dazs' Cantaloupe Melon ice cream and Gong Cha's Alisan brewed tea.
When you sip on the Prosperity Melon Bubble Tea Float, you can enjoy mellow floral notes from the Alisan brewed tea base.
This blends well together with the sweet Honey Pearl toppings used, which lends the drink a chewy texture with hints of dark caramel. Topped off with a scoop of creamy Haagen Dazs Cantaloupe Melon ice cream, this drink is both refreshing and indulgent – a perfect treat for a hot day out.
The drink is priced at $6.80 per cup (500ml) and will be available for purchase now till stocks last.
For the berry lovers, look out for the Berry Abundance Drink – a refreshing mix of tart strawberry and tropical lychee syrup fused with Gong Cha's bestselling Alisan tea base.
Topped off with heart-shaped strawberry-flavoured jelly, which gives the drink a good chew along and sweet yet fruity aftertaste, this thirst-quencher is a must-try. Priced at $3.80 per cup (500ml), the Berry Abundance Drink is also now.
Complete your Chinese New Year celebrations with Gong Cha's Petite Gold Pineapple Tarts.
These delightful must-have treats are exclusively available for purchase across all Gong Cha outlets, while stocks last.
They consist of a crumbly crust and a fluffy and aromatic centre filled with sumptuous pineapple jam.
You can pair these treats with a cup of coffee for the perfect afternoon snack too. Priced at $15.80 per tub, each purchase of a Petite Gold Pineapple Tarts tub comes with a complimentary $3.00 Gong Cha voucher.
For more information on these lunar new year exclusives, visit http://www.gong-cha-sg.com .
---