Xiu Ji Ikan Bilis Yong Tau Fu: Handmade yong tau foo doesn't get any cheaper than this!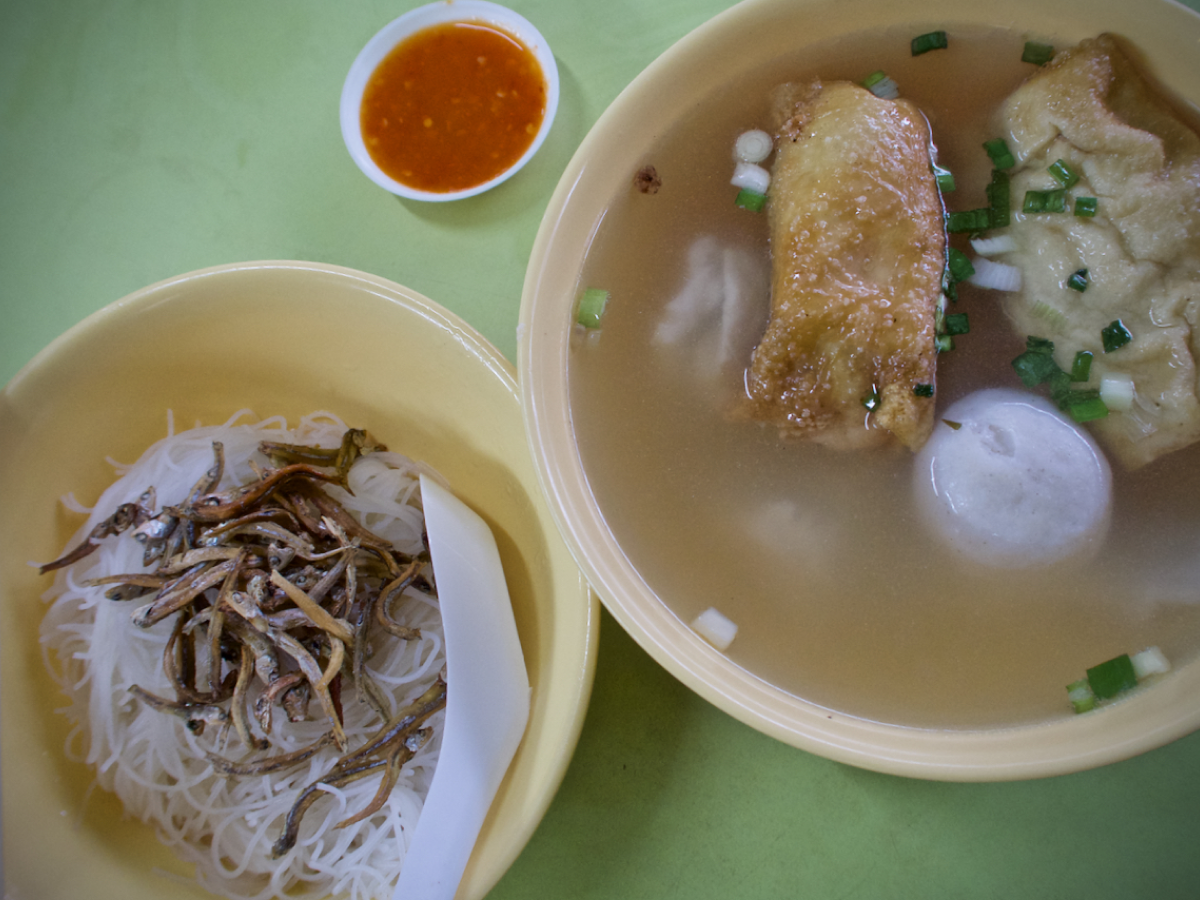 From a roadside stall at Sago Lane in the 1960s, Xiu Ji Ikan Bilis Yong Tau Fu moved into Chinatown Complex in 1987 and sees long queues every morning for its incredibly cheap handmade yong tau foo.
How cheap? Six pieces plus beehoon (or yellow noodles or kway teow) for $3 or eight pieces with soup, no noodles.
The stall is now in the hands of third-generation owner Lee Siew Khim, 46, who took over the stall with her husband in 2009 and nothing has changed in the many decades of business.
Each yong tau foo set comes with the same basic four items of stuffed tau pok (tofu puff), tau kwa (hard tofu), fishball and fried tau kee (tofu skin).
But now there is the addition of extra premium yong tau foo items like fishcake ($0.80), fried stuffed bittergourd and stuffed brinjal ($0.50 each).
The yong tau foo are made every afternoon once they shutter the stall at 2pm but the result can be a bit of a hit or miss affair.
The big plus point is that yong tau foo items are overstuffed to the point of overflowing.
The stallmade fish paste is savoury but sweeter than most other hawker stalls who use it to hand-make fishballs — something which yong tau foo connoisseurs either love or hate.
It makes sense eaten with the chilli sauce, soup and beehoon and as there is no sweet brown sauce served on the side, that is as sweet as the dish gets.
The tau kee and tau pok items have a nice soft springy texture but their tau kwa comes very firm.
The same goes for their fishballs which come firm and bouncy, different from the softer-texture which are common in handmade fishballs in Singapore.
The soup is decently flavoured with predominantly salted ikan bilis and fish bones, but alas with no yellow beans. The result is a stock flavour that isn't as full-flavoured as it could be.
Beehoon (vermicelli), yellow noodles and kway teow (flat rice noodles) are available and while you can have it with soup, opt for the dry version if you can.
They put the yong tau foo items in a bowl of soup and the noodles are dressed in a simple soy, nutty oil mix and topped off with crunchy chewy ikan bilis.
Mix some of the chilli sauce they have on the side —very similar to chicken rice chilli — and the taste is simple but addictive.
---
This archived article appeared in an earlier version of HungryGoWhere and may not be up-to-date. To alert us to outdated information, please contact us here.