The Affogato Bar: Affogato dessert cafe at Cluny Court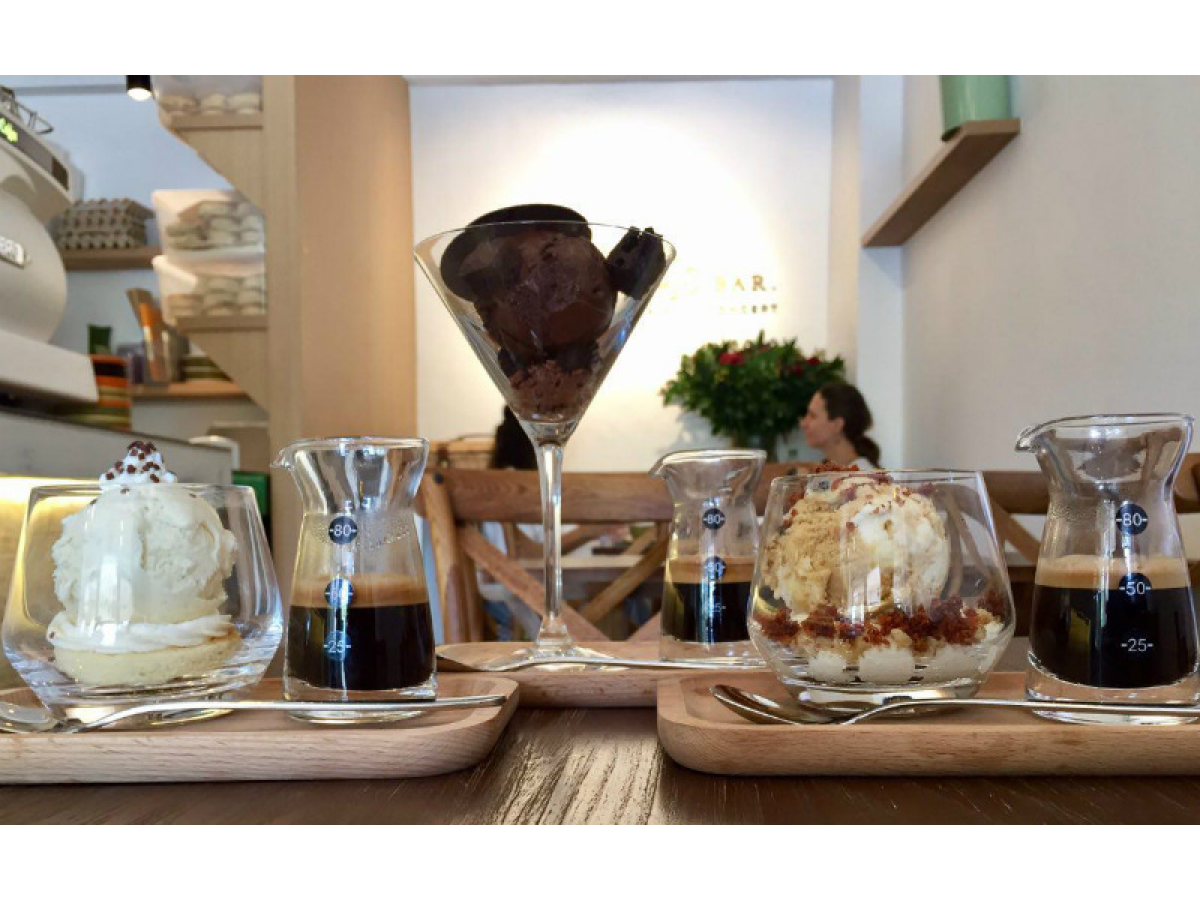 Chances are, if you ask someone local what affogato is, you'll be met with quizzical looks. Huh? Affogato… what? they might say. Fancy-sounding though it may be, affogato (meaning "drowned" in Italian) is a simple coffee-based dessert that features an ice cream being drowned in a shot of espresso.
While the affogato has found itself a place on the menus of many cafés in Singapore, it has largely been an afterthought.
The Affogato Bar, a small and modest café located at Cluny Court along Bukit Timah Road, introduces an uncommon concept: the affogato as the preeminent star.
The Affogato Bar breaks away from the traditional style, which usually features vanilla gelato ice cream with a single shot of espresso with their five unique combinations of ice cream for their affogatos, all of which feature double shots of espresso.
Signature creations here include Death by Chocolate ($13.90) and Pot of Honey ($11.90). Both signatures use the Grande Tazza blend of Dimattina coffee which hails from Australia. The blend offers a balanced and flavourful taste, leaning to the chocolate-y side. And boy does the blend go well with chocolate.
Death by Chocolate is the highlight here. This affogato showcases a harmonious combination of chocolate sorbet, brownie chunks, chocolate streusels, chocolate top hat and topped with Grande Tazza. The rich dessert anchored by the chocolate sorbet mixes beautifully with the espresso to provide a balance of sweet and bitter.
When we were there, the honey swirl coffee ice cream used for Pot of Honey was not available and they recommended the vanilla ice cream as a substitute. We were, however, not as blown away as we were for the Death by Chocolate. Perhaps their original honey swirl coffee ice cream would have been a better fit.
If you are looking for something lighter, definitely give the Carota Carota a try. This affogato (along with the Banana Ramble) uses Dimattina's (a popular Australian coffee brand) mocharoma blend, which possesses a fruitier flavour. The lighter, fruitier Mocharoma blend lends itself well to the other ingredients: carrot cake ice cream, carrot cake, chopped walnuts and homemade cream cheese.
Although The Affogato Bar prides itself on their affogatos (obviously), we would be remiss if we did not mention the supporting actors on their menu. The café offers a selection of bagels (plain, sea salt, multi-grain, black and white sesame) and bagel sandwiches. We had the Deli Beef with sea salt bagel ($14.90) and their recommended Breakfast Club ($12.90) with multi-grain bagel.
The Deli Beef was accompanied by onions, sun-dried tomatoes, arugula and sun-dried tomato cream cheese. The Breakfast Club adopted the classic combination of ham, egg and cheese. You can't really go wrong with those combinations, can you?
We also tried their signature coffee, Bittersweet Symphony ($5.50, $6.50 for iced) and tea, Parakeet Bay ($6). The Bittersweet Symphony of dark cocoa, vanilla chai and espresso had an overwhelming chocolate flavour that masked much of the bitterness espresso. However, this should appeal to chocolate lovers out there. Parakeet Bay, on the other hand, offers an interesting infusion of green tea, peach and mango. The scent of peach and mango hits you instantly and it was a refreshing drink to say the least.
Overall, The Affogato Bar brings something new to the table to both the café and dessert scene, and if you are in the area looking to beat the sweltering heat, definitely drop by The Affogato Bar. 
HungryGoWhere paid for our own meal.
---
This archived article appeared in an earlier version of HungryGoWhere and may not be up-to-date. To alert us to outdated information, please contact us here.