Sukiya's Gyudon just got meatier with new XM size that contains extra meat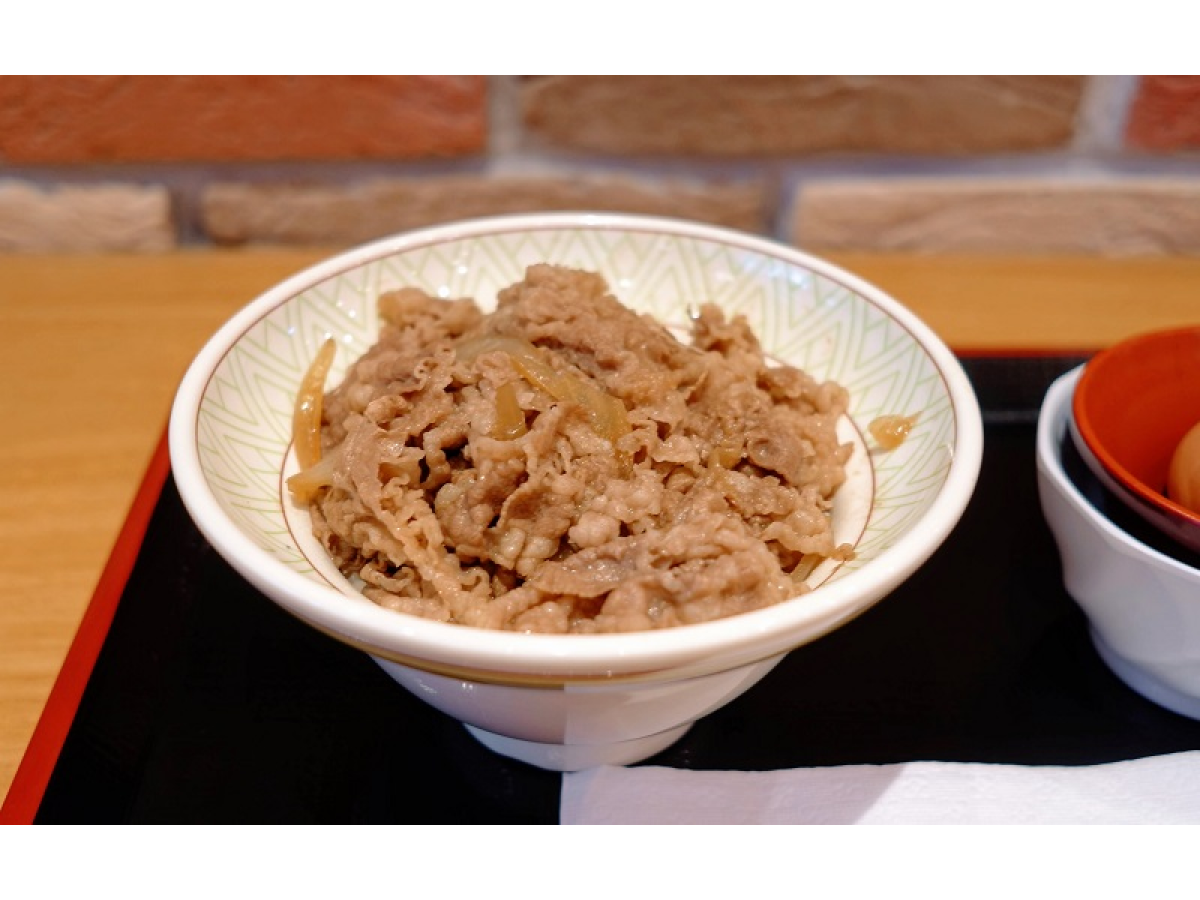 People who love gyudon will be glad to know that Sukiya's beef-and-rice bowls have just gotten meatier, with the Japanese store launching a new XM size serving that boasts a higher meat-to-rice ratio than their regular beef bowls.
HungryGoWhere stopped by Sukiya's Suntec City store recently to find out for ourselves how much meatier the new XM beef bowls are:
The XM size beef bowls, which start from $6.70 for the no-frills Gyudon (main photo), contains 165% more beef than the regular M sized bowls, but just 75% as much rice. Essentially, this means you're getting way more of Sukiya's signature simmered beef with slightly less rice for a hearty meal that's more protein and less carbs.
When it comes to taste, Sukiya is certainly one of the best gyudon in Singapore. We love how the thinly-sliced beef is so well infused in the simmering sauce, that the flavours have blended together into a delicious harmony of umami goodness.
If you want something a little heartier, get the Half Boiled Egg Gyudon. The Japanese way of eating this beef bowl is to thoroughly mix the egg with the other ingredients, such that it coats both the beef and the rice.
The gyudon flavour we loved most is also Sukiya's best-seller in Japan: the Melted Cheese Gyudon (above, from $6.80 for the S sized bowl). This beef bowl contains a serving of beef, topped with a trio of Mozzarella, Cheddar, and Monterey Jack cheese, and doused with a generous helping of melted cheese.
Initially, we thought that this combination of beef, cheese and rice would not work, and were more than pleasantly surprised that it did. It was delicious. Even though the bowl contained a generous lot of cheese, it did not feel overly rich or cloying. The sweet and umami flavours of the beef and simmering sauce complemented the cheese very well, making each bite one of beefy, chessy goodness.
A special mention also needs to be given to the rice that is used in Sukiya's beef bowls. The store uses 100% Koshihikari rice, a premium variety known for its lovely texture and aroma. A bowl of gyudon would taste very different depending on the type of rice used, and we are really glad that Sukiya decided to go with Koshihikari. The rice was tasty, had a satisfying not-too-firm bite, and a beautiful texture with just the right amount of stickiness to each grain.
However, during the times when you are craving more meat than rice, the new XM serving size does come to the rescue. We liked how we get to eat more beef with each spoonful of rice. In fact, there is so much more beef in the XM bowl that we had some meat left over after we finished all the rice.
Even though Sukiya specialises in beef bowls, the store does serve non-beef and non-rice options as well. One highlight is the Low Carb Yakitori Bowl (above, $6.50). Part of the store's Low Carb series, this rice-free bowl contains bite-sized chunks of grilled chicken yakitori, plus a generous helping of shredded cabbage, and tofu as a replacement for the rice. A sesame sauce is drizzled over the bowl, turning it into a hearty salad that can serve as full meal.
We love how the yakitori tasted like the real deal. Traditional Japanese yakitori is served freshly-grilled on skewers. While Sukiya's yakitori is presented as part of a non-rice bowl, the grilled chicken chunks still boast the delicious charred flavour that makes yakitori so delicious. The tofu, which sports a clean, aromatic taste, was also a nice departure from the heavy rice dishes for days when you want something that is lighter on the palate.
Sukiya
Suntec City Tower 4, 01-647, 3 Temasek Boulevard
https://www.sukiya.com.sg/
---