Soi 11: Thai Stall in Yishun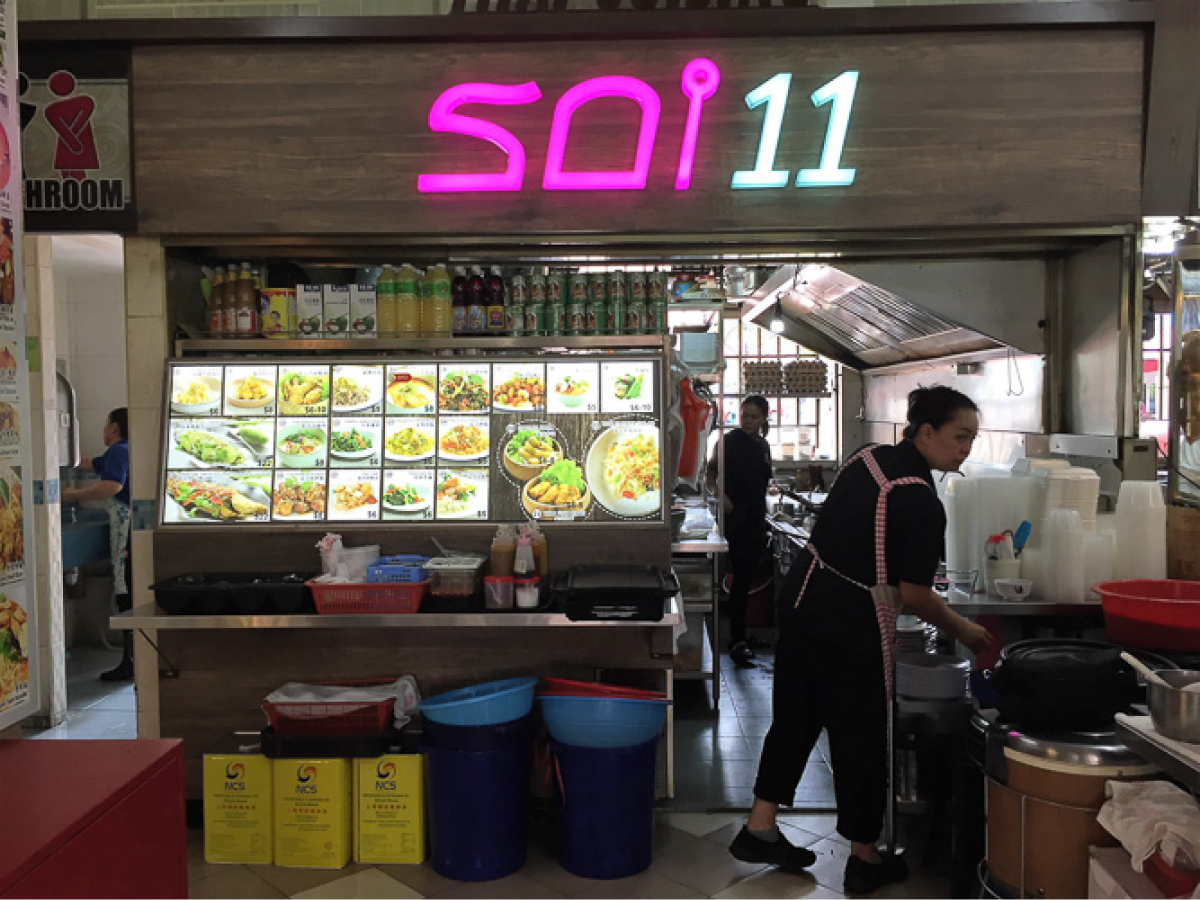 Thai food lovers, here's another legitimate Thai food eatery to add onto the list of places to frequent. Located at the S-11 coffee shop directly across Yishun MRT Station, Soi 11 is the place for you to fulfil all your Thai food cravings. Because the menu is so extensive, you'll also get acquainted with some new Thai dishes you've never tried before.
Soi 11 was previously known as Sabpard Thai, but they've recently rebranded after a change in management. The new owners are a Thai and Singaporean duo, and other than the outlet at Yishun, they also have another stall at a coffee shop in Block 640 at Bukit Batok Central.
According to the friendly Thai ladies manning the stall, the bestsellers at Soi 11 are the Pineapple Fried Rice ($6) and the Pad Thai ($6). You can also find other classic Thai dishes such as Pandan Leaf Chicken ($10), Green Curry ($8), and Tom Yum Soup ($8) on the menu; however, what we're interested in are their Issan dishes such as the Larb Moo (Minced Pork Salad, $8) and Mango Salad ($6).
If you're not familiar with Isaan food, this refers to North-eastern Thai food which bears a significant resemblance to Laotian cuisine. Whilst Isaan food can be readily found across the different parts of Thailand, including Bangkok, the same can't be said for Singapore. You'll have to go to a specialty Isaan restaurant such as E-Sarn Thai Cuisine if you're hoping to savour Isaan dishes in Singapore (that is – until now!)
The Larb Moo is a quintessential Isaan dish which contains onions, roasted rice powder, parsley, and lots of chilli. The end result is a savoury and tangy dish, with added crunch from the roasted rice. In Thailand, you'll find many different variations of this salad consisting of the same dressing, but featuring different proteins. Be forewarned: if you're not extraordinarily good at handling spicy food, you'll probably want to request for less chilli whilst ordering this dish.
The Steamed Squid With Lime Juice (Pla Muek Nueng Manao) is another dish which is popular in Thailand, but less so in Singapore. This is served in an elongated metal "hotplate" with two burners below which keep the soup warm. Whilst the squid is a tad on the chewy side, you'll be won over by the bright, zesty flavours of the chilli. The soup is a tangy, flavourful concoction which is sweetened with the addition of the parsley and cabbage; it's perfect when slurped up in conjunction with a big bowl of rice.
Other notable dishes at Soi 11 include the Basil Chicken with Egg and Rice ($6), which is salty, spicy, and extremely satisfying, as well as the Omelette ($8), which is unbelievably light and fluffy, and fragrant enough to smell from a mile away. Whilst Soi 11 is a relatively new addition to the S-11 coffee shop at Yishun, it's pretty popular with diners, and you'll have to wait for at least 15 minutes if you pay them a visit from 6.30pm onwards. Alternatively, drop by during off-peak hours (2pm to 5pm) if you don't fancy waiting.
---
This archived article appeared in an earlier version of HungryGoWhere and may not be up-to-date. To alert us to outdated information, please contact us here.