SKAI High Tea – Aesthetically delectable morsels with a view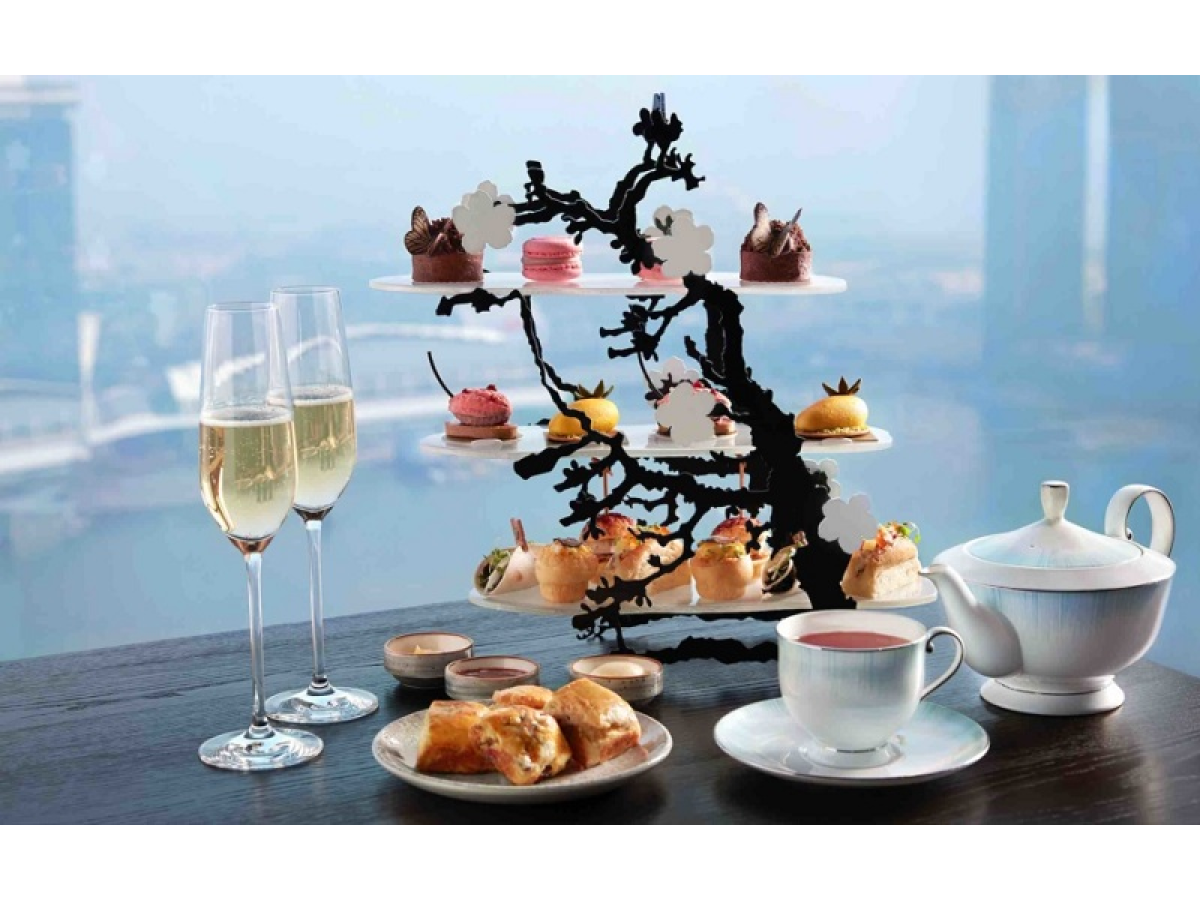 SKAI Restaurant presents the ultimate afternoon tea experience that is a cut above the rest – with the launch of SKAI High Tea. Located on the 70th floor of Swissôtel The Stamford, SKAI's panoramic city views provide the perfect setting to savour the brand-new menu of aesthetically pleasing and delectable teatime delights. Guests can indulge in dainty savoury and sweet creations with delightful accents of Japanese and Asian inspirations. The SKAI High Tea is available from Sunday to Friday, from 3.00 pm to 5.00 pm.
SKAI High Tea – The Chefs
Imbuing Executive Chef Paul Hallett's culinary philosophy centred on quality produce and Executive Pastry Chef Ming Choong's two decades of pastry experience. SKAI's High Tea unrivalled selection of sweets and pastries retains the essence of traditional pastry while showcasing Chef Ming's artful skills and incorporating Chef Paul's love for robust flavours, both seekers of perfection. The new SKAI High Tea menu presents the talents of the two notable chefs to present artful delicious creations in this gastronomic high tea.
SKAI High Tea – The Composition
Indulge in the Lobster Roll – a scrumptious sandwich that features a house-made charcoal bun filled with Canadian lobster; celery; apple and then topped with ikura roe. The lobster meat is removed from the shell using a water jet which lends a sweeter taste to the meat. The charcoal bun adds sharpness which complements the sweet lobster meat. A playful take on the traditional Egg Mayonnaise Sandwich, Egg Yolk Gel's silky egg yolk is sous vide for an hour and delicately infused with truffle before serving it on a petite brioche bun.
The Foie Gras Polo Bun – filled with foie gras and topped with a tangy raspberry gel, is the definitive indulgent treat. To finish, the Maitake Truffle flatbread surprises with its filling of exotic Japanese Maitake mushrooms; celeriac; truffle – their flavours drawn out by pickle and lime. The Maitake mushrooms are first sautéed with olive oil, chilled and puréed with wonderful truffle paste.
The Cocoa Bean Ruby Chantilly achieves its pink shade from the mysteriously rose-hued cocoa bean – Ruby Chocolate, used in SKAI's decadent desserts. Widely recognised as the fourth type of chocolate, Ruby Chocolate's taste is particularly distinctive in the fruity Raspberry Cheese Macarons.
Speckled with gold flakes, the 72% Chocolate Sable Tart invites guests to graze on crunchy cocoa crumble with a homemade marmalade core atop a base of caramelised hazelnuts. With a soft shell resembling a plump mango, the bright yellow Mango, Strawberry, Yuzu Gâteau offers a sweet and fruity finish. The Yuzu, a popular fruit in Japan, adds a mild acidity to the dessert and whets the appetite further.

SKAI High Tea – Tea Selection & Traditional Delights
In the traditional spirit of English Afternoon Tea, SKAI High Tea also includes a selection of Baked Scones. Soft and buttery, they are served with Strawberry Jam; Lemon Curd made in-house and Cream from Devonshire.
Purveyors of fine teas can enjoy the selection of premium teas curated by TWG tea specialists. The Chocolate Mint Truffle, earthy Emperor Pu-Erh, and fragrant White Sky Tea were recently introduced at SKAI. Exclusively for SKAI High Tea, the premium Red Robe Tea (add-on of $5) of sweet and roasted flavours and White Immortal Tea (add-on of $10) with its dreamy aroma. You will be spoilt for choice and can ask the SKAI team for suggestions; all of whom have been specially trained to recommend teas for every discerning palate.
The savoury and sweet treats are placed on a delicate stand that resembles a Japanese tree with cherry blossoms.
SKAI High Tea – Make Reservations Today
The SKAI High Tea is priced at $60++ per person, inclusive of TWG tea or coffee. Those craving for a tipple of Champagne can top up $18 to enjoy a glass of Tattinger Brut Réserve.
---