Elevated Afternoon Tea at Renku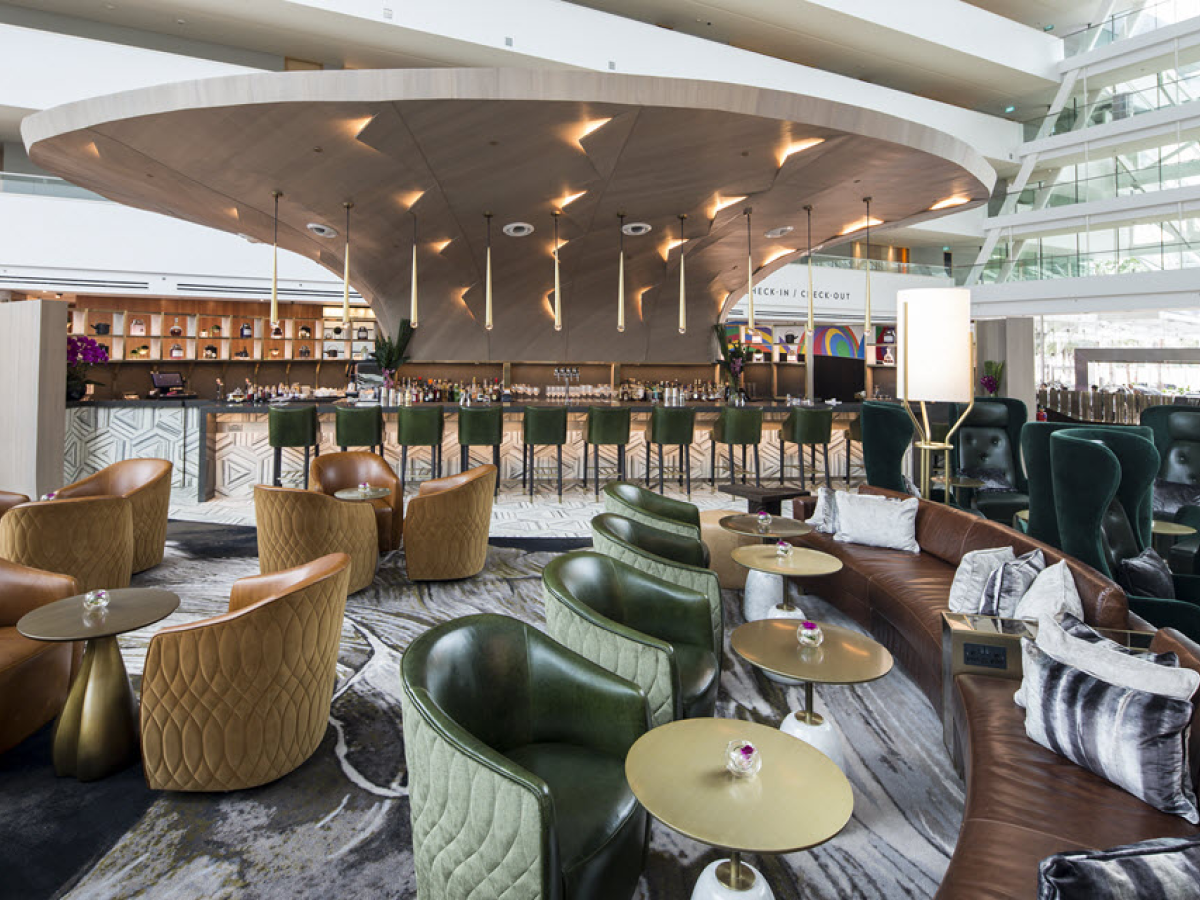 Marina Bay Sands' newest F&B spot is elegant, intimate and offers an innovative high tea experience.
Not that we needed another reason to visit Marina Bay Sands, but their newest bar & lounge at Tower 1's hotel lobby offers a rather attractive high tea service. The elegant space is also a 24-hour bar serving signature cocktails, locally crafted draft beers and they even allow you to design your own martini.
The 100-seater bar and lounge is stylishly designed in tones of oak and bronze, with lush armchairs and plush seating. The vibe is modern elegance, which is intimate despite being situated at the hotel's ultra-busy lobby.
An experience not to be missed at Renku is the signature High Tea. High tea buffets are a dime-a-dozen in Singapore, and here is why this one is different from the others. First off, there is a lot of emphasis placed on the tea they serve. Exclusive and creative blends by local tea artisan ETTE are on offer, these include two tea blends exclusive to Marina Bay Sands.
There is the floral and mellow tea Marina Pearls with a subtle jasmine aroma, or the bolder blend of black tea with freeze-dried pieces of durian—the Durian Lapis. In addition, guests can choose to savour an array of 13 unique combinations of flavours and aromas like the hojicha, coconut and pandan infused Nasi Lemak and genmaicha, coconut and freeze-dried mango blend called Mango Sticky Rice. Tea is served table-side; the tea masters roll a custom designed tea trolley over and help guests make their selections. If nothing catches your fancy, the tea artisans can help you create your own blend.
Tea is paired with an array of delectable nibbles. A trolley is rolled up to your table as you make your selection from the wide variety of sweet and savoury treats on offer; these include bite-sized sandwiches, bruschetta of macadamia pesto, tomato and burrata, and mini-tarts, pralines and dainty confections. There is also a course of freshly baked house-made scones that come with homemade fresh orange butter, clotted cream and strawberry preserves.
Renku's a la carte and bar menu is available all-day, while the High Tea is available daily at two seatings (2pm and 4pm). High Tea is priced at S$48++ on weekdays and S$53++ on weekends.
Additionally, Renku is the only bar & lounge at Marina Bay Sands that runs all 24 hours, their well-stocked bar offers up a  variety of drinks, with a special focus on artisanal beverages and creative tipples. Sit by the bar in one of their emerald-  hued barstools and order a tea-infused cocktail like the Rosella (a mix of Citadelle Original gin, Cocchi Rosa, champagne  and wild forest berry tea)—which is an exclusive offering. There is even a locally-crafted Bavarian beer infused with  Japanese green tea, called the Renku Lager. To make the deal even sweeter, head down during Social Hour and enjoy 50  per cent off the Design your own Martini experience on Tuesday evenings from 6pm – 9pm. Create a martini of your  choice with five different gin and vodka bases and then top it with your preferred garnish.
Food-wise Renku's all-day, a la carte menu serves creative and sophisticated dishes like the Boston Lobster Hash, where the hashed potatoes are pan-fried and smoked and served with poached lobster and harissa aioli. There is also the Alaskan King Crab with Dashi Jelly, uni (sea urchin) and ikura (salmon roe).
Renku also serves a succinct selection of handcrafted pastries by Patisserie Platine – for both takeaway and dine in. The pastries are made in-house, with premium ingredients and fresh seasonal fruits by the talented chefs at Michelin two-star restaurant Waku Ghin by Chef Tetsuya. Our favourite is the Ghin Cheese Cake, which is a delectable confection of lemon curd, dusted with sugar and topped with a white chocolate feather.
Renku is a great spot for both social gatherings and business meetings. It's a bustling spot for people-watch during the day, or quietly nurse a drink during the wee hours at this hideaway in the heart of Marina Bay Sands.
Renku Bar & Lounge | Marina Bay Sands Hotel Lobby, Tower 1 | Renku.Lounge@marinabaysands.com or +65 6688 5535.  MarinaBaySands.com/Renku
---