Why you should drop by Potato Head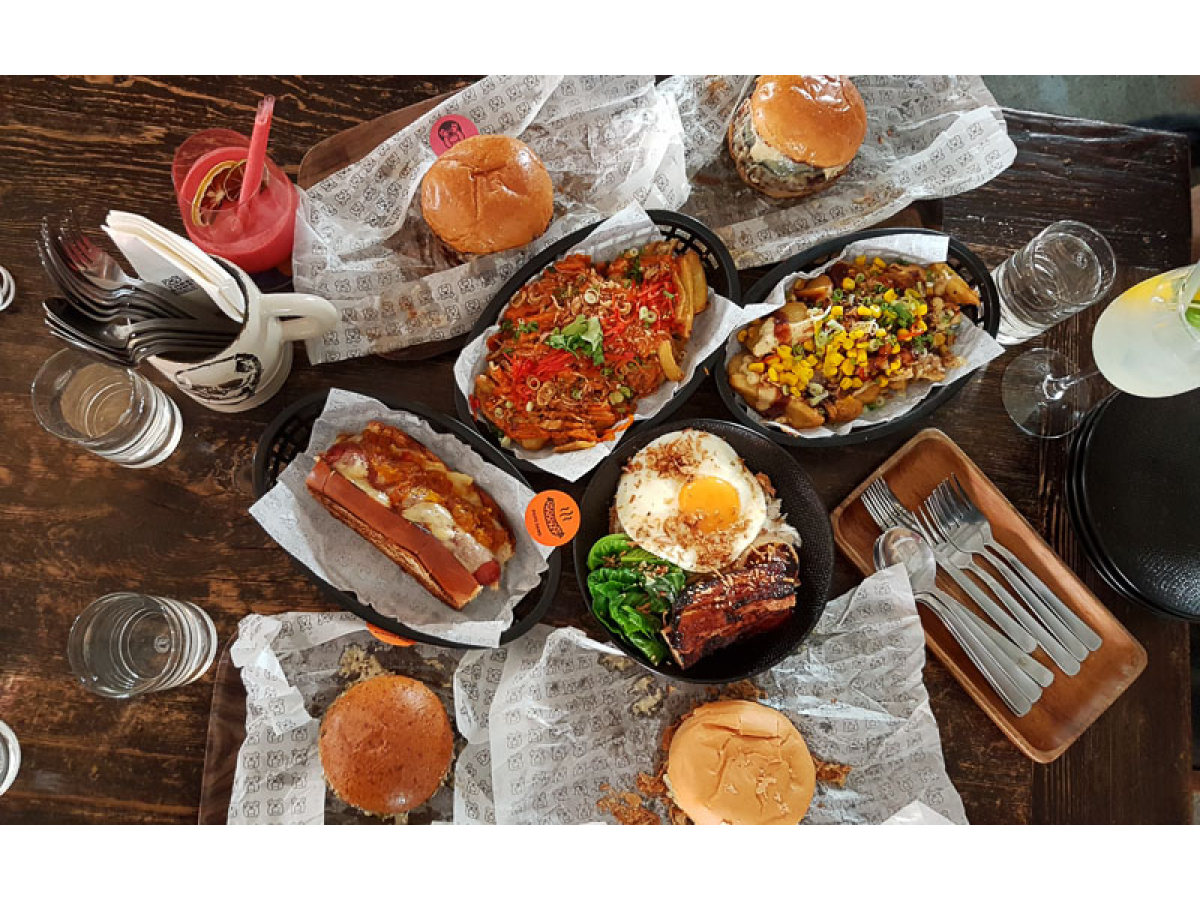 If you Google "things to do in Bali", Potato Head will probably be featured in just about every list that pops up.
For those who aren't acquainted with the place, it's a beach club – actually, the most iconic beach club in Bali. It's where you go to sling back a cocktail or two, witness an amazing sunset, and see and be seen.
Whilst Three Buns @ Potato Head Singapore is by the same guys behind Potato Head in Bali, the concept is a little different. For one, Three Buns @ Potato Head Singapore specializes in gourmet burgers – these are freshly prepared daily, and incorporate house-made relishes and artisan buns.
If you love your food spicy, you'll be won over by the Burning Man ($20). Consisting of prime 120g beef patty, applewood smoked cheddar, roasted jalapeño relish, hot ketchup & dashi mayo, this burger is packed with spunk and heat; you might just have to wash it down with a cocktail or two.
Then there's the Fun Boy Three ($23), which comes with a 150g Black Angus beef patty, applewood smoked cheddar, roasted portobello mushroom, garlic & miso butter, and truffle aioli. The beef and mushroom combination isn't by any means inspiring, but the truffle aioli definitely saves the day; extra points are also awarded for the demi brioche bun, which is toasted to perfection.
Last but not least, the Watermelon Man ($19) might look strange on paper, but the ingredients in this burger complement each other in the most unexpected way. Other than a 150g Black Angus beef patty, you have a slice of watermelon which is grilled, spiced, and caramelized, sandwiched between quader de cavra cheese, ketchup, pickled onions, and three islands mayo.
This is the first time we're having watermelon in a savoury dish, but it's surprisingly good. It's crunchy, juicy, spicy, sweet, and refreshing at the same time; these flavours contrast beautifully against the slight tanginess of the creamy quader de cavra.
Also new on the menu are three rice bowls – the Burning Rice ($17), the Bellyfull ($18), and the Pokemon ($19).
The Burning Rice is essentially the Burning Man, reinvented as a rice bowl. Comprising of stir fried rice, 100g Black Angus beef patty, gochujang (a fermented Korean paste made out of red chilli and glutinous rice), scallions, dashi mayo, cheddar cheese and fried shallots, this is a hearty, spicy dish that will fill you up to the brim.
The Bellyfull, on the other hand, features twice cooked and miso glazed Dingley Dell belly pork. This is topped with confit daikon, baby kailan, a free range egg, and fried shallots. We've got nothing but lovely things to say about the pork, which is amazingly juicy and succulent.
Last but not least, the Pokemon is a strong contender for those who love their poké bowls. This sumptuous rice bowl comes loaded with marinated yellowfin tuna akami, ponzu, organic quinoa, avocado, daikon, tomato, cucumber, jalapeno, and spiced mayo. Whilst this is probably the healthiest dish on the menu, it certainly holds its own amongst the other items in terms of taste.
Given how filling the mains are, we know this is a tall order, but don't leave without trying Tree Buns @ Potato Head's sides and desserts. We like the Naughty Fries ($13, comes with spiced béarnaise, hot beef chilli, crisp shallots, parmesan & sesame seeds); they also have Corny Fries ($9, a meat-free cousin of the Naughty Fries which incorporates charred and pickled sweetcorn).
For dessert, go for the Open Hot Cookie Ice Cream Sandwich ($7, featuring a chocolate chip and honey roasted almond cookie, vanilla ice cream puck, and a chocolate & coconut ice "magic style" sauce). You'll have to wait 15 minute for this, but it's worth it! Also equally tempting is Big Poppa's Banana and Hot Butterscotch sundae ($10, this is a decadent combination of vanilla ice cream, espresso caramelised banana, hot salted butterscotch, banana jelly, toasted walnuts, coco nibs & chantilly cream).
Apart from their finger-lickin grub, Potato Head Folk, along with other bars in Singapore have released a new line-up of unique cocktails.
---
This archived article appeared in an earlier version of HungryGoWhere and may not be up-to-date. To alert us to outdated information, please contact us here.