[CLOSED] Mr. Fish: The BEST traditional Cantonese fish soup!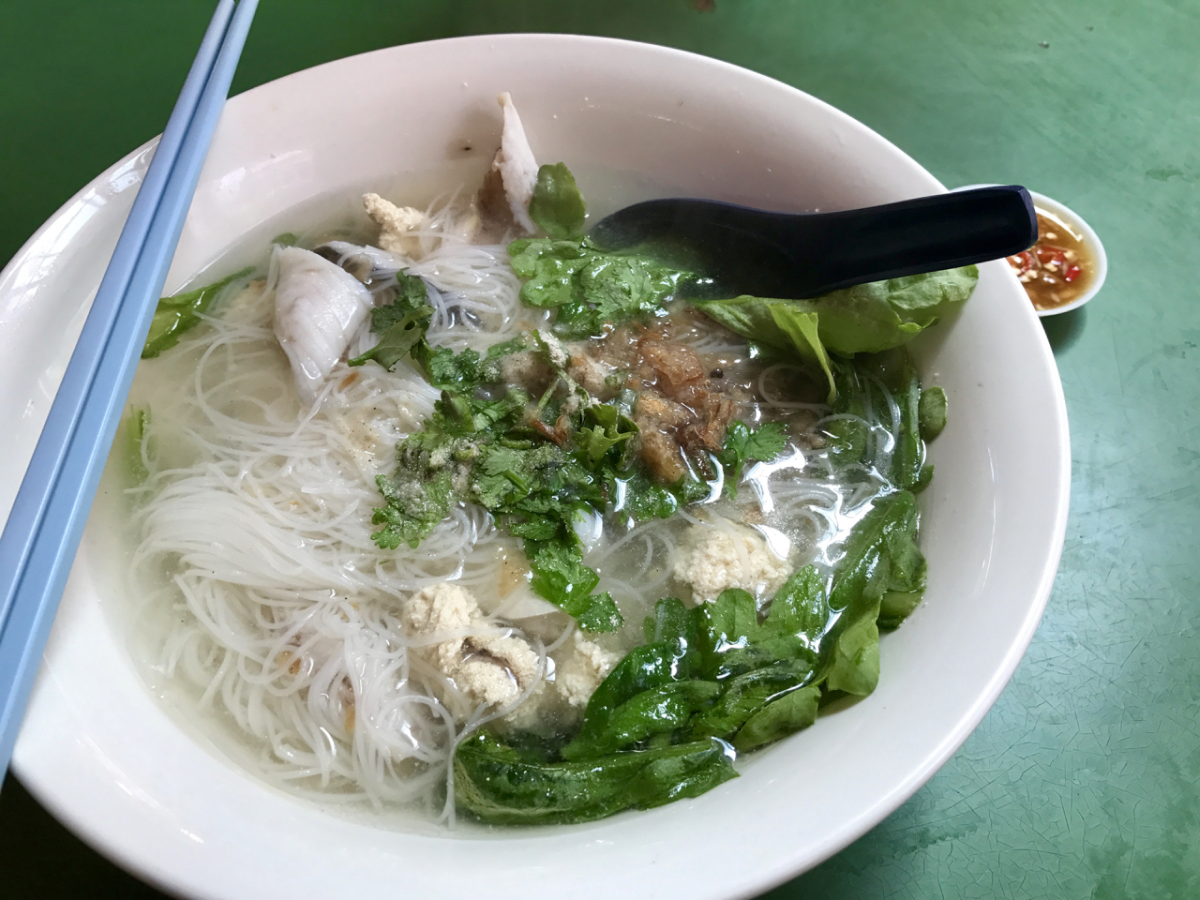 A relatively new entrant at Chinatown Complex, this stall has a rather modern sounding name and logo but what you get here are easily some of the best traditional Cantonese-style fish dishes in Singapore.
They serve a relatively small menu, only fish soup or wok-fried dishes like sliced fish hor fun and braised bitter gourd sliced fish, but all of them are done exceedingly well.
The stall opened at Chinatown Complex in 2014 but are by no means newcomers to the scene having sold tze char dishes at Bukit Merah View Market and Food Centre for over 30 years.
Run by Mr. Lee, his wife and their son, Alan, they have a firm no-compromise approach to their cooking.
No milk (evaporated or otherwise) is added to the fish broth. The creaminess is achieved the old-fashioned way: adding fish stock to fried fish bones then boiling it until all the cartilage turns to gelatine.
The result is a thick stock that has a toasty aroma and a rich brownish colour.
Thanks to the wet market at Chinatown Complex itself, all the fish is incredibly fresh and they also offer the more unusual cuts of fish head, belly and collar for the fish fanatics who prefer more interesting textures and meat flavours.
The soup can be had with or without chor (thick) beehoon , the most common being ordered is the Sliced Fish Bee Hoon ($5).
The taste has an incredible depth and roundness in addition to the natural creamy fish oil taste and a present ginger taste thanks to large ginger slices which are thrown in.
It is also not over salted, a good thing as it showcases the pure taste of the fish stock. You can also taste a little more of the natural flavours of the vegetables, fish and the bee hoon as a result.
Our only gripe is that the fish slices were cut a little thicker for a chunkier bite.
Their wok dishes are also very popular as everything is cooked to order. You won't find trays of pre-fried noodles waiting to be reheated with gravy and toppings.
Which is why their Black Bean Sliced Fish Hor Fun ($5) is a must order.
They take their time frying the hor fun noodles so the noodles have not only a springy texture but a deep charring to them.
The black bean sauce is also nicely robust and thick, and with a savoury rich and smoky taste.
Again, its not over salted so you taste more of the preserved black bean than salt.
Braised Bitter Gourd & Sliced Fish ($8/10) is also popular as it combines fresh fish and crunchy bitter gourd with lovely wok hei.
Eggs and fish roe are also available at an additional cost.
---