Mr Biryani's Firetop Claypot Dhum Biryani: Dum biryani prepared right before your eyes!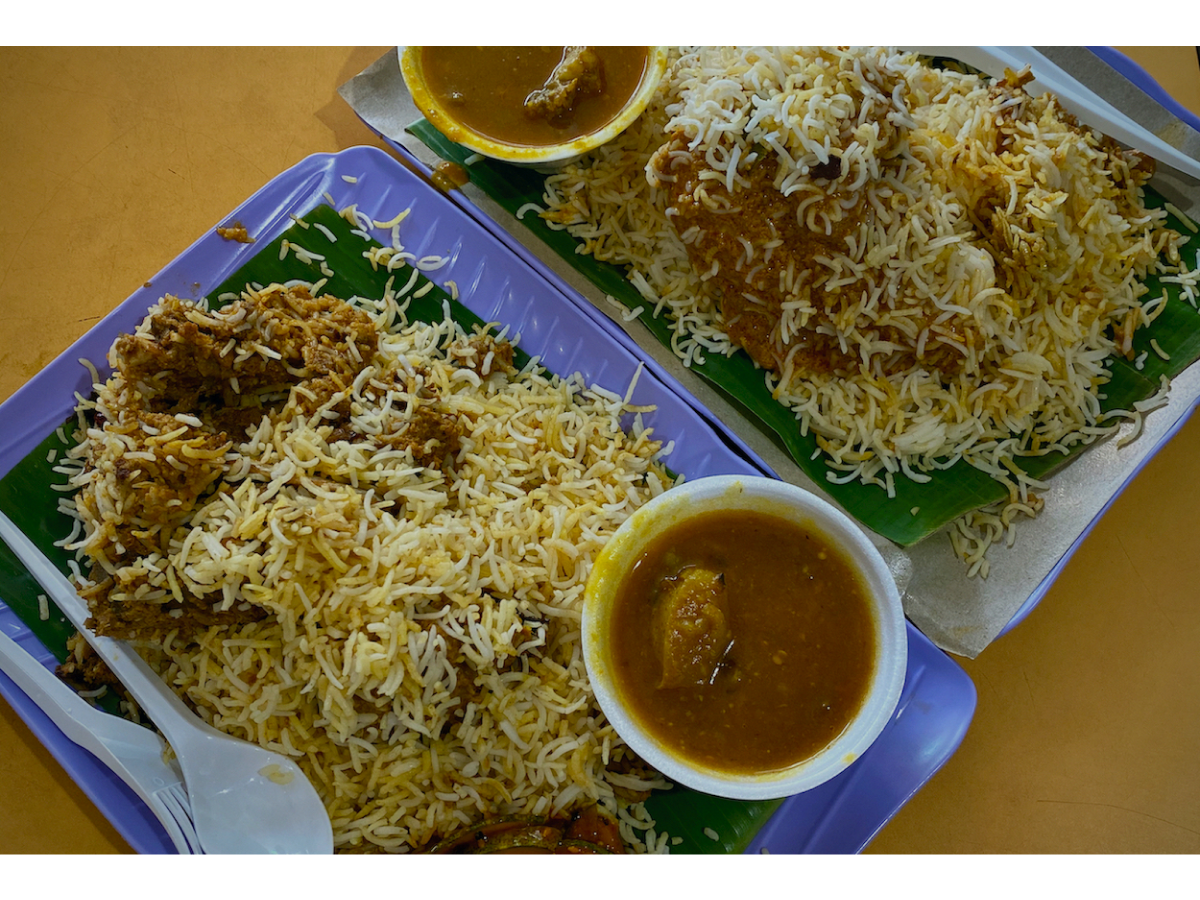 Now you can see how a traditional Hyderabad Dum Biryani is assembled and cooked right before your eyes.
Launched by Mr. Biryani, the Firetop Claypot Dhum Biryani set ($88++; feeds four to five) introduces a bit of theatre into the biryani dining experience by doing the final preparations and steaming of the dum biryani right by your table.
In addition to the theatre, it actually makes for a better tasting biryani but more on that later.
It might sound a little simple but trust us, the actual experience is actually quite fun to behold.
It starts with a myriad of ingredients, a claypot and a portable gas cooker being brought to your table.
Then parboiled basmati rice is scooped into a claypot filled with marinated chicken (or vegetables if you opt for the vegetable biryani).

On top of the rice, a range of spices and flavourings — rose water, ghee (clarified butter), garam masala powder (Indian spice blend), fried onions and mint leaves — are added on top.
The claypot is then covered with foil then cooked for 20 minutes over a low flame by your table.

In the meantime, the staff will serve your choice of two starters and two side dishes which are included in the set and you can tuck into them while the biryani goes through the final steaming process.
The best part about it cooking right by your table is that you'll be able to see the steam and smell the aroma emanate from the claypot and when it's ready, you'll get that big waft of steam and aroma when the lid is opened.
In addition, there is an actual taste benefit to having biryani made in a claypot.
Order their standard Hyderabad Chicken Dhum Biryani option ($10.90) and — presuming you're having lunch at 12 noon — the biryani you're eating is at least two hours old as the morning batch of chicken biryani is ready at 10am.
The claypot biryani — on the other hand — is made on the spot so when you tuck into it, it is freshly cooked.
The chicken meat comes very nicely moist, something which can't be said for a lot of chicken biryanis which are not homemade.
The caveat is that you have to eat it right away as the meat loses its moisture fairly quickly, especially in an air-conditioned environment at Mr Biryani's outlet at AXA Towers.
On the flip side though, you get additional toppings of a cherry tomato, boiled egg and cashews when you order the standard Hyderabad Chicken Dhum Biryani.
None of those toppings are found in the Firetop Claypot Dhum Biryani set.
As for the claypot biryani itself, the rice comes nicely fluffy, buttery and with a big aroma.
The masala covering the chicken is especially good — a slight yogurt tanginess, enough savouriness, oil richness and a lot of spice notes.
There's much more flavour as compared to previous times we've had their Hyderabad Chicken Biryani in the past.
We're not sure if its because Chef Govinda Rajan, 51, has improved on the recipe or that it is because the biryani is made in a smaller claypot so there's more attention to detail rather than on a bigger scale in a big metal vat.
Whatever the case, it's makes for a better tasting biryani and you don't even need to add the raita and the mirchi ka salan (green chilli and nut curry) than is provided on the side.
But if you do, it adds a sour freshness or a nice creaminess to the dish respectively.
As mentioned, the Firetop Claypot Dhum Biryani set feeds four to five people and comes with two starters and two side dishes — picked out of a choice of eight starters and eight side dishes — and there are couple of noteworthy dishes to aim for.

The Bhindi Palli Fry is a mix of okra, dried chillies, cashew nuts, peanuts, curry leaves and onions fried with masala for that addictive masala flavouring in a great mix of different textures.
It's a moreish vegetable dish and for those who are not keen on slime, there's virtually no slime in the okra here.
The Lamb Shank Masala is the other popular favourite amongst patrons. It's actually not that robustly flavoured.
The masala is on the milder side and creamier but still flavourful and oil-rich, but you do get a little more of that lamb flavour in the taste.
Mr Biryani's Firetop Claypot Dhum Biryani is available exclusively at the AXA Tower outlet every Thursday to Saturday for dinners. Diners are encouraged to pre-order at least a day prior as each portion is freshly prepared in separate and limited quantities.
---