LP+Tetsu opens at Tanglin Mall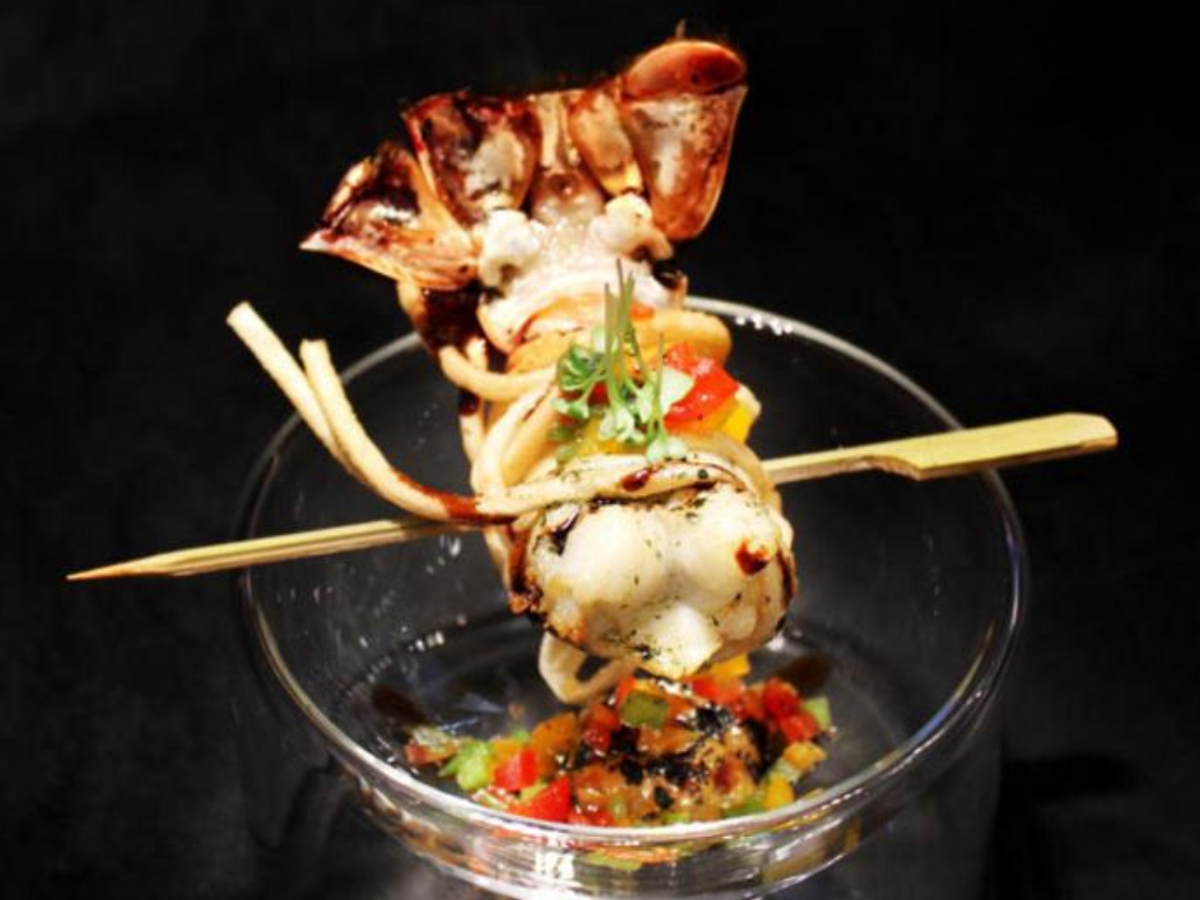 Michelin Star chef Laurent Peugeot, hailing from Japanese restaurant SushiKai and La Charlemagne in his native Burgundy, finally arrives on our shores with French-Japanese fine dining establishment LP+Tetsu!
The collaboration between the Michelin Star chef and food court operator Food Junction is a first! LP+Tetsu takes over the spot in Tanglin Mall previously occupied by the humble Japanese restaurant Tetsu, which also belonged to Food Junction.
The décor is modern, but comes across as slightly over the top, with colour-changing light features and rather unnecessary wall and ceiling recesses that reminded me of a popular high-end Chinese restaurant chain. Big embossed logos on the service staff's ill-fitting uniforms and the restaurant's serviettes reinforce this unfortunate perception. The table ware is bold in design, with lots of rocks and slate.
We arrived for lunch three days after the official opening with high hopes. We were even prepared for service lapses, almost expected of any new opening in Singapore. And true to form, their wine list was not ready, with two of the three wines we ordered unavailable (we would told the cellar would take another week to be fully stocked) and table service was inconsistent to say the least.
Even then, I told myself not to judge too harshly. After all, it's all about the food. So let's cut to the chase. We decided to indulge in the $98 Simply LP +Tetsu set, featuring six promising and delightful-sounding courses (excluding coffee and tea). The meal kicked off with an amuse bouche featuring three liquid-infused spheres, sitting precariously on a delicate crust. Each was individually flavoured and burst gently in the mouth, releasing their liquid glory. Be warned that delicate fingers are needed to handle them without spillage. There was certainly a very "gastronomic" feel to the experience, but taste wise, they didn't deliver the expected harmony; the biscuit base overpowered the very delicate flavours of the spheres.
The first course of blue fin tuna and veal tartar with takuan (Japanese pickle) and grapefruit sake cocktail, sounded enticing, and being a tartar fan, I was looking forward to it. The texture of the combined veal and tuna was surprisingly harmonious, but the Japanese pickle overpowered the freshness of the produce. The saving grace was the grapefruit sake cocktail foam; Delightful and innovative, it lent a much needed lift to the otherwise underwhelming dish.
The second dish, udon wrapped deep fried scampi in a mango and scampi consume, was flavorsome and perfectly cooked – a near masterpiece. The taste was clean and the freshness  came through wonderfully.
A trio of sushi – grilled wagyu, scampi and foie gras – were up next. All were good and fresh. Unfortunately the beef was chewy. My dining partner and I agreed we have had better sushi in Singapore, but wondered if we were being too picky.
The main of wagyu beef with soy and mirin served with truffle cream did not deliver what it promised. We had mixed views on the beef, I found it to be tender but rather chewy, while my dining mate thought it was lovely. Both of us however, felt that the truffle cream was too dominant (and I do have an affinity for truffles) – another disappointing delivery. By then, we were hoping the cheese and dessert would impress us.
To our amusement, the cheese was served in what appeared to be an unbranded toothpaste tube. It turned out the cheese was a concoction of Brillat Savarin and Burgundy Epoisses cheeses. It was served with a side salad of rocket leaves. As I don't take to strong cheeses very well, I am inclined to reserve my comment on this dish.
We were offered a 'pre-dessert'. But instead of getting a cleansing sorbet or a simple praline, which we were expecting, we were served a rich creamy chocolate pod with cream and almond praline! Simple indulgence at its best! We could not wait for dessert!
The finale arrived in the form of a chocolate mousse pyramid, with a serving of coconut ice-cream. Though delish and competently executed, it lacked imagination.
I wish I could have given a better review. I had high hopes and perhaps that was a mistake. Don't get me wrong, I would happily go back to give LP+Tetsu another try. But with all the hype around the Michelin-star chef, I was expecting much more.
It shouldn't have just been an ok meal, it should have been an excellent one.
LP+Tetsu
#03-18, 163 Tanglin Road, Tanglin Mall
Tel: 6836 3112
Opening hours: 11:30am – 2:30pm; 6:00pm – 11:30pm (Daily)
---