[CLOSED] Loof: 'Loco local' with bak chor mee grilled cheese, and other familiar twists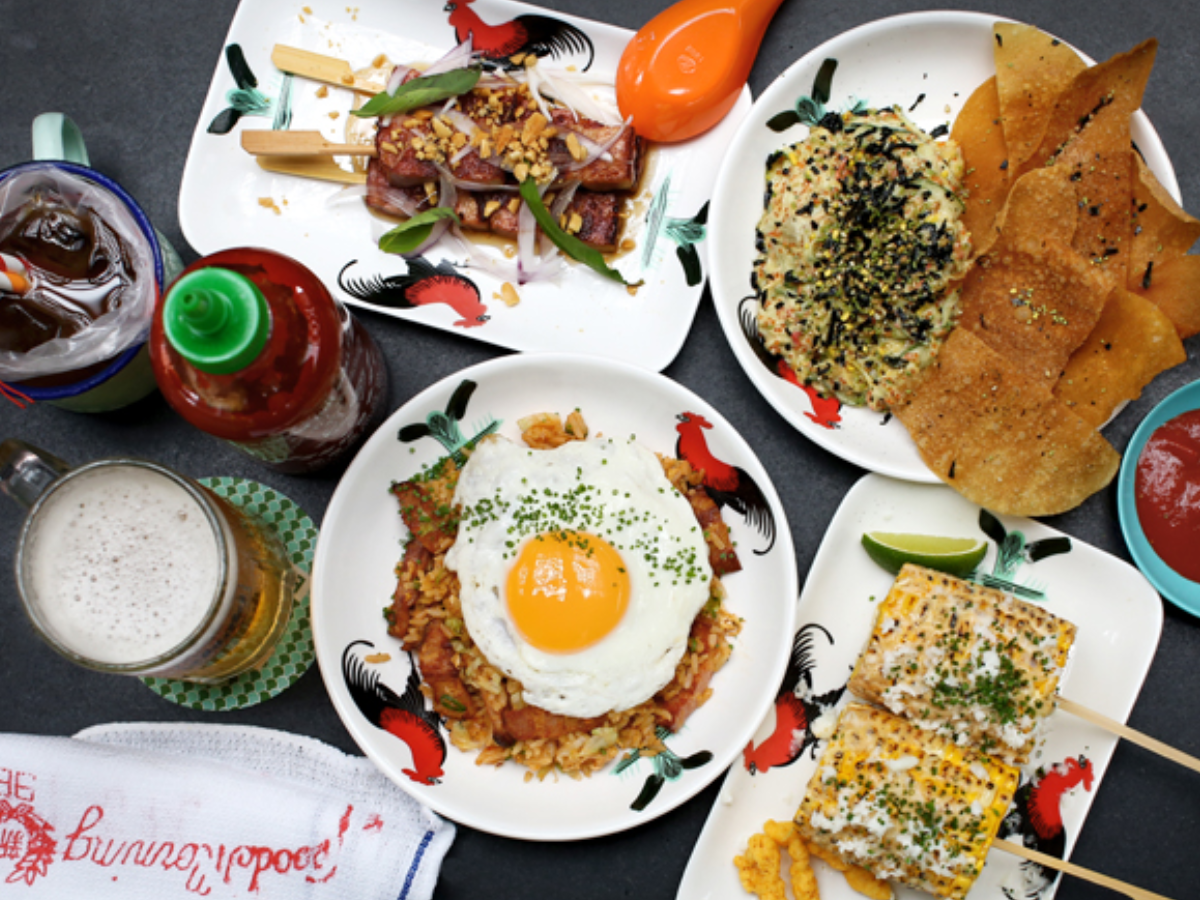 If you haven't been living under a rock, you'd know that Loof — our fav rooftop-drinking den, by the way — serves one of the most delish Ramly burgers (we're serious) in town.
Now it's upped its game, revamping its pub grub menu, roping in gastro-bad boy genius Bjorn Shern to give its food the once-over.

Shern — the chef who gave us such brilliant quirky food morsels like Neh Neh Pops, coq scratchings and lambgasms — has conjured up an all-new menu for Loof affectionately called 'Dude-sin'.
Think along the lines of a mash-up of your friendly neighbour hawker staples, Asian street snacks, some rock 'n' roll and plenty of attitude.
There's the satisfying Bacon Lollipops ($16), cubes of siu yok (roasted pancetta) glazed with maple syrup and topped with groundnuts.
The fun cheeseburger yakitori ($18) — wagyu meatballs skewers topped with melted American cheese, Marmite honey, pickles and onions — and it tastes like, well, cheeseburgers.
For something heartier, try the BLT ($16), fried rice given a fresh spin with pancetta, iceberg lettuce, ketchup then topped with a maple-glazed telur mata lembu (sunny-side up egg).
The humble Hainanese pork chop is given a new lease of life as The Pork Chopper ($19). Here, the deep-fried pork cutlet is enveloped in a cream-cracker crust before it's topped with a salted vegetable slaw then placed in a brioche burger bun.
A big highlight is the gluttonous BCM Grilled Cheese ($18), made with sourdough bread stuffed with cheese, pork mince and mushroom and is sure to be hot favourite.
Loof's cocktail program is also given the reboot, with Asian-forward creations up for slurps.
We loved the Stylo Milo ($19), the ubiquitous Milo spiked with spiced rum, roselle, hazelnut oil, orange and vanilla.
The cheekily named PAP — Pineapple Action Party ($36), with cucumber-infused tequila, coconut milk and pineapple, is ideal for sharing.
For a quick perk-me-up, order the Kopi Cat (salted caramel-infused vodka, coffee, hazelnut, condensed milk, orgeat and a dash of black salt, $19).
Loof's new menu rolls out 1 October 2016
---